Justyna Widera, Ph.D., associate professor of chemistry has built her career on improving aspects of renewable energy, as well as inspiring students to do the same.
Renewable energy holds promise for a cleaner, greener future. But in order for it to play a larger role, researchers must improve its efficiency and reduce its cost.
This is the specialty of Justyna Widera, Ph.D., associate professor in the Department of Chemistry at Adelphi University. Dr. Widera studies and tests materials that could make photovoltaic cells—the essential components of the rapidly proliferating rooftop panels that convert sunlight into electricity—more efficient and cost-effective.
In May 2016, the National Science Foundation (NSF) rewarded her for her efforts with a grant of $246,645 over three years for the U.S.-Polish International Research Experiences for Students (IRES). Through the program, 12 U.S. undergraduate students each year will have the opportunity to spend eight weeks at the University of Warsaw pursuing research in photochemistry and nanotechnology. Priority will be given to students of color underrepresented in STEM (science, technology, engineering and mathematics) fields.
The students will collaborate with Dr. Widera and her Warsaw colleagues to analyze a wide range of semiconducting materials that have the potential to maximize photovoltaic electricity output. Semiconductors in today's solar cells are expensive to produce because they are made of silicon, prone to structural problems.
To hone their research and technical skills, the students will spend the full academic year prior to the Warsaw trip working in Dr. Widera's lab at Adelphi.
A dedicated teacher as well as research scientist, Dr. Widera has brought Adelphi undergraduate students with her to Warsaw for the past two summers, giving them the opportunity to not only work with international researchers and utilize the resources of a large research institution, but also to sample Polish culture.
The NSF grant will allow Dr. Widera to advance her important work and to inspire even more students to pursue research careers and, ultimately, deploy solutions for our planet.
Learn more about Dr. Widera's work both inside and outside of the lab.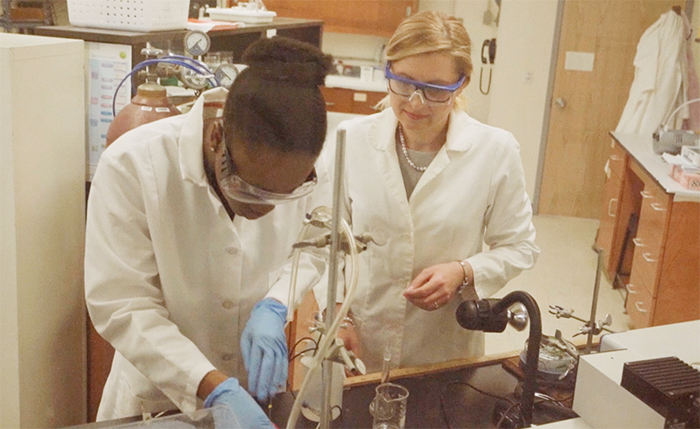 ---
For further information, please contact:
Todd Wilson
Strategic Communications Director 
p – 516.237.8634
e – twilson@adelphi.edu