Based on 25 years of research, his book provides readers with a better understanding of this self-defeating behavior.
Member of Adelphi University's Profiles in Success program.
Professor of Psychology and Vincent de Paul Distinguished Professor, DePaul University
Memorable Adelphi faculty: 
Professors Eva Feindler and Kate Szymanski.
Greatest professional accomplishments: In 2006 Dr. Ferrari was named a Vincent de Paul Distinguished Professor, a prestigious title awarded to just 30 of DePaul University's 900 faculty members. In 2001, DePaul awarded him the Excellence in Research award and in 2009 the Excellence in Public Service award.
Definition of a chronic procrastinator: "A person who delays the start or finishing of a task for either a thrill seeking opportunity or to avoid fears of failure, success, or standing out looking odd compared to peers."
Still Procrastinating?
We all know what it's like to wait to start a paper until the night before it's due, avoid the dirty dishes piled high in the sink, or put off beginning a big project at work.  Dr. Joseph Ferrari; however, is wasting no time setting the story straight about procrastination.
"Everyone procrastinates, but not everyone is a procrastinator," says Dr. Ferrari.  "We all put tasks off, but my research has found that 20 percent of U.S. men and women are chronic procrastinators.  They delay at home, work, school and in relationships – procrastination is a way of life for them.  Let's put 20 percent in perspective.  That's higher than the number of people diagnosed with clinical depression or phobias that are considered to be major problems."
His interest in procrastination was first piqued in spring 1985, as a doctoral student at Adelphi, sitting in Professor Rebecca Curtis' (now, Derner Institute faculty) psychology class on self-defeating behavior.  "While discussing the different ways people sabotage themselves, I asked if procrastination had ever been studied as a self-handicapping strategy," he recalls.  "While Dr. Curtis said she could not remember for certain, she was sure it must have been."
"It gnawed at me," says Dr. Ferrari, who went to the stacks at the library and found nothing but a few clinical observations that had been recorded.  "I decided to pursue procrastination as my dissertation," he says.  But he did more than base his research at Adelphi on this topic – procrastination would be the focus of his scholarship for the next twenty years.
The research he conducted in the late 1980s regarding the causes and consequences of procrastination was ahead of its time.  After completing several small studies, he co-authored a 1995 scholarly book on procrastination, which is widely considered the cornerstone of the field.  "You have to remember, in the early 1990s there was not much work on procrastination, making everything I did publishable," he says.
Since that time, many self-help books have been written on procrastination, but as Dr. Ferrari points out, they are not based on scientific fact.  "Every time a 'pop' book came out, I would be asked to clear up any misconceptions," he says.  After being featured in the December 2005 cover story of The Chronicle of Higher Education, publicists urged him to dispel myths about procrastination once and for all by writing a popular book.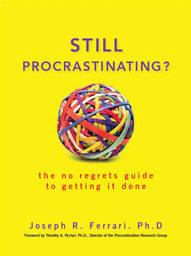 In his September 2010 book Still Procrastinating?: The No Regrets Guide to Getting it Done (J Wiley & Sons, Publisher, NY), Dr. Ferrari shares his expertise with the hope of helping people enact change – but this isn't a process that happens overnight.  "Chronic procrastinators need to consider why, when, and how they delay.  You can't just tell a chronic procrastinator to stop procrastinating," he says.  "To say 'just do it' to a procrastinator is like telling a clinically depressed person 'just cheer up."
Intended as a resource for the general public,Still Procrastinating? incorporates Dr. Ferrari's  25 years of research, providing readers with a better understanding of this self-defeating behavior and why we procrastinate, while also equipping them with the knowledge, tools, and insight needed to overcome these tendencies and learn to act differently.
Although this is the first popular, consumer book, his entire career has been built around sharing his scholarship.  An international expert on the topic of procrastination, he has worked with academics throughout the world, written keynote conference papers, and delivered over 450 presentations.  Co-author or author of ten scholarly books, he has written more professional research articles on procrastination than any other scholar in the world.  He has been featured on NPR, CBS, and NBC radio, appeared on ABC/News Good Morning America and interviewed in publications such as New York Times, Washington Post, Chicago Tribune, MONEY, Self, Men's Health, Good Housekeeping, Scientific America, andUSA Today.
At DePaul University, where he has been a professor of psychology for the past 15 years, in addition to mentoring master's and doctorate students on procrastination research, he teaches students at the undergraduate level.
Although early in his career his original goal was to become a school psychologist, after getting the opportunity to teach in the early 1980s, he never turned back.  "The moment I saw students connecting what they were learning that day to something we had discussed three weeks ago, I said forget school psychology, I want to teach!"
After several years teaching at a junior college, in addition to publishing an article annually, he was ready for the next step in his career – earning his Ph.D.  He came to Adelphi where he completed a second master's in psychology before pursuing his doctorate in experimental psychology.
"I was just a B student, but I was motivated to get the Ph.D. because I wanted to be an academic," says Dr. Ferrari, who has these words of encouragement to offer current and future doctoral students.  "Be persistent.  What makes a doctoral student is not smarts – it's a hunger and drive."
The motivation that helped him excel at Adelphi has served him well throughout his career as a professor and world leading expert on procrastination.  "It's been over 20 years of research," he says.  "And it all started with Adelphi."
Dr. Ferrari (a native New Yorker) and his wife who originally was from Long Island live in Lisle, Illinois, and have three children.  In his free time, Dr. Ferrari enjoys travel and photography.
---
For further information, please contact:
Todd Wilson
Strategic Communications Director 
p – 516.237.8634
e – twilson@adelphi.edu