I am grateful for Adelphi's—and particularly the Honors College's—emphasis on critical thinking within the classroom. As an attorney, I'm called upon to think analytically. Adelphi helped to lay that groundwork long before I set foot in a courtroom.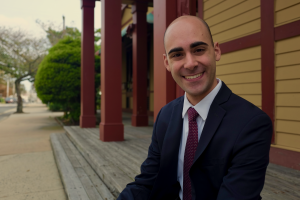 Member of Adelphi University's 10 Under 10
Judicial law clerk, U.S. District Court
For Joseph A. Bruno '13, "the Honors College was like a home away from home." It was the primary reason Bruno chose Adelphi, and he continues to champion the program today. He proudly attends the Honors College prospective students brunch each year to share his experiences with his audience and "show others just how special the Honors College truly is."
In addition to the former Honors College dean Richard Garner, Bruno names Professor Celeste Kaufman as one of his most influential mentors. Kaufman, a legal practitioner as well as a professor, was an obvious choice for Bruno, who knew upon arrival at Adelphi that he would pursue a career in law. During his undergraduate years, he completed four of Kaufman's classes and an independent study, each of which addressed distinct components of the American legal and political systems. Bruno considers himself to be one of "countless Adelphi students who 'minored in Kaufman.'" Professor Kaufman's guidance didn't stop at the classroom door–or even with graduation. She assisted Bruno as he applied to law school and remains a trusted mentor for personal and career advice.
Bruno's path after Adelphi led him to law school at Cornell University, where he served as an articles editor for the Cornell Law Review and completed an externship at the Center for Appellate Litigation. After graduating cum laude in 2016, Bruno passed the bar exam and joined Simpson Thacher & Bartlett LLP as a litigation associate. His work there included defending companies against class action lawsuits and pro bono work in areas such as veterans' rights.
In June 2019, Bruno accepted a federal judicial clerkship with the Honorable William H. Pauley III in the United States District Court for the Southern District of New York. Selected from hundreds of applicants, the challenging position has been educational and rewarding. As a law clerk, Bruno has assisted in decisions concerning an array of legal topics, including state consumer protection statutes and Title VII of the Civil Rights Act of 1964. Once he completes his clerkship, Bruno intends to return to private legal practice.
Reflecting on his time at Adelphi and his current success, Bruno encourages recent graduates to rely on the Adelphi alumni network for help in finding their footing in the professional world:
I've relied on countless Adelphi graduates for guidance on my path to becoming an attorney. In my experience, Adelphi alumni are more than willing to lend a hand to their fellow Panthers.