"I've been given so many opportunities at Adelphi….the University and the people I've met here have shaped me into the person I am today."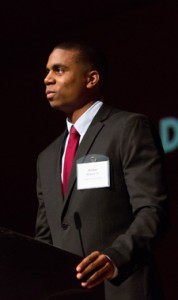 "I've been given so many opportunities at Adelphi….the University and the people I've met here have shaped me into the person I am today."—Jordan Hibbert
Jordan Hibbert of Toronto, Canada was just eight years old when he decided his goal was to earn a scholarship so he could come to the United States for college. "I wanted to help my family, make them proud by doing both athletics and academics, and pursue my dream of becoming a dentist," he said.
Hibbert, who received offers to attend several colleges, including Syracuse University, St. Lawrence University and University of California Santa Barbara, chose Adelphi to study biology and play soccer.
At Adelphi, he found that he was "not just a number" in the classroom and was welcomed by a community that made him feel at home. "This is what set Adelphi apart from the rest and allowed me to integrate into life in a new country very easily," he said.
He cites individuals from across campus as having a tremendous impact on him, from soccer coach Carlo Aquista; to professors in his major, like Benjamin Weeks, Alan Schoenfeld, Andrea Ward and John Perrotto; to Marsha Darling and Fabian Burrell of the Center for African, Black and Caribbean Studies; to Matt Lavery of the Learning and Writing Centers; to associate provost for faculty affairs and institutional diversity, Perry Greene.
He also cites Maggie Yoon-Grafer and President Scott. "They allowed me to recognize my potential and express my talents in many ways that have helped me grow as a person," he said.
A member of the men's soccer team, named captain his sophomore year, Hibbert credits his experience as a student-athlete with teaching him how to be a leader and how to work with people, whether that was on the field or in the gym or classroom.
During his four years at Adelphi, he received numerous honors and awards, including earning a spot on the NE-10 Second Team All-Region and ECAC All-Star Second Team; being selected for the NE-10 Academic All-Conference Team and NE-10 Commissioner's Honor Roll; and being named an Arthur Ashe Jr. Sports Scholar Award Finalist.
Hibbert, who is currently in the application process for dental school, is grateful for the academic and athletic experience he has received at Adelphi. And he is grateful to the University and its donors for making an Adelphi education possible. "The scholarship support I have received is what allowed me to be here," said Hibbert, a recipient of the Z. Paul Akian Scholarship Award. "I've been given so many opportunities at Adelphi….the University and the people I've met here have shaped me into the person I am today."
Published April 2015
---
For further information, please contact:
Todd Wilson
Strategic Communications Director 
p – 516.237.8634
e – twilson@adelphi.edu