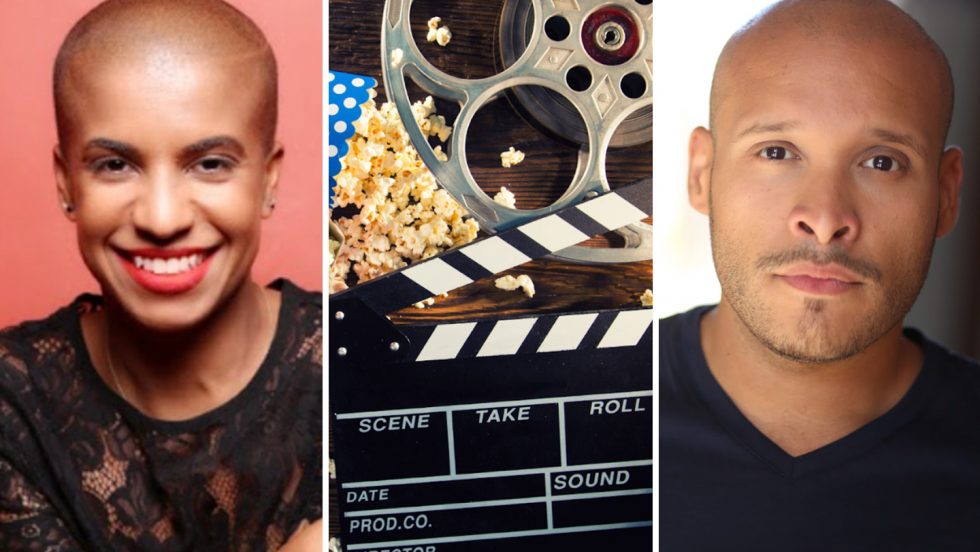 What happens to live entertainment production during a pandemic? It stops, then it adapts. On October 1, two alumni in the business—Joe Minoso '01 and Dana Blair '04, MBA '08—gave an online audience an inside look at the industry's struggles this year, how it's changed now that production has resumed and where it's headed.
Minoso is one of the stars of NBC's Chicago Fire. Blair is a TV host and producer known for her one-on-one interviews with celebrities and her pop-culture and red-carpet coverage on CNN, ABC and elsewhere. The event, "2020 and the Entertainment Industry," was moderated by Margaret Lally '82, associate dean, College of Arts and Sciences.
Spring 2020: Production Stops
"I do a lot of [movie] premieres but they just completely shut down" since March, Blair said, due to the pandemic. She has been doing "pretty well" remotely. "When they go back to normal—or the new normal—I don't know what that is. No one really knows what's going to happen."
Minoso said the popular series he stars in had to shut down in March with three episodes left unfinished for the 2019–2020 season.
But far more tragic than Minoso's professional travails was losing his sister due to complications from COVID-19 in April. During what he describes as "a very introspective time," he formed a nonprofit to help Black, Indigenous, people of color, and LGBTQ+ people in the entertainment business.
Fall 2020: Production Resumes
Minoso said that after a far longer summer "hiatus" than the usual two months, shooting would restart on October 6—but with many rules and protocols that the 150-plus cast and crew must follow.
"We've been testing daily for the last week and a half… Certain people are allowed [only] in certain zones." Makeup people must wear masks, face shields, gloves and full gowns, he added. During rehearsals, actors and crew cannot remove their masks, so actors don't see one another's faces till shooting actually begins. He feels this will mean a lot of retakes. "I'll be curious to see where we go from here," he said.
Blair said she was surprised at all those production protocols, saying, "I can film from home!" Working for CNN, she can download an app—and "suddenly I'm in a studio!"
Chicago Fire and its spinoffs Chicago Med and Chicago PD—all among the top 11 TV series in the Nielsen ratings last season—are due back on air on November 11. Chicago Med had resumed production earlier, Minoso said, but they "just closed for two weeks [on September 30]" after a crew member tested positive.
Words of Advice
Armed with their perspectives from inside the entertainment field, Minoso and Blair also offered some advice to about 50 students and others participating in the Zoom session.
Have a social media presence.

 

Minoso said he wasn't a fan of social media. Blair responded, "Like it or not, you have to cultivate that social footprint." Off-screen, she maintains an active social media presence, especially on Instagram.
Network, even if it's difficult.

 

As Minoso said, "It's like dating—speed dating!"
Explore your creativity.

 

Minoso said, "Don't necessarily tie yourself down on what you think you should be doing." He suggested others explore writing and directing sooner than he did in his career. "YouTube is like a university, y'all! There are a lot of skills you can pick up"—from editing and writing tips to setting up TV scenes to using Zoom for pitching and workshopping TV scripts. Blair added, "You literally have the world at your fingertips."
Be true to yourself.

 

Blair, acknowledging that she as a bald, tattooed woman is not suitable for everything, said, "If I fail, I'm gonna fail as me."
At one point, moderator Lally —pleased that the two alumni are "living their dreams"—noticed what appeared to be a vision board on Minoso's living room wall. He said it's actually a writing board, where he jots down script ideas. Blair said, "I'm a big vision boarder, too." She writes down goals, whether getting a dog, buying a house or growing her career. She also keeps a "gratitude jar" in which she puts notes on what she's accomplished. Minoso then said, "I love that. I'm stealing that!"