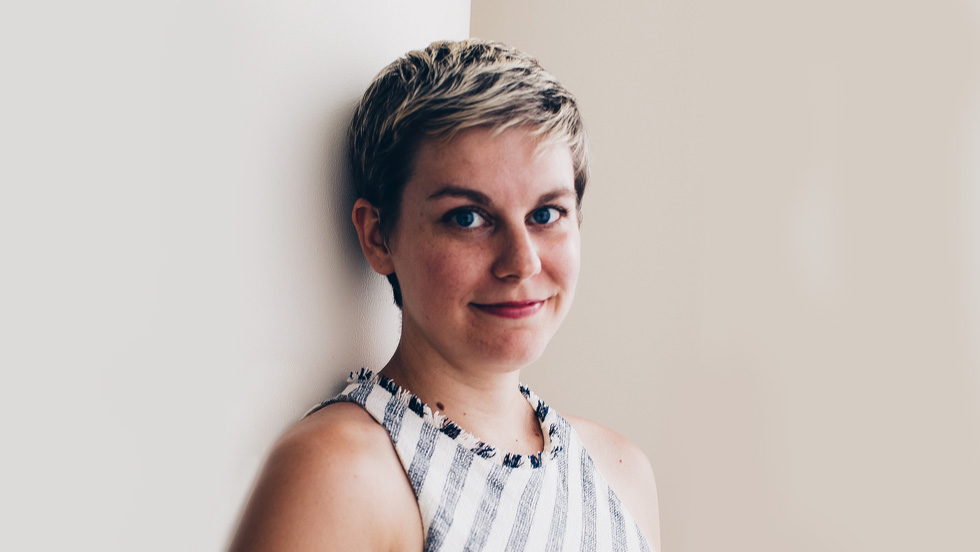 Women have long had to navigate being shamed for discussing their sexual desires. Derner's new assistant professor wants to help women openly express, acknowledge and understand their feelings.
As a teen, Jennifer Chmielewski, PhD, was frustrated by how young women—including herself—were treated differently than men in terms of their sexuality by being slut-shamed. Today, Dr. Chmielewski, who has joined the Derner faculty as an assistant professor of psychology, is studying how girls and young women's feelings and actions related to sexual desire are shaped by their personal experiences, social interactions and relationships—including unfair treatment they might have faced.
Prior to joining Derner, she was a teaching fellow at City University of New York (CUNY) and the cofounder of SexGenLab at CUNY, a collective of social science researchers shedding new light on gender and sexuality. Starting at Adelphi this fall, she will teach undergraduate courses on social psychology and qualitative research methods for doctoral students, and in the spring, social psychology for both undergraduate and graduate students.
Dr. Chmielewski recently took time to talk about her research interests and her plans for the new school year.
What sparked your interest in social psychology and sexuality and gender research?
As a teenager, I saw the ways young men and women—including myself—were being treated differently in terms of sexuality. Girls were slut-shamed and sexualized. Despite my anger about what I saw as an injustice, I didn't feel able to speak up for myself without fear of repercussions.
I went down the path of psychology hoping to understand how these gendered social phenomena work in the intimate domain, and was lucky my first psychology professor was a feminist social psychologist studying gender and sexuality. I've continued working with amazing feminist psychologists who have nurtured my exploration of sexuality as a matter of social justice.
Can you share a little about your PhD thesis, which offers a critical analysis of young women's sexual desire?
My research involved emerging adult women between the ages of 18 and 29. Desire is considered to be important for our mental and physical health and relationships but there isn't a clear understanding in the literature about what sexual desire actually is. I'm exploring desire based on young cisgender women's experiences. In particular, I focus on how social and sexual inequalities are imbricated in young women's navigations of their sexual feelings, at the intersection of sexuality, race, identity and social class.
For a long time, girls' and young women's desire was not acknowledged, but now we're talking about it, which is great. My questions are really focused on understanding how and in what ways desire matters, from the perspective of young women. In designing the study, I was cognizant that young women don't necessarily bring their own sexual feelings to the forefront because as adolescents they've often been trained not to. When I asked them directly about desire, it opened a door to a world of experiences—of both pleasure and danger. Young women's experiences of their sexual feelings cannot be understood without understanding how they are also navigating slut-shaming, partner disappointment, fear of pregnancy, sexually transmitted diseases and sexual violence.
What most appeals to you about the Derner School?
Derner's emphasis on social justice is the biggest piece, along with the possibility of collaborating with colleagues and students. I am really eager to bring together my critical social psychology perspective with clinical psychology.
What are you most looking forward to when the fall semester begins?
When I visited campus last winter, I was so impressed by Derner's engaged, smart and thoughtful students who seemed to love the School. I can't wait to work with them.
I'm really excited to be starting my research lab and collaborating with students on my research. I've had wonderful undergraduate and graduate research mentors on gender identity and sexuality, and this will be my first opportunity to be a mentor myself.
How will you involve your students in your research?
I have two amazing doctoral students as mentees, and a rising senior emerging scholar undergraduate whose research project I'll be supervising. And I've extended an invitation to students to get involved in my lab.
What's next for your research?
A next step in my work is examining men's experiences of desire, which is often taken for granted as biological and straightforward. I also hope to work with students to look at this across lesbian, gay, trans and queer people, to examine desire as a site of resistance against the dismantling of LGBTQIA+ rights we are seeing.
Do you expect to get involved with Adelphi's LGBTQIA+ community?
I'm looking forward to being part of that community and different student groups and seeing how I can support them. Whatever Adelphi is working on, I'll be involved.