"With this degree and title, YOU are their guide, the person they reveal their thoughts and feelings to ..."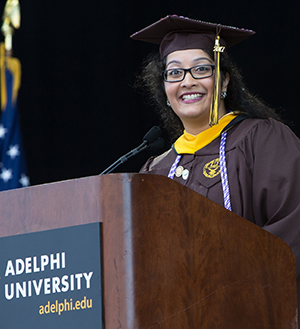 Good morning and welcome friends, family and fellow graduates of the class of 2017. Congratulations! The light at the end of the tunnel is finally here.
When I started grad school, I reached the milestone of being a Registered Nurse for one year and was officially out of that 'new nurse' category, which is nerve-wracking to say the least. At that stage, you have certain expectations of yourself and what you should be capable of, though this has no correlation to the level of comfort you may have. At that turning point, I did know something—that I was ready to start my journey of graduate school.
The choice was simple, Adelphi. I only applied to one school and was confident I would be prepared academically, fit to graduate, and sit for my state board exams at the end of the program. I knew this because I felt the same way about the school when I started my undergraduate career at Adelphi and graduated in May 2013.
Personally, this entire experience of graduate school has taught me a lot. I must say that it has been an honor to have experienced this season alongside my fellow classmates, professors and preceptors who have mentored me along this path. When starting this program, it was amazing to see the stages of life everyone was in. Some were just out of that 'new nurse' category, like myself, some were a little more seasoned with certifications in their specialties, and some were bedside nurses for many years. But there was one common thread among all of us—we all wanted something more out of our careers, so, applications were sent, registrations were completed and we began this journey.
Semesters went by and each of us found our little nooks and study groups and sailed along our way juggling all that life had to bring us while managing full time jobs, families, children and 600 clinical hours. This has been far from easy and I must hand it to some of my classmates and professors who have had to deal with circumstances of life and death along the way, but isn't that exactly what this is about. It is not convenient by any measure to be completing this degree at any point of life, but it is about making the difference of how we as Nurse Practitioners can impact a patient's experience and perhaps be that one person that gets through to them causing a positive, lasting change. You did not begin this program with the hopes of becoming a doctor, but rather elevating your already established career as a nurse to the next level, as a health care provider, ready and able to assess, diagnose, prescribe, and council patients along the continuum of health. With this degree and title, YOU are their guide, the person they reveal their thoughts and feelings to, the one who takes the time to listen to their concerns, the person they may admit things to that they would not otherwise say to their physician, thereby, bringing them to their optimal level of well-being and highest quality of life.
My fellow graduates, no matter what graduate or undergraduate degree you chose when you started this program, you came down this road with your intentions set on finishing the task you started. With hard work, perseverance, and determination, you have arrived and the best is yet to come! Congratulations, Class of 2017!
---
For further information, please contact:
Todd Wilson
Strategic Communications Director 
p – 516.237.8634
e – twilson@adelphi.edu