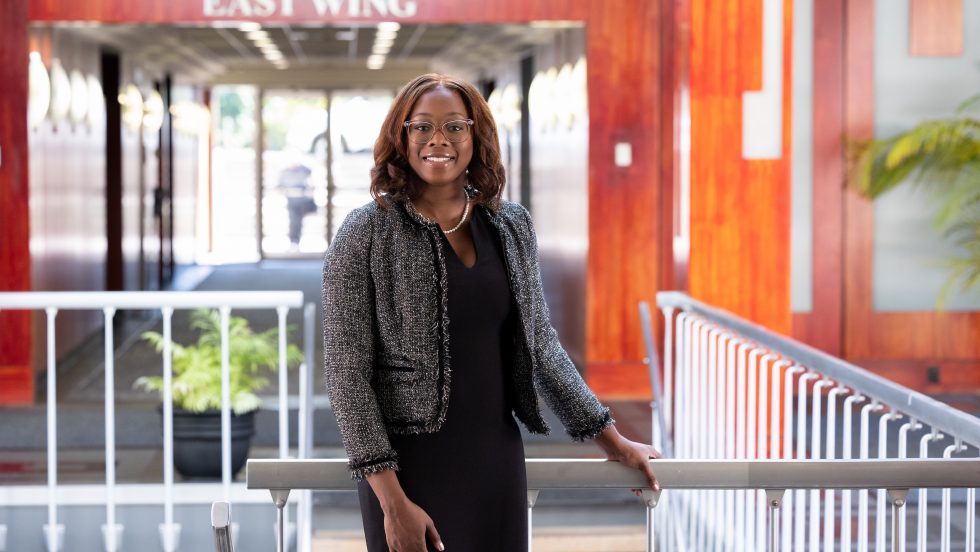 Adelphi provided me with unique opportunities to become more involved in community service.
Member of Adelphi University's 10 Under 10
Economics/Political Science, Robert B. Willumstad School of Business
Associate, Law Office of Vincent Toomey
Jasmine Brown chose Adelphi so she could remain close to home while having an on-campus experience. What she found was so much more, and she says she's grateful for the ways in which she matured and learned more about herself during her time at the University.
Brown makes particular note of the mentorship she received in the Department of Political Science. Maggie Gray, PhD, associate professor of political science, and Traci Levy, associate professor of political science, welcomed and supported her when she added political science as her second major. She says both professors went out of their way to include her in department events and activities. 
Brown was admitted into Pi Sigma Alpha, the National Political Science Honor Society, and in 2015, received the Hugh A. Wilson Award for Social and Economic Justice, which recognizes a senior political science major for activism in the areas of social and economic justice.
As part of the Jaggar Community Fellows Program, Brown interned at Girl Scouts of Nassau County in their fundraising and marketing research departments and later The Cedarmore Corporation in Freeport as a business consulting intern, helping to operate the Young Entrepreneurs Training Program, which teaches youth how to open and operate a business. She also interned in the finance/fundraising department of the Kathleen Rice for Congress campaign. 
After graduating from Adelphi, Brown worked briefly at the Make-A-Wish Foundation before gaining full-time employment as a legal assistant at Schroder & Strom, LLP. She then made the decision to attend law school and was accepted to St. John's University School of Law. While a legal student, Brown interned at the Law Office of Vincent Toomey, and upon earning her Juris Doctor began working there full time as an associate. She represents public and private sector employers in various areas of labor and employment law, including collective bargaining, employment discrimination and disciplinary matters. She is admitted to practice in New York, as well as the federal district courts for the Southern and Eastern Districts of New York, and is a member of the New York State Bar Association, the Nassau County Bar Association and the Metropolitan Black Bar Association.
Brown is a member of Theta Iota Omega Chapter of Alpha Kappa Alpha Sorority, Inc. and serves on its executive committee. She also serves on the board of directors of Friends of Classical Charter Schools Inc. and as the chair of the Social Action Commission at Bridge Street AME Church.
Brown says Adelphi allowed her to learn leadership skills through her on-campus involvement. "Adelphi provided me with unique opportunities to become more involved in community service, including the chance to attend multiple out-of-state community service trips," she says. "My advice for current students is to take advantage of every one of the great opportunities that Adelphi provides."