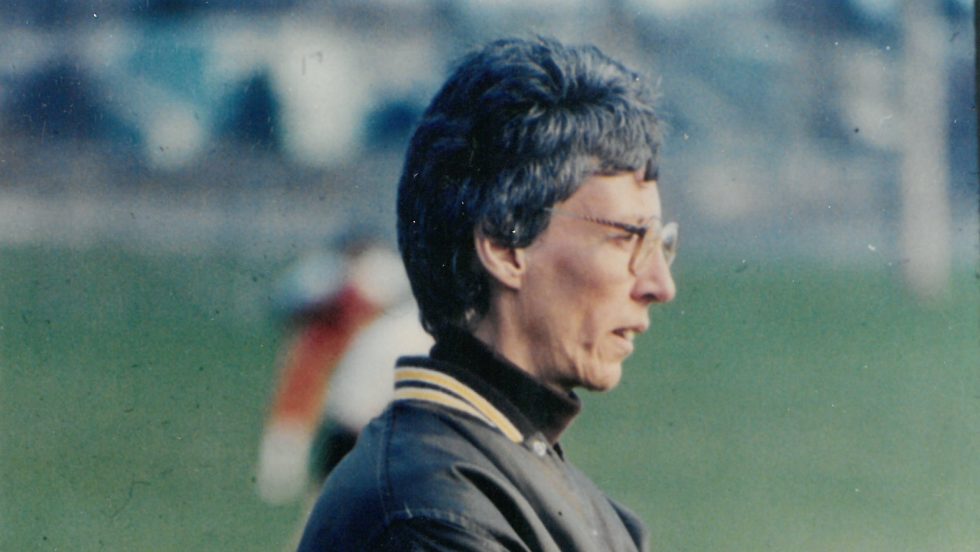 "There's really no such thing as part time, if you love what you're doing."
Frank Cassell Memorial Award winner. Adelphi University Athletic Hall of Fame inductee. Celebrated coach, mentor and teacher. Long Beach, New York, native Janet L. Ficke '59 grew up in a large family that was always involved in sports. When she came to Adelphi as a freshman, she immersed herself in women's athletics, which at the time was under the umbrella of physical education.
"Female athletes at Adelphi learned how to play every sport under the sun—from field hockey to softball to tennis, but we were competing amongst each other," Ms. Ficke recalled. But by the time she graduated with her degree in physical education, women's teams at Adelphi had begun playing other local college teams, thanks, in part to the discipline and dedication, to fundraising by Ms. Ficke and her peers.
Ms. Ficke went on to teach in Westbury, earn her M.S. from Smith College and taught in Jericho and Harborfields. After 11 years in the public school arena—coaching part time at Adelphi for some of them—she got a call asking her if she'd like to work full time for Adelphi. It seemed a natural progression.
"When a door opens, you have to go through it," she said. "I had always thought in the back of my mind that I would love to teach people how to teach. I got the opportunity and went for it."
Full-time softball coach, assistant athletic director and tenured teacher, Ms. Ficke was instrumental in building the legacy and reputation of women's sports at Adelphi. She felt the momentum leading to a groundbreaking moment in 1984 when women's athletics broke off from physical education—and officially became part of Adelphi athletics. "It brought more power to the games," she admitted. That year, Adelphi's women's teams began traveling across the country, and Ms. Ficke's softball team earned their first-ever spot in the NCAA Division I Softball World Series.
Upon retiring from coaching full time in 1989, Ms. Ficke earned her principal's license. But she couldn't stay away from Adelphi for long—returning to her teaching tenure in physical education.
"It was then that I realized how many people I actually knew through coaching and teaching," she said. "So many of the kids that I once taught were now out there teaching locally. It was a great feeling."
When Ms. Ficke announced she was going to retire from teaching, she was asked if she'd consider working part time. "There's really no such thing as part time, if you love what you're doing. I retired in January (2002) primarily so I could play golf in the spring," she said with a chuckle. And she got her wish—three years later, the annual Janet L. Ficke Golf Classic was established in support of women's athletics.
Ms. Ficke has seen Adelphi through so many positive changes, "When I came here as a student in '55, we wanted so much to have a softball field," she said. In 2011, the dedication ceremony for the new Janet L. Ficke Softball Field was held.
How does she feel about these tributes? "It's an honor," she said. "It's also exciting to have something named after you; and it's great that you get to appreciate it while you're still alive." For Ms. Ficke, giving back is just the culture of Adelphi. "(Revered athletic trainer) Frank Cassell gave so much to women athletes, even at a time when we were not technically under his wing. And as for the beautiful softball field, it's the result of lots of people who each gave a little bit to make it a reality," she said.
These days, Ms. Ficke said her tons of nieces and nephews keep her busy, but she's still active at Adelphi, supervising student teachers at her own pace. "They say I've got gold blood in my veins," she said. And it's still pumping strong.