"The mentorship I received as an Adelphi student was unparalleled. Adelphi is a special place, one that has left an indelible mark on my life. I am forever grateful for the opportunity to call this institution my alma mater."
Member of Adelphi University's 10 Under 10
Law Clerk, Barclay Damon LLP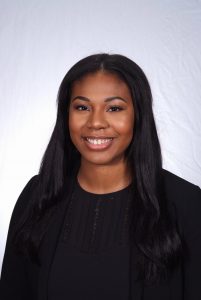 Janaé Cummings '13 has always kept getting involved and giving back at the core of her educational and professional pursuits.
Her passion for social change and service was exemplified at Adelphi through her active involvement in the Levermore Global Scholars (LGS) and as one of the founding members of the LGS Student Leadership Council. She continues to work closely with the LGS program today serving as the chair of its Alumni Affinity Group.
"I credit Adelphi for piquing my interest in international human rights and social justice," she said. "Forging relationships and learning from those who sincerely care about affecting change, particularly in the LGS program, made all the difference for my future."
As an undergraduate she was also the founder of the New York to New Orleans Initiative, a program that took Adelphi students to New Orleans to work on an urban farm that served as a source of healthy food for the community post-hurricane Katrina. Additionally, she held leadership roles in the Student Government Association, serving as both the vice president and treasurer of her class.
After graduating from Adelphi with a degree in international studies, she taught English in Dubai, United Arab Emirates at a private elementary school, before embarking on her next journey: Brooklyn Law School. "Practicing law was always the end goal," she said. "The law is very collaborative, and I wanted a career that would allow me to interact with those I wanted to help. The law is also very vast, and I knew that if I practiced law, I could learn a great deal about various industries."
During the summer of her first year of law school, she was awarded a fellowship by the New York State Bar Association to clerk for Judge O. Peter Sherwood in the New York State Supreme Court Commercial and Federal Litigation Division. She has also worked in the General Counsel's Office of the Brooklyn Borough President, American Express, Thomson Reuters and Viacom Media Networks.
She also participated in study abroad programs in Bologna, Italy and Beijing, China, where she took classes ranging from international commercial arbitration to refugee law. "Learning about international systems and practices has always intrigued me—which is why I was an international studies major at Adelphi. Exposure to the legal systems in both Italy and China was truly fascinating," she said.
As a student at Brooklyn Law School, Cummings was very involved in organizations and causes outside of the classroom, serving as the attorney general for the Black Law Students Association and the executive articles editor of the Brooklyn Journal of International Law and volunteering for the Immigration Visa Assistance Program.
For her scholarship, leadership, and commitment to service, she has received well-deserved recognition. Her work, "The Price is Rights: Getting the United Arab Emirates Up to International Speed in the Labor Law Department," was recently published in the Brooklyn Journal of International Law. For her more than 500 pro bono hours serving the community and providing legal services for indigent clients, she received the Pro Bono Scholars Award from her law school.
Ms. JD, a nonprofit organization that promotes women in the legal profession, named Cummings a Ms. JD Fellow in 2018. She continues to be involved with this organization as the committee chair of the Global Education Fund, which is an arm of Ms. JD that raises awareness and funds for women to attend law school at Makerere University in Uganda.
Cummings, who recently received her Juris Doctor from Brooklyn Law School, is currently working as a law clerk at Barclay Damon LLP in the commercial litigation and labor & employment practice group. "I am excited to begin my legal career at Barclay Damon LLP and look forward to using the skills both Adelphi University and Brooklyn Law School have provided me," she said.