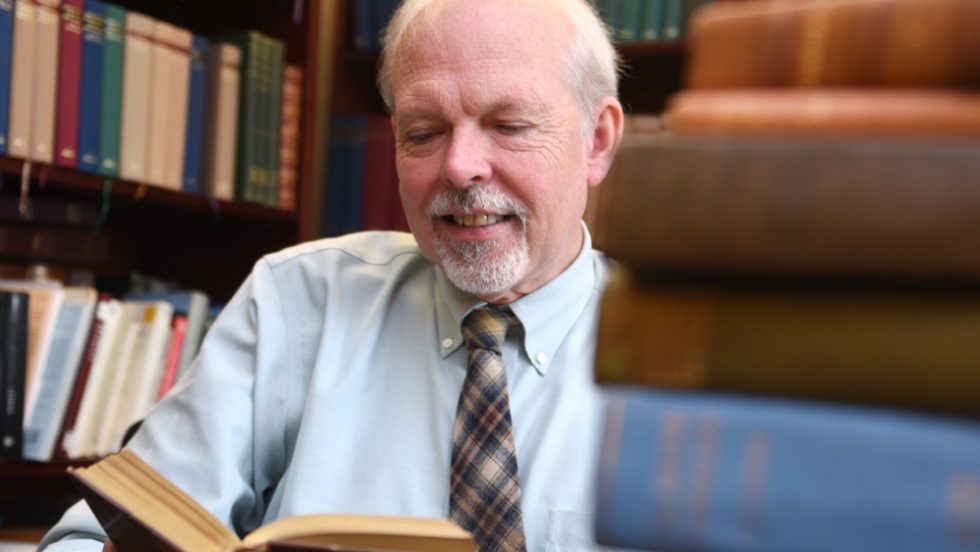 A tribute to Richard Garner, PhD, founder and dean of Adelphi's Honors College, and a professor, mentor and benefactor to countless students.
In 1994, classics scholar Richard Garner, PhD, came to Adelphi from Yale University with a mission: to take Adelphi's small honors program and, as founding dean, turn it into a full-fledged Honors College. Twenty-five years later, Dr. Garner's resounding success is everywhere to be seen. In the Honors College's robust living-learning community centered in Earle Hall. In the more than 2,000 applicants for the College last year. In a student body of fewer than 300 students who consistently play a leading role on campus. In the thriving network of successful Honors College alumni. And in the ever-growing Honors College scholarship endowments, seeded by Dr. Garner himself, that will enable generations of students to come to Adelphi and build their futures.
When he first arrived at Adelphi, Dr. Garner envisioned creating an Honors College that would give students, as he said, "an old-fashioned liberal arts education." That vision has held true from the beginning to today. Every Adelphi Honors College class is taught seminar-style, with roughly 10 to 20 students. There's a strong emphasis on the classics, with courses like Mathematics and the Enlightenment and Reading Kafka, and the seminar format ensures ample opportunity for discussion and critical thinking. In their senior year, every Honors College student completes a senior honors thesis under the one-to-one guidance of a faculty adviser.
Dr. Garner also envisioned an Honors College experience that would extend well beyond the classroom, and he has been just as successful at achieving that goal. Since its founding, the Honors College has been based in Earle Hall, and after renovations and expansions in 1995 and 2017, the Earle Hall living-learning community now comprises updated residential spaces, study lounges, a practice room and dedicated classrooms—all open to every Honors College student 24/7, whether they live on campus or not.
"The students really use the space, socially and academically," he said, "and they grow enormously by being around one another."
Honors College professors and associate and assistant deans, past and present—including Nicholas Rizopoulos, PhD; Diane Della Croce, PhD; Craig Carson, PhD; Eugene Roth; Gregory Mercurio, PhD; and Seth Michaelson—were as much a part of the camaraderie, maintaining an open-door policy.
Students collectively attend cultural events in Manhattan several times a semester. Whether it's the Metropolitan Opera, the New York City Ballet or a Broadway play, students spend just $10 for prime seats, courtesy of the Honors College.
Dr. Garner hosted dinners after Adelphi cultural events and regularly invited Honors College students to his house adjacent to campus for Dean's Reading Circle dinners. After enjoying a meal prepared by the dean himself, students discussed a book or an article they'd read in advance. "They were very much like class discussions," said Dr. Garner, "but around the dinner table, and once we've finished the formal discussion, it became more personal. It's a different kind of community building."
A testament to the community they've experienced while students, Honors College graduates are some of the University's most engaged alumni. Dr. Garner hosts well-attended Alumni Reading Circles, cooking and hosting just as he does for undergraduates. Honors College reunions have drawn large numbers of alumni, and Honors College graduates have given back to the University in record numbers.
In 2004, Dr. Garner established six Honors College scholarships. He has gone on to personally donate more than $1 million, joining Adelphi's Million Dollar Round Table in 2016 and being named an Adelphi Legend in 2017.
After all his decades of service and personal contributions, Dr. Garner finally retired this spring. Reflecting on his time at Adelphi, he is grateful for what he calls the "once-in-a-lifetime opportunity" to create the Honors College. But above all, he said, he has felt the privilege of making an impact on countless lives. "For Honors College students, we are a stepping-stone to as large a venue as they can imagine, larger than they can imagine when they arrive," he said. "We make it possible for students who otherwise might not get there to go on and make that kind of future."
For his own future, Dr. Garner plans to become, as he said, "the ideal Honors College student," moving from Garden City into Manhattan and spending his days reading, playing the piano and enjoying culture. "I've spent a quarter of a century here developing other people's minds, and I want more time to selfishly and intensively develop my own," he said.
Before that, he'll spend a final sabbatical year in his house contiguous to campus. "I won't hover, but I'll be here," he said. For anyone eager for one more rich discussion, the door is still open.
Timeline
1994
Richard Garner, PhD, arrives as dean designate and takes the lead of the existent honors program. Nicholas Rizapoulos, PhD, joins the faculty as Honors College academic director.
1995
Dr. Garner is officially installed as dean, and the Honors College welcomes its first official class.
1995
Earle Hall is renovated.
1997
The Honors College launches Symposium, a journal of ideas composed and edited by Honors College students.
2003
The Honors College holds the first Dean's Reading Circle.
2004
Dr. Garner creates the Honors College Scholarship Endowments, seeding each of the funds with personal donations made in honor of educators in his family.
2012
The Honors College launches scholarship endowments for each graduating class, doubling all alumni donations, with dispersals to begin 10 years from founding.
2013
One hundred percent of the graduating class donated to the fund.
2016
Dr. Garner joins Adelphi's Million Dollar Round Table, in recognition of his more than $1 million in personal contributions to the University.
2017
Dr. Garner is named an Alumni Legend.