Matthew Fernez is a Communications Assistant in IT.
The staff of the Office of Information Technology would like to congratulate
Matthew Fernez
Student Worker of the Month for June 2016
Matthew is a student employee with the IT Communication team where he assists the campus with maintaining equipment such as phones, televisions and projectors. During his employment he's learned how to create lines to phone extensions, program Alcatel phones and  troubleshoot the classroom multimedia systems. His assistance has been integral to helping the team prepare the new Nexus building for opening.
Matthew is a Computer and Management Information Systems major and expects to graduate with his B.S. in  May 2017. He would like to pursue a career in the field of computer hardware and software or telecommunications.
Here are some of the comments we received from IT staff members and other student workers who nominated him:
"Matt is a self-motivated, hardworking individual that is a value to Communications, IT and the Adelphi community. From the first day in joining our team Matt has displayed various characteristics such as being an effective learner, a team player, honest, respectful, and helpful; all of which make him a great employee. It is a continued pleasure to have Matt as part of our team, as we appreciate all of his hard work and dedication."

"The best quote that best describes Matt and his work is 'Reliability is the precondition for trust.'" 
"
Ever since Matt started with us he has been very proactive about any task we give to him. He always has a lot of enthusiasm in finding a solution and is not afraid to fail in order to find the right path
."
"
Matthew is a respectful, responsible individual. He is a pleasure to work with.
"
---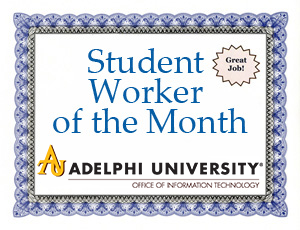 About IT's Employee of the Month Nominations
It is important to demonstrate our appreciation for the contributions of our student workers to their teams, to the Office of Information Technology, and to Adelphi University as a whole. At the end of each month, we will honor one student worker who has demonstrated commitment, leadership, and initiative in their position. The recipient will be presented with a certificate and gift, as well as a featured spot on our IT website.
All IT employees (including student workers) are encouraged to submit nominations for their choice for Student Worker of the Month. Your nominee should display qualities deserving of recognition.
Please submit all nominations through the Student Worker of the Month Nomination Form.