Technical Support Specialist Krishtian Ramirez is the IT student of the month for March.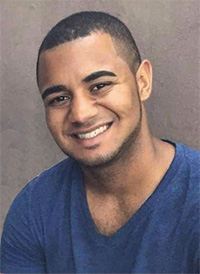 The staff of the Office of Information Technology would like to congratulate
Krishtian Ramirez
Student Worker of the Month for March 2016
Krishtian has been part of the Office of Information Technology's Endpoint Integration team since May 2015. He is a Computer Management and Information Systems major with a minor Computer Science. Part of the Class of 2017, he's also very involved in the Kappa Sigma fraternity and the Inter Fraternity Council at Adelphi.
Here are some of the comments we received from IT staff members who nominated her:
"
Krishtian is a very motivated student, who has the drive to learn, and pick up new skills, and apply them to the job all the time. We know when we send Krishtian out on a job, that the job will be done right the first time. He follows up with the customers, and ensures that they are satisfied. He is a pleasure to work with, and we are very lucky to have someone of his skill set in our area. For these reasons, I believe he deserves to be the student of the month.

"

"Always very helpful and willing. Proactively volunteers to go on jobs and does not just sit waiting to be asked. Uses his Apple OS experience to assist with resolving Mac tickets. Always shares what he discovers with the team.."

Krishtian is very knowledgeable and dedicated. When he's come to our department to assist with software or replacing hardware I would have thought he was a graduate student because of his professionalism."
---
About IT's Employee of the Month Nominations
It is important to demonstrate our appreciation for the contributions of our student workers to their teams, to the Office of Information Technology, and to Adelphi University as a whole. At the end of each month, we will honor one student worker who has demonstrated commitment, leadership, and initiative in their position. The recipient will be presented with a certificate and gift, as well as a featured spot on our IT website.
All IT employees (including student workers) are encouraged to submit nominations for their choice for Student Worker of the Month. Your nominee should display qualities deserving of recognition.
Please submit all nominations through the Student Worker of the Month Nomination Form.