Kelly is a student employee working as both a Telephone Services Student and a Student Lab Consultant.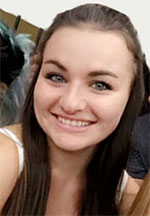 The staff of the Office of Information Technology would like to congratulate
Kelly Messmer
Student Worker of the Month for September 2016
Kelly started working for IT during summer 2016 and works in the dual positions of Telephone Services Student and Student Lab Consultant. She is a nursing major and part of the Class of 2020.
Here are some of the comments we received from IT staff members who nominated her:
"

It is with great pleasure that I nominate Kelly Messmer as Student of the Month. I have known and observed Kelly during the summer and beginning of the Fall semester in the dual positions of Telephone Services Student and Student Lab Consultant. Within this short time she has illustrated great focus, a phenomenal work ethic and a strong willfulness to learn more. She has excelled at all the tasks in both roles by assisting students in the lab, excellent customer services telephonic skills as well as random general duties given to her. Personally, she is perceived as having a high degree of integrity, responsibility, and ambition.
"
"Kelly started working as a Telephone Operations assistant shortly after graduating from Holy Trinity High-school in Summer 2016. She quickly learned the ways of the University switchboard and became an integral member of the team. Kelly is a natural customer service person who truly does deliver service with a smile."
"I am nominating Kelly because she is a gem. She is determined to work, learn new things within the IT Department, and ready to work when she comes in to the office with a smile. As a person who worked within the IT Department for three years, she can definitely manage and grow as an individual here. Please nominate her!
---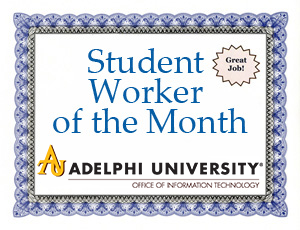 About IT's Employee of the Month Nominations
It is important to demonstrate our appreciation for the contributions of our student workers to their teams, to the Office of Information Technology, and to Adelphi University as a whole. At the end of each month, we will honor one student worker who has demonstrated commitment, leadership, and initiative in their position. The recipient will be presented with a certificate and gift, as well as a featured spot on our IT website.
All IT employees (including student workers) are encouraged to submit nominations for their choice for Student Worker of the Month. Your nominee should display qualities deserving of recognition.
Please submit all nominations through the Student Worker of the Month Nomination Form.