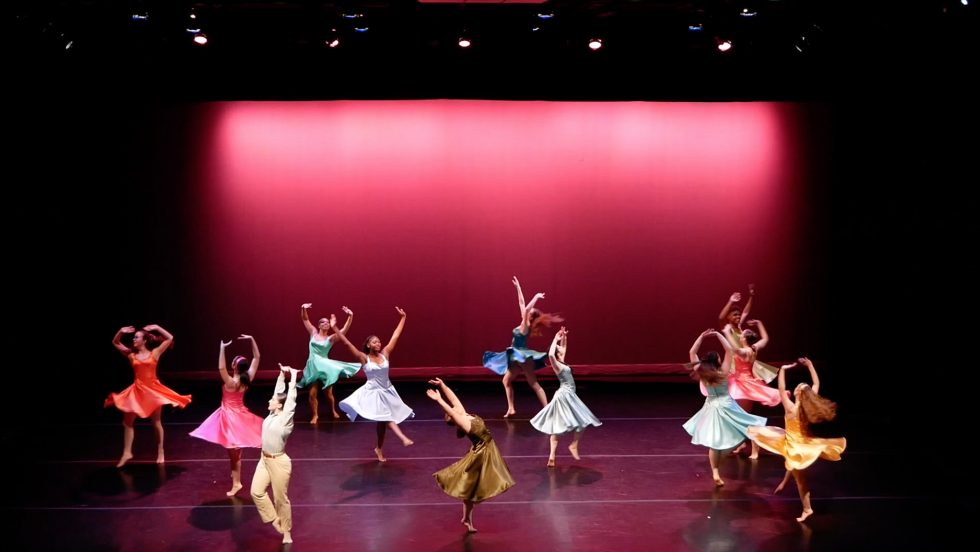 Associate professor and chair of the Department of Dance Orion Duckstein's idea for choreographing a piece about his grandmother's life emerged at an unexpected moment.
He and his dance students had been deeply immersed in rehearsing a dance with a dark vibe, and he joked that they should take a break for a wholesome activity like baking muffins in the Performing Arts Center's kitchen. When he talked with his mother that night and shared his idea for lightening the mood in the studio, she loved it and suggested his Grandma Kiki's favorite lemon muffins. Right then, Introducing Mrs. Baxter was born.
"My grandmother, Mildred 'Kiki' Kelley, was born in the 1920s and led a very dynamic life, especially for that time," Duckstein said. "I shared her story with the dancers and they shared stories from their ancestors. In this dance, we tried to refer to their diverse experiences as a way to turn a singular story into a story where many people can see themselves."
Duckstein shares that Kiki was a part-time model, held a degree in engineering from Rutgers University and was a black belt in judo. "During World War II, she served stateside as a self-defense instructor and demonstrator for the United States Marine Corps, where she met her future husband, Francis," he said. "After the war, Kiki worked for Bell Laboratories where she and a few others co-developed the first telephone that could call from an airplane to the ground."
Kiki left her job when Francis returned from serving overseas, and they had six children. When Francis left the family for his secretary she moved to Florida, pivoting to a career in education and becoming an environmental activist, leading scientific tours through the Everglades.
"Cancer took my grandmother at the age of 70, but she certainly lived a full and extraordinary life," said Duckstein.
Introducing Mrs. Baxter takes women's issues from the 1950s and looks at them through today's eyes. The performance debuted at Dance Adelphi in Spring 2023, with a cast of 14 dancers from Adelphi's Dance Theater course. "The piece starts as a mock Miss Adelphi pageant set in 1958 and finishes in the present day," Duckstein said. "Development of this piece was intense, but it's a fitting tribute to my grandmother's life and legacy."
One could say that Duckstein inherited his grandmother's zest for life. Though he initially studied acting while in college at the University of Connecticut, he says he hungered for a more physical experience. "I was an athletic kid, loved music and was always a bit of a daydreamer," Duckstein says. "When I saw the Alvin Ailey Dance Company in my junior year of college something snapped—the theatricality, the physicality, the interaction with music—I wanted to do what those gorgeous dancers did."
After completing his degree in theater, he shifted the direction of his career to dance. Through the years, he danced and choreographed for a number of major dance companies, taught dance professionally in New York City, and completed residencies at arts and educational institutions across the country. He began his tenure as a member of the Department of Dance faculty at Adelphi University in 2010, teaching students the artistry of dance in courses such as Modern Technique, Dance Improvisation and Conditioning.
"Many people are afraid to see dance, thinking they will not understand it," Duckstein said. "If there is any dance to see as a way into this art form, Introducing Mrs. Baxter is it—the dancers are wonderful, the piece has comedy as well as human moments, and it ends with a surprise as the dancers break out of the stage and into the audience."
He adds, "I think Grandma Kiki would be proud, and the dancers' grandparents too."