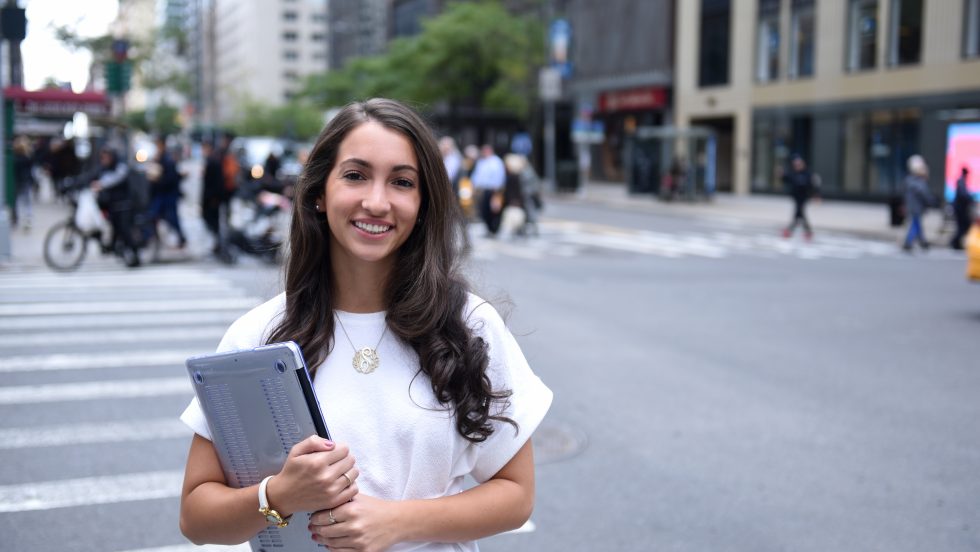 Career readiness. It's something of a watchword in higher education these days—and for good reason. Employers are looking for college graduates who can hit the ground running, giving students who show they can do so a substantial edge when entering the job market. Now, Adelphi's Robert B. Willumstad School of Business has a comprehensive program designed to give undergraduates that advantage.
The Willumstad Winning Edge, launched this fall, is a four-year program that complements the school's academics, giving students the skills and experience they need to move right into a successful career.
"It's part of Adelphi's personalized approach to education," said MaryAnne Hyland, PhD, the Willumstad School's associate dean for undergraduate programs and student success. "We want to help our students begin preparing for their career as soon as they arrive on campus. And while this year's entering class will be the first to get the full four-year experience, all of our students can take part in the program."
The Winning Edge experience begins for first-year students with a meeting with the program's adviser, Lori Cary, who was recently hired to fill a new role at the Willumstad School as co-curricular programs coordinator. Students also meet with specialists from the Center for Career and Professional Development and are given the opportunity to take standardized assessments to help identify their values and interests. They begin Excel training as well, starting the process of earning valuable Microsoft Office Specialist and Microsoft Excel Expert certification.
The Winning Edge helps students gain other practical business skills. It offers résumé-writing workshops, mock interviews, career coaching and even business etiquette tips.
The program goes beyond that, though, providing training in the attribute that is most highly prized by employers—leadership ability. Willumstad students were sent this year to the Beta Gamma Sigma Global Leadership Summit, a prestigious conference for top business schools. Adelphi also offers a Leadership Certificate Program and an annual Women's Leadership Conference, both devoted to business issues and professional development. And the Winning Edge hosted a special experiential learning course devoted to international business during the January 2019 Intersession.
Internships, of course, are a crucial ingredient in the Winning Edge formula, and the Willumstad School has a track record of success placing students with top companies. The School's director of internships, Neil Halloran, has developed ties with businesses and organizations on Long Island and in New York City, including IBM, Marks Paneth LLP, KPMG LLP, Morgan Stanley, Credit Suisse, Merrill Lynch and EY. Many students have turned these internships into job offers, and all have benefited from the résumé-building and networking opportunities they present.
New features have already been added to the program since its launch. At the start of second semester, a pilot job-shadowing program was introduced, giving sophomores and juniors the chance to spend a day with an executive at companies including State Farm Mutual Automobile Insurance Company, GEICO, Merrill Lynch, ING Group and Penn Mutual. A peer-to-peer coaching program got underway then, too, matching first-year students with juniors and seniors.
The Winning Edge program, which is supported by a generous donation from Adelphi University Board of Trustees Chair Emeritus Robert B. Willumstad '05 (Hon.), will give Adelphi business students the skills, training and high-impact learning experiences that lead to success. "The program will make students more employable—and more immediately productive to any employer," Willumstad said. "I strongly believe the Winning Edge will create a new generation of business leaders at Adelphi."