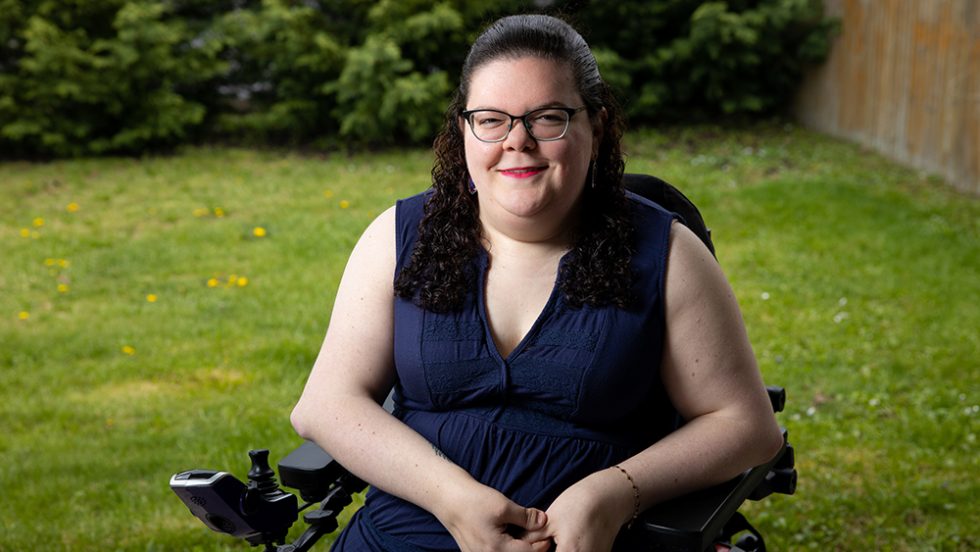 Adelphi is known for helping each student find their own unique path. Alumna and Adelphi University Trustee Emily Ladau '13 became a disability advocate, speaker, author of the forthcoming book Demystifying Disability, and a warrior for inclusion and justice. We're proud to be involved in her important work.
Emily Ladau '13 has made it her life's mission to change the way Americans think about disability.
The internationally known disability rights activist, writer and speaker is editor in chief of the Rooted in Rights blog, a site that features narratives about the disability experience. She co-hosts The Accessible Stall, a podcast about disability issues, and she's written about disability issues for a slew of media outlets, including The New York Times, CNN and HuffPost. And in addition to all that, she's a member of Adelphi's board of trustees.
Now Ladau has written a book to help people become thoughtful, informed allies to people with disabilities. Demystifying Disability: What to Know, What to Say, and How to Be an Ally will hit stores in the fall of 2021. Published by Ten Speed Press, the book covers disability history and ableism—or discrimination against people with disabilities—and gives tips on how to think and talk about disability.
Teaching the world about disability

Ladau was born with Larsen syndrome, a genetic musculoskeletal condition. She got her first wheelchair when she was in third grade, and she's been living life on wheels ever since.
Ladau found her calling as a disability advocate while she was a student at Adelphi. She majored in English, originally planning to become a high school teacher. But midway through college she began to embrace disability as part of her identity, celebrating the fact that she was part of an estimated global population of more than a billion people who experience some form of disability.
"Rather than teaching in one classroom," she said, " I wanted to find a different way to teach."
Ladau's activism is all about enlightening the public about what it's like to live with a disability and teaching them how they can be more empathetic and supportive. "I'm lucky to be able to teach beyond the walls of a traditional classroom, " she said.
She describes her experience at Adelphi as being transformative. "My professors were so incredibly supportive of me," she said. "They empowered me to turn many of my assignments into disability-focused assignments. I would often take the readings we were doing and interpret them through a disability lens."
The experience of exploring her own identity through her studies sparked her passion to become an activist. "I'm grateful that I had so many professors who really let me run with disability as a topic. I think that really made a huge difference."
Support for students with disabilities is an Adelphi tradition
Ladau is just one of many students with disabilities who have thrived at Adelphi. The University has a national reputation for supporting students with disabilities and helping them achieve academic success.
The University is ranked as one of the top 50 disability-friendly schools in the nation by the website College Choice.
Adelphi offers transcriptions and live captioning for Zoom classes and meetings, making it easier for students with hearing disabilities to follow along when in remote classes. When the COVID-19 pandemic pushed most classes online, the University's Student Access Office (SAO) worked overtime to make sure assistive technologies were there for students who need them. The University provided text-to-speech software to a student with a spatial visual disorder who was unable to work from a screen. The software enabled her computer to read to her. The SAO provided a blind student with accessible books and software that uses smartphone cameras to "see" online images for students.
Accessibility was greatly improved in the renovated and expanded Ruth S. Harley University Center, which reopened in January 2021 after a two-year construction project. The building, which is fully compliant with the Americans with Disabilities Act (ADA), has two elevators and a Handi-Lift wheelchair lift connecting the main floor with the dining level. Its meeting rooms are equipped with assistive listening devices that provide sound directly to users' hearing aids.
Adelphi offers a well-known program for students on the autism spectrum, Bridges to Adelphi, which provides academic and social services that help high school students transition successfully to college. Students in the program have an average GPA of 3.25, and the retention rate is an impressive 96 percent.
Bringing advocacy to Adelphi's board of trustees
Adelphi is encouraging people with disabilities to take leadership roles, too. Ladau was named to Adelphi's board of trustees last fall.
Ladau envisions a world where ableism is a vestige of the past. "My hope is that through the work that I do, and also by amplifying the work of other people with disabilities, that we will start to dismantle ableism and shift to a more accepting and accessible world."