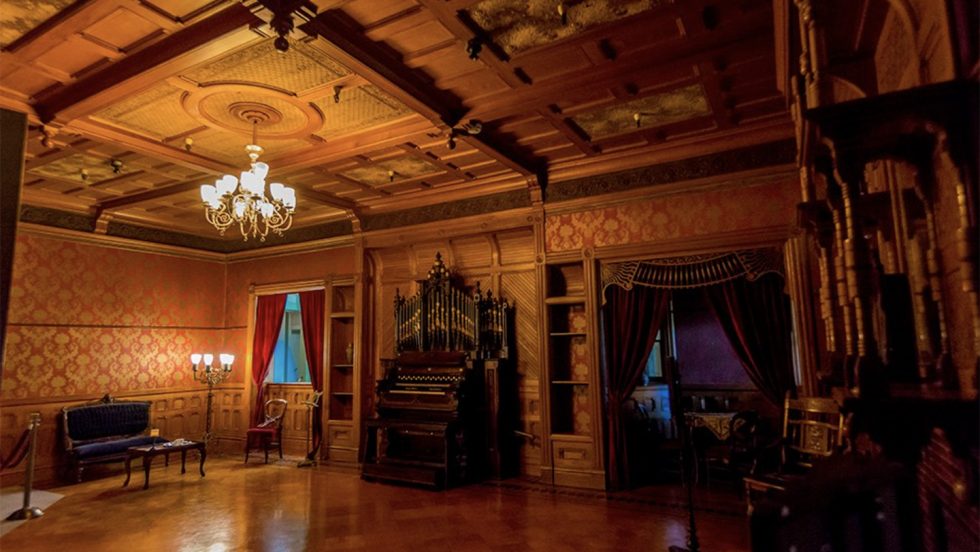 The Winchester Mystery House is an architectural marvel, a historical landmark and, as its website notes, "the world's most beautiful, yet bizarre mansion."
Located in San Jose, California, the mansion was the home of Sarah Winchester, heiress to a large portion of the Winchester Repeating Arms Company fortune. For 38 years after her husband's death, Sarah kept the house in a state of perpetual construction, adding rooms and features onto the house, including staircases that lead to nowhere, doors that open to walls or an 8-foot drop, a séance room with one entrance and three exits, and repeating appearances of the number 13.
Today the house comprises 25,000 square feet and 160 rooms. While it also attracts visitors interested in history and architecture, the house's reports of ghost sightings and paranormal experiences and its status as one of the most haunted places in the world make it a popular Halloween destination.
Overseeing the Winchester Mystery House is General Manager Walter Magnuson '02, who is responsible for guest experience, sales and marketing, operations, overseeing 110 employees, and securing cross-promotions and tie-ins, including the recent thriller Winchester, starring Helen Mirren.
Ghosts and hauntings pale in comparison with this year's pandemic. How does a tourist attraction like the mansion survive after being forced to close, then to reopen with safety precautions and reduced capacity? We spoke with Magnuson to find out.
What is your favorite part of the house?
There are so many unique features that it's hard to pick one. Coming from a Disney background, I'm fascinated by the grand ballroom. It's such an iconic space. When Walt Disney was working on the earliest concepts for the Haunted Mansion at Disneyland, he sent the imagineer assigned to the project here in 1957 to take notes. I see some areas that made it into the final version in Disneyland.
What has the past year been like for you, and how have you adapted to the pandemic?
When we had to close [mansion] tours in March, we quickly focused on what type of off-site experience we could offer guests and how we could tell our story. We were approached by Matterport, who partnered with us to create a 360-degree tour where you can explore the rooms you'd experience on our tour, all from the comfort of your home. We signed with a licensing agency and are focusing on telling our story through other ways, such as a [clothing] line with Hot Topic.
We kept a close watch on health guidelines and regulations. In May, we relaunched a fresh version of the garden tour and told our story through audio at different stops. We also offered a nighttime version called Walk With Spirits.
On September 12, museums were allowed to operate at 25 percent capacity, so we reopened the mansion.
What is Halloween usually like at the mansion, and how is it different this year?
Every year, we try to refresh our Halloween experience because, while we have visitors from all over the world, we also have repeat visitors from a 100-mile radius. We put on our creative hats and ask, do we offer something grand and theatrical or something more investigative? Last year was our most ambitious event to date. Called Unhinged, it was a story with actors and a lot of special effects. This year is the opposite. We have flashlight tours—you alone in the house with a flashlight, hearing ghost stories about what happened in these actual spaces as you travel through them. It's like night and day, but people are enjoying this just as much and we're getting great feedback. The tours sold out and we had to add dates.
How do you operate tours while complying with regulations?
Ticketing is in advance. Since we cannot give a guided tour or mix people from different households, we offer self-guided tours with audio throughout, telling our story. One party goes at a time, with about two minutes between parties. There's a lot of signage visible, even in the dark, on the ground about distance. We have a lot of staff in the house to help wayfinding or, if one party is advancing faster than we project, we can control that. We added a few rooms to make sure the flow is better.
We're seeing good compliance. We have a great team that's very dedicated and safety focused. And California has been phenomenal at the state and county level at giving guidance.
How do you predict business for the mansion will be short term and long term?
We are very fortunate in that, even with capacity restrictions, we're still able to accommodate a number of guests. As opposed to theme parks, we will be able to rebound and achieve comparable historical numbers and figures. Being in the South Bay area, we have millions of people within 100 miles looking to do a day trip, so I think we are well suited to weather the storm—and we're not going anywhere.
Where do you see the industry headed in the next few years?
The situation is very fluid and continues to change and evolve. I think, over the next year or two, the industry is going to be a little sideways, like the rest of the world. I do think there will be extreme pent-up demand that is going to explode, hopefully as soon as 2022, to resume travel and cultural experiences and exploration.
How did your major in communications prepare you for your career?
My classes helped me learn to tell stories and understand how people perceive information. [I benefited from] not just my communications classes, but those in other subjects like philosophy and religious studies.
What would you tell students or recent graduates who want to get into this industry?
I think it's unfortunate that attractions, museums and cultural activities have been labeled as nonessential. While I understand the strategy and the science, these places are essential to a lot of people, to their spirit and well-being. It's very rewarding to be a caretaker or leader at a place that really resonates with people. To find ways to tell the story in the most emotionally impactful way is very special. I think it's a wonderful industry. Who doesn't love to travel and experience new things?
If an Adelphi student wants to reach out to me, I always try to make the time to talk. I'm very approachable and happy to do that for our students.
Learn more about the Winchester Mystery House on its website, where you can purchase the Immersive 360 Tour.
The mansion has been frequently featured in the media. On October 20, 2020, Trey Kennedy and the This Old Haunted House Facebook group held its ghost-hunting tour Happy Haunting—LIVE from the Winchester Mystery House.
If you're more interested in art and design, tour the house in daylight with HouzzTV's "Beyond the Ghost Stories of the Winchester Mystery Mansion."