Innovative methods developed in Adelphi's nursing and psychology programs are teaching students to provide extraordinary care—and winning awards.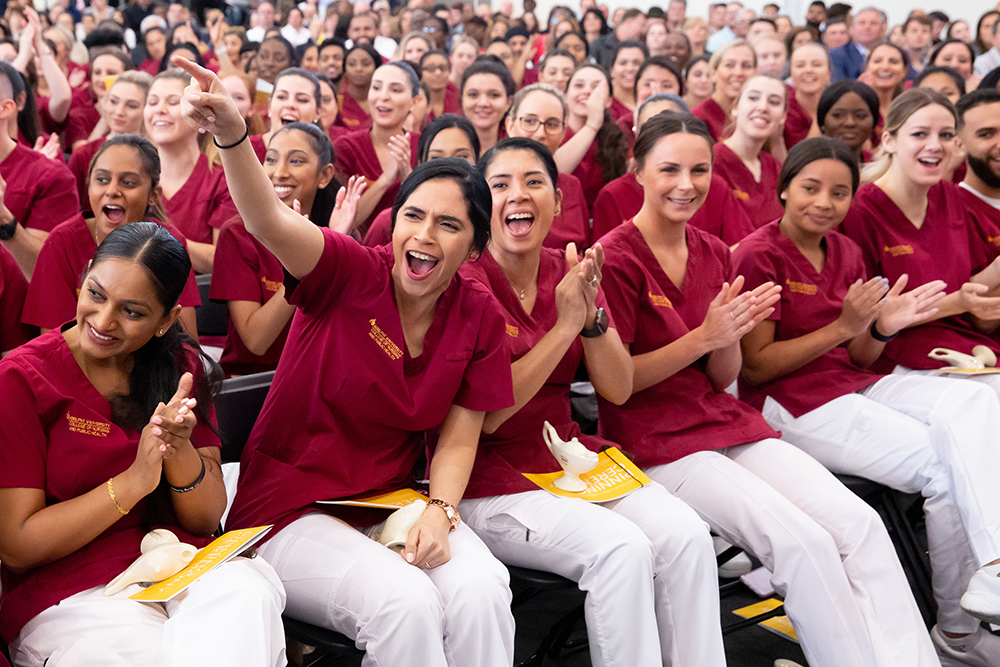 A group of nursing students took a break from their textbooks recently to contemplate a different type of care. They considered art depicting dying people surrounded by family and hospice caregivers and were asked to reflect on the emotions people in the image were feeling.
"Students don't get much exposure to end-of-life care in a clinical setting," said Maryann Forbes, PhD '99, associate dean for academic affairs in the College of Nursing and Public Health. "They don't experience the strong emotions. [The assignment] exposed them to that through art and helped create empathy."
That assignment and other creative approaches to teaching led the National League of Nursing (NLN) to designate Adelphi's College of Nursing and Public Health as a Center of Excellence in Nursing Education.
The school is just one of seven nationwide singled out by the NLN for advancing the science of nursing education, out of around 1,000 undergrad nursing programs in the United States.
"It's quite an achievement on our part," Dr. Forbes said. "We've created an environment that encourages innovation in nursing education."
Adelphi nursing students also benefit from training in Adelphi's state-of-the-art simulation lab, which contains manikins that have heartbeats, a pulse and pupils that dilate. During simulation experiences, lab staff and faculty observe student interactions with the "patient." Afterwards, students discuss their experience with faculty members to increase their understanding.
Being an NLN Center of Excellence, Dr. Forbes said,"raises our national profile and helps us recruit better students. Better students makes better nurses." She also pointed out that the designation makes Adelphi nursing graduates more attractive candidates in a competitive job market.
The College of Nursing and Public Health isn't the only Adelphi program getting national recognition.
Lea A. Theodore, PhD, a visiting professor in the Gordon F. Derner School of Psychology, received the 2019 Jean Baker Mid-Career Service/Practice Award, honoring school psychologists who have made exceptional contributions to their field. The award was presented to Dr. Theodore during the 2019 annual American Psychological Association (APA) conference in August.
The award acknowledged Dr. Theodore's significant contributions to the profession of school psychology since her entry into the field, noting that she has served in high capacity leadership positions, such as president of the Division of School Psychology in the (APA), vice president of professional affairs and vice president of membership. Dr. Theodore was appointed a psychological consultant for the Virginia State Supreme Court and she lobbied on Capitol Hill for several critical bills that affect children and families.
Her scholarship bridges the divide between research and practice, focusing on treating the whole child with innovative techniques, such as yoga and mindfulness. Her work spans private practice and the classroom, and has been shown to improve children's overall adjustment, as well as enhancing the academic, behavioral, social and emotional functioning of students.
"Dr. Theodore has tirelessly advocated for our profession, social justice and the best interests of children," the APA award statement reads.
Dr. Theodore teaches in the Derner School's new doctoral and master's programs in school psychology. Thirty-six students are in the doctoral program, which launched in 2018. The students are progressing through an academic and experiential curriculum, with training that focuses on psychological assessment, intervention and consultation, as well as conducting research. The goal of the new program is to develop expert clinicians who will provide psycho-educational services to enhance children's academic and overall mental health and wellness.
The school psychology doctoral program is unique because it emphasizes the influences of culture, environment and the influence of society on children's mental health. This psychosocial approach adds a social justice dimension to the program that is particularly valuable in the delivery of mental health services to underserved minority populations, who, according to an APA study, are more likely to experience multiple risks factors for mental illness.
---
For further information, please contact:
Todd Wilson
Strategic Communications Director 
p – 516.237.8634
e – twilson@adelphi.edu