Prisco has been helping the University grow in his time as 3D Studio manager.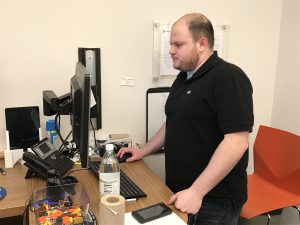 The 3D Printing Studio at Adelphi University opened in the Fall of 2014 to further Adelphi's recognition as a center of intellectual and creative activity and promote student success in a range of educational goals. In the Spring of 2015, Giuseppe Prisco was brought on as the 3D Studio Manager to bring more of an art direction to the studio, and help students carry out their ideas. Prisco graduated from New York Institute of Technology with a B.F.A. in Computer Graphics, but always wanted to work with 3D modeling.
Coming into this position was a change of direction for Prisco, who previously worked as a CGI artist. "I take on the artist role here, but now it's art in addition to everything else," said Prisco, "There was a bit of a learning period, but I got through it." As the manager of the 3D Studio, Prisco learned about some of the more technical aspects of 3D printing, and has had to take on more of a training role.
In fact, Prisco leads training workshops on 3D printing for students and faculty. He has helped students create models for cosplay, robotics, and even for class projects. "I had a group of business students who wanted an actual model to demo instead of drawings. After they came up with the idea for the product, and we were able to 3D print the model, and they used that as their demo piece." Prisco has had professors come in with their classes to work on group projects and in these cases, he's worked with the professor to tailor projects for the entire class.
Though Prisco has been able to help so many at the University with various projects, he hopes that there can be upgrades in the future that will help the 3D Studio at the University expand a grow further. When asked about these upgrades, Prisco laughed candidly saying "There's about a 3 page list." He specifically mentioned getting different materials to print with, "Sometimes the PLA plastic isn't great for certain projects," Prisco hopes that the 3D Studio will be able to acquire a resin printer sometime in the near future. Additionally, Prisco hopes that the 3D Studio will have a training space where printers readily available. Anyone who has an individual appointment can make use of the tools in the studio, but when he leads a training session with an entire class, they don't have 3D printers to utilize immediately. Prisco is constantly researching and exploring new ideas that could potentially improve 3D printing at Adelphi.
The 3D Studio has been an important piece of technology that has helped advance the University's teaching and research goals. The 3D Studio has worked with many students and faculty, but has also worked on community outreach programs, such as developing drain cover systems to keep pollution out of the water. The effect the studio has on others has not gone unnoticed by Prisco, "From students to faculty to alumni, we've impacted a lot of people, and there's a good variety of things we do." Technology is always changing, but with Prisco at the helm, it's clear that the 3D Studio will continue to grow and innovate.