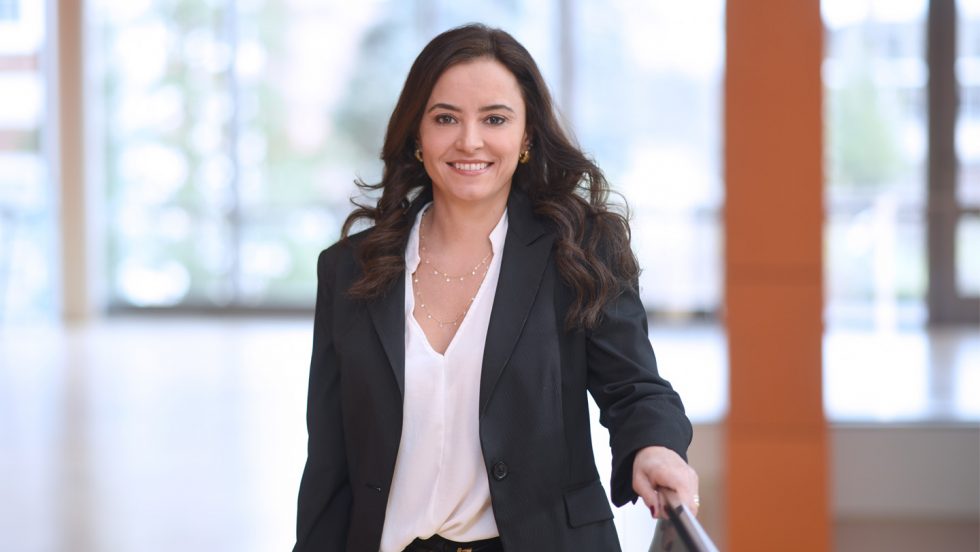 On May 6, Long Island Business News will honor Graziela Fusaro, the director of Adelphi's Innovation Center, with a 2021 Executive Circle Award. The award recognizes senior-level executives who have demonstrated remarkable vision and leadership.
Fusaro joined Adelphi in January 2020, only weeks before the pandemic abruptly shifted daily life and future plans for students and faculty across the University. Despite the challenges, more than 460 students and 45 external partners have already participated in Innovation Center programs launched by Fusaro.
The Innovation Center focuses on experiential learning, giving students opportunities to solve real-world problems in collaboration with businesses, nonprofits and government agencies.
Some of the Innovation Center's programs were able to go forward largely as planned, pre-pandemic, for instance, the new LIVE Class program, which builds experiential learning directly into coursework. The Innovation Center pairs courses—anything from data analytics to history—with external partners to complete projects directly related to the course. Whether the external partners are Fortune 500 companies like Northwell Health or organizations like SafePlace, a refugee camp in Greece, they would always have connected remotely, Fusaro explains, so the biggest adjustment was for students and faculty.
But in other areas, a full retooling was required. "The first thing we saw," Fusaro said, "is that a lot of high school students were thinking of taking a gap year, but the traditional gap year was impossible. So I started to think about how we could become part of this new gap year." She turned her ideas into Adelphi's virtual Gap Year Experience.
The 11-week program, which ran both fall and spring semesters, connected students with external partners of their choosing, from startups to major corporations. After three weeks of professional training provided by the Innovation Center, small teams of students completed eight-week projects with their partner organizations, with weekly Innovation Center supervision.
The program was a huge success. "Creating a virtual 'gap year' program for our students to work on company projects while they were remote due to the pandemic was extremely valuable for the business school," says MaryAnne Hyland, PhD, interim dean of the Robert B. Willumstad School of Business.
A new Innovation Center Internship Program will carry forward with a similar model for course credit in the 2021–2022 academic year.
Another quick pivot came during the summer of 2020, when it became clear that Adelphi's Jaggar Community Fellows program, which places students in paid nonprofit internships, would not be able to go forward with physical placements. Fusaro partnered with the Center for Career and Professional Development, and the Innovation Center ultimately created virtual projects with 11 external nonprofit partners, placing 44 Jaggar Fellows for crucial summer experiences.
Fusaro came to the Innovation Center after a long career in investment banking and international management consulting, and a post as assistant dean of the Long Island University College of Management. The Innovation Center is, she says, "my sweet spot—building bridges between academia and external partners."
As the world shifts again, from virtual to hybrid and beyond, Fusaro will undoubtedly continue building bridges, successfully carrying the Innovation Center forward into whatever new era comes next.