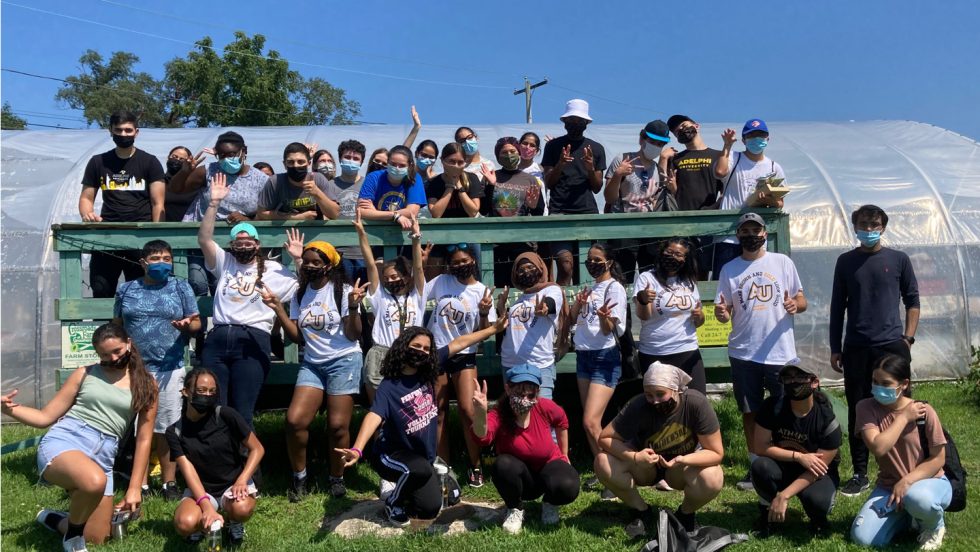 When junior Nicolette Macchio was an incoming first-year student, she received an email about the First-Year Community Action Program (FCAP). "I thought, 'Wow, that's a really cool thing!'" she said. She joined and loved it so much that she became an FCAP leader.
The same goes for junior Jende Uy, who also participated in FCAP as a first-year student and became an FCAP leader. "What got me to sign up was community service," she said. "I loved doing that in high school and wanted to get a head start on it. It's a great way to make friends before school even starts… . Not just with students; you're making connections with other leaders too."
Run by the Center for Student and Community Engagement, FCAP gives incoming first-year students the opportunity to participate in various volunteer and community service projects while making meaningful connections with fellow Panthers and organizations. Every year, before the fall semester begins, the students come together to make a difference within the community. This year, 35 first-year students bonded by doing community service across Long Island from August 24 to August 26.
"Our FCAP students served this year by gardening and harvesting seeds at Crossroads Farm at Grossmann's, beautifying the train and bus stations in the Town of Hempstead, and helping Adelphi's art department prepare for our Fall Arts Festival," said Arianna Livreri, associate director of the Center for Student and Community Engagement. "When you get a large group of like-minded, selfless people together, amazing things happen."
Along with bettering the community, students had discussions about the significance of community service, civic engagement and volunteering. Many of these conversations were accompanied with fun activities, such as art projects.
"My favorite moment would be the painting that we did," said first-year student Bryan Combary. "We had different words that referred to COVID-19, like 'perseverance' or 'strength.' We had to draw on a canvas something that described those words in an artistic way… . We also got to meet [members of] other volunteer groups, like the Panther Pantry. I got to talk to a lot of volunteer leaders and make connections with people."
FCAP is also designed to prepare new students for the upcoming year. They get connected with student organizations that are aligned with their passions and become more familiar with the campus. Through the program's cooperative and experiential learning opportunities, students are better prepared to find their place at Adelphi before the semester even begins.
From First Year to FCAP Leader
This fall, students were able to network with many organizations, including the Service Project in Hempstead, Hempstead Community Center, Crossroads Farm and more. Many students even made connections with student leaders.
"I made this one really big connection with one of my students because she was just like me when I started," said Uy. "I [also] just wanted to make friends…[and] I asked questions on how I can get involved even more. I'm glad that I can be that person for her."
Though FCAP is a program that happens over the summer, students' commitment to helping others continues during the school year. For Macchio and Uy, FCAP connected them to other like-minded students so they can spread awareness about community service opportunities happening on campus.
"We use social media platforms as the best way to spread information… . Because of FCAP, we can really hit different spots," said Macchio. "If I didn't participate in FCAP, I don't think I would be as involved as I am right now… . It definitely was a kick start for me at Adelphi."