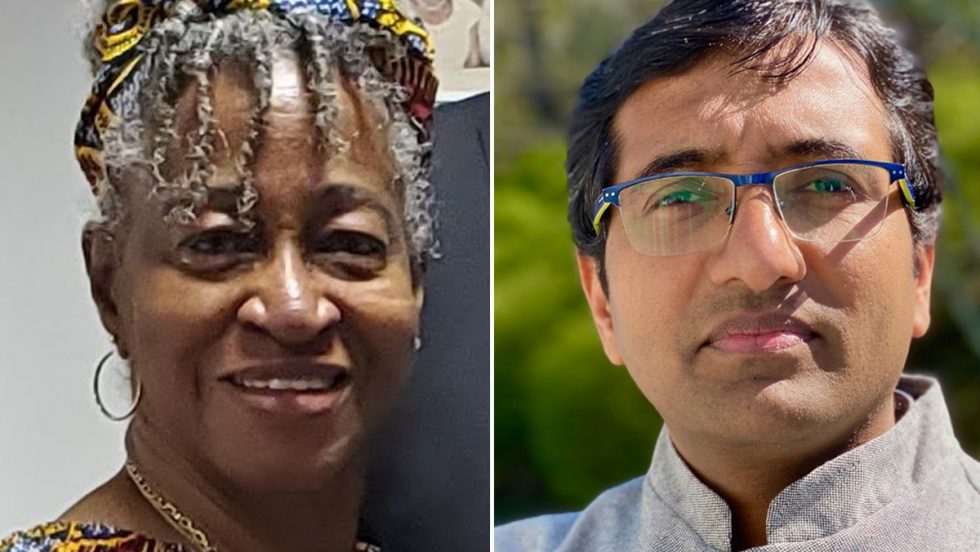 Sometimes the lessons that educators set out to teach their students turn into an opportunity to share knowledge with a wider audience.
That was the case for Pavan Antony, EdD, associate professor of special education, and Fayth Vaughn-Shavuo, PhD, a senior adjunct faculty member, colleagues in the Ruth S. Ammon College of Education and Health Sciences. Helping Adelphi student teachers learn to work with students of different cultures led to their recent book, Creating Culturally Competent Teachers in Higher Education (Springer, 2022).
Dr. Antony said that when he first came to Adelphi in 2010, he was assigned to teach courses that required students to spend 25 hours doing observations in an elementary school. They had the freedom to choose the district. "They ended up picking their neighborhood schools, which they were comfortable with," he said.
This concerned Drs. Antony and Vaughn-Shavuo, who noted that public schools have more students of color, while the teacher workforce remains largely Caucasian.
After consulting with the field placement office, they decided to require that Adelphi students be placed in nearby Roosevelt and Hempstead schools, two districts with predominantly Black and Hispanic students. While some students welcomed the new objective of exposing them to culturally diverse classrooms, the requirement was met with concerns from several Adelphi students and their parents.
But Dr. Antony remained firm in his belief that exposing Adelphi students to different communities during their teacher preparatory program would better prepare them to work with children from all different backgrounds in their classrooms.
Further, they found that once the Adelphi students were actually in the schools, they were excited. "They exclaimed about the beautiful buildings and how nice the kids were. It's like turning on a lightbulb," Dr. Antony said. "Of course, there were a few students who didn't want to go back. But there were a few who ended up taking a teaching position in those communities."
Turning Their Experience Into a Book
So Drs. Antony and Vaughn-Shavuo created the Tri-Fold Multicultural (TFM) Model. It consists of three elements in which students:
Take a 3-credit class
Meet administrators from Roosevelt and Hempstead districts, participate in an orientation and tour of the schools and are placed for fieldwork in these diverse settings
Reflect on their experiences in classroom writings, a journal and pre-and post-questionnaires
After following students for close to eight years in different classes with a pre- and post-survey, the two faculty members realized they had enough data and stories from the students for a book focusing on their research on the effects of placing future teachers in culturally diverse classrooms. These culturally diverse experiences helped the future teachers to become culturally responsive.
P.E.A.C.E. and Racial Healing
Then the program evolved again. Dr. Vaughn-Shavuo is also the executive director of the P.E.A.C.E. Afterschool Program in Hempstead. Adelphi students had been volunteering to go to the program to work with the children. During the pandemic, when Adelphi students couldn't go into classrooms to meet their student teaching requirements, she introduced the idea of doing virtual enrichment programming. During the summer of 2020, Adelphi students taught half-hour segments of yoga, math, spelling and art over Zoom to students at P.E.A.C.E., developing lesson plans for virtual instruction.
Dr. Vaughn-Shavuo said the P.E.A.C.E. experience helped the Adelphi students to get past their comfort zones. "They realized, as one of them actually wrote in our book, that children are children and all children deserve to learn. That was an amazing reckoning for them because it showed that they changed their perspectives and that they became more open to being culturally responsive in classrooms."
The authors hope that other schools will consider adopting the TFM Model in their classes or teacher preparatory programs.
Drs. Antony and Vaughn-Shavuo also work in conjunction with the Truth, Racial Healing and Transformation Campus Center at Adelphi. The goal of this combined effort is to enable Adelphi's Levermore Global Scholars and Jaggar Community Fellows to tutor at the P.E.A.C.E. Afterschool Program again.
"Some of the students that have gone on to become teachers have attributed some of their classroom management practice and their lesson planning practice to their experiences that they had at P.E.A.C.E.," Dr. Vaughn-Shavuo said. "So that's very rewarding."
All of these teaching opportunities are ways to help student teachers connect with not only community-based resources, but also with diverse communities.
Dr. Antony said, "It's important to understand that there is a real need within the school system and in the communities."