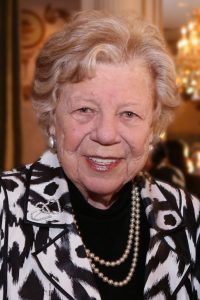 On Sunday, August 16, Adelphi lost a beloved alumna: Claire Kantoff Shulman '46, one of our first nursing graduates, who went on to become the first woman elected Queens borough president, a role she held for 16 years.
Major media outlets throughout the region paid tribute to her extraordinary life, including The New York Times, the Daily News, the New York Post, CBS and ABC, and she was hailed on social media as a "pioneer," a "trailblazer," a "glass ceiling shatterer" and a "champion for our communities."
Mayor Bill de Blasio tweeted, "Queens is our largest borough and Claire Shulman made sure every single voice was heard. She was a trailblazer, a fearless activist and a quintessential New Yorker. Our hearts are heavy today. She will be truly missed."
In a press release, Acting Queens Borough President Sharon Lee wrote: "Claire Shulman was larger-than-life. She did not waste time, and lived every single minute fully and with purpose. In a borough known for its trailblazers, few have led a life of dedicated public service as robust and as effective as Claire Shulman."
From Nurse to Public Servant
Shulman was one of the first women to enroll in Adelphi's Central Collegiate School of Nursing—a unit of the U.S. Cadet Nurse Corps, which opened in 1943 (and has become today the College of Nursing and Public Health). After graduating, she went to work at Queens General Hospital, later named Queens Hospital.
Her civic career began with her involvement on community boards. In 1980, Queens Borough President Donald Manes appointed Shulman his deputy borough president. In 1986, Manes was caught up in a scandal and resigned, and Shulman was named his successor by the city council. Later that year, she won an election for the post and then won three more times before term limits forced her to step down in 2002.
During her tenure, Queens oversaw the construction or revitalization of such institutions as Queens Hospital, the Museum of the Moving Image, the New York Hall of Science (NYSCI), the Queens Zoo, the Queens Museum and the Queens Botanical Garden.
Dedicated to Adelphi
Shulman remained connected to Adelphi. She was featured in a 2015 issue of Adelphi University Magazine and often returned to campus to attend events held by the College of Nursing and Public Health, including History Speaks in 2019.
College of Nursing and Public Health Dean Elaine Smith '78, MS '88, EdD, recalled Shulman as "a remarkable woman who made major strides in improving the healthcare of the people of Queens. She went on to have a long and accomplished career in public service. I had the pleasure of first meeting Claire when I was an undergraduate nursing student conducting research for a course assignment at the Queens [Borough] Hall. I remember her speaking with me about Adelphi and her connection to the school."
Dr. Smith added, "Many years later, she attended several events at our College and was recognized for her numerous contributions to nursing and healthcare. She often spoke vividly about her years in nursing and drew comparisons between her education and practice to the experience of today's nurses. I am very grateful that I had the privilege of meeting her and learning from her life experiences."
"I first met Claire Shulman in 1972 at her home at a League of Women Voters meeting," said Marilyn Klainberg '63, MS '77, EdD, professor in the College of Nursing and Public Health. "However, it was not until later that we became good friends. She was an important part of my life during the past several years. Aside from her involvement in improving the lives of those living in the borough of Queens, which was an important part of her daily life until she died, she was a caring human being to her friends and acquaintances. I shall miss her strength, her devotion to others and, simply, to be so lucky to be her friend."