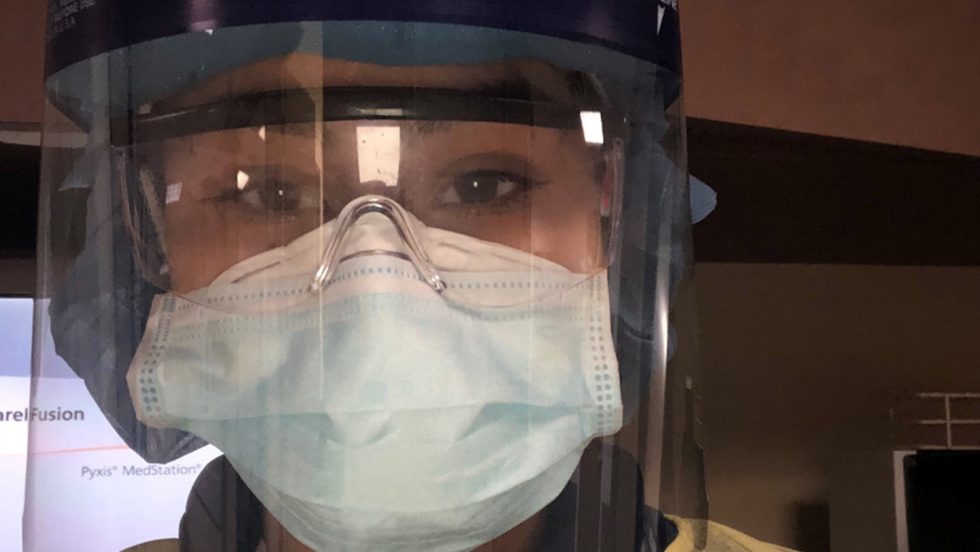 Hear from Megan Rasiak, a senior-bound nursing student, speak about her passion for nursing, her experience on a faculty-led trip to Guatemala, her love for writing and her goals.
Faculty, alumni and students from the College of Nursing and Public Health have been sharing their stories of being on the front lines during the COVID-19 pandemic. Megan Rasiak, now entering her senior year, was already working in the field when the pandemic hit. Aside from being a nursing student, Rasiak is also a gifted writer who contributes to the Her Campus website. Despite a full course load and her job working at Northwell Health, she managed to find time to document her experience in a detailed, moving and insightful article for Her Campus.
Via email, Rasiak shared how working during the pandemic has strengthened her passion for nursing and talked about her experience on a faculty-led trip to Guatemala, her love for writing and her goals.
Why did you choose nursing as your major and future career?
My older sister, Kaitlyn, received a kidney transplant when I was just 7 years old. My family was extremely involved with her treatment and I spent many hours in the hospital. The early exposure to medicine sparked my interest in healthcare that led to nursing. I think about my sister's medical team, and how all their individual backgrounds and specialties came together to change her life. I want to be part of a team and work with other providers and nurses. Nursing is also versatile, and there's endless opportunity within the field that I'm excited to explore.
Has your experience working in healthcare during the pandemic caused you to reconsider becoming a nurse, or are you now more committed to nursing?
My determination and desire to become a nurse have only strengthened. At no point did I ever reconsider my career, because, at every step of the way, I wanted to become more hands-on. I felt more motivated to help the patients I encountered. There was one patient that I helped discharge after a two-week stay in the hospital due to COVID. He told me that all he wanted was to be at home with his family again. When I watched him reunite with his family, my passion for healthcare strengthened and I felt ready to continue along my nursing school journey.
How long have you been writing for Her Campus?
I have been part of the Her Campus team for two years now, and I try to write content based on my major and personal interests.
Is writing something you want to pursue?
I enjoy writing, and I definitely would like to incorporate this into my future career in healthcare. While I write about a variety of topics, I find there is a need for more nursing content. I love writing about nursing and sharing my experiences because I feel that many of my concerns and struggles are relatable, and I love to share what I have learned along the way.
How has your education at Adelphi prepared you for your work now and in the future?
I feel that Adelphi has given me a solid foundation of healthcare and nursing knowledge that I am able to build on for life, regardless of where my nursing journey takes me. My fundamental knowledge and skills are strong because of all the instructors I have been able to learn from during lectures, labs and clinicals. The simulation lab transformed my nursing education, because it not only allowed me to apply all the nursing skills and information that we've been learning, but the environment allowed me to grow as a professional and start truly thinking and acting like a nurse. Adelphi has also played a role in helping me develop professional relationships, connect with mentors and meet some of my best friends, who have been part of my support system during my whole nursing journey. I wouldn't have been able to go through this experience without them and their support every step of the way.
What other Adelphi activities have you been involved with, such as clubs or study abroad?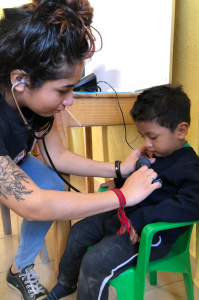 I traveled to Guatemala this January as part of the nursing faculty-led study abroad experience. I was drawn to this program because of the nursing aspect—and the location. I was adopted from Guatemala when I was a baby, and this trip was my first time going to the country since I was adopted. The experience was unlike anything I have done before, and I am so grateful that I went on this trip. I have plans to write about my experience there and what it was like to tour the local hospital and the diabetes clinic we were a part of, and how it felt to build stoves and install water filters for the local people. International healthcare is something I wish to learn more of.
I am also a part of the Tri Delta sorority here on campus. I was drawn to Tri Delta because of its philanthropy—we are dedicated to fighting childhood cancer in partnership with St. Jude Children's Hospital.
Is there a particular area of nursing you'd like to pursue?
My dream includes working on an intensive care unit. It requires constant expansion of skills, critical thinking—since situations are changing constantly—and working as part of a team. However, I would love to experience different kinds of nursing. I would love to be a nurse educator because there is a chronic shortage in this area. I definitely want to be involved with communities and be part of educational programs with widespread availability and accessibility to those affected by healthcare disparities. As a nurse, it is going to be my duty to advocate for my patients, but it is also my passion to be an advocate for communities who may not have equal access to healthcare.
Read more articles by Megan Rasiak on Her Campus and follow her on Instagram.
---
For further information, please contact:
Todd Wilson
Strategic Communications Director 
p – 516.237.8634
e – twilson@adelphi.edu