With learning hubs in Manhattan, the Hudson Valley and Hauppauge, more students are able to access Adelphi's uniquely personalized approach to learning.
Higher education can feel inaccessible, especially if you are a working professional or busy parent and don't live close to a major university.
Adelphi wants to change that and reach students wherever they are in New York—and thanks to learning hubs in Manhattan, the Hudson Valley, Hauppauge and Sayville, more students than ever are able to access Adelphi's uniquely personalized approach to learning. Large lecture halls will never be part of an Adelphi education—but different locations help Adelphi reach many more students.
"[The hubs] position us to have impact in communities that are outside of the immediate region of Garden City," said Peter Chernack, '80, M.S.W. '81, D.S.W. '01, associate dean for program development and administration for the School of Social Work. "That's part of what makes Adelphi a major metropolitan university."
These satellite campuses provide Adelphi's small classes and individualized attention to underserved populations, like working parents and those in more rural areas. Serving more than 350 students, the hubs offer flexible undergraduate, graduate and certificate programs in social work, education, business, nursing and more.
"It really is about responding to the workforce needs that exist in the region and providing access to the resources of the University and the School of Social Work when those resources can help," said Dr. Chernack, sharing how this is in line with the School's mission to reach out to underserved communities.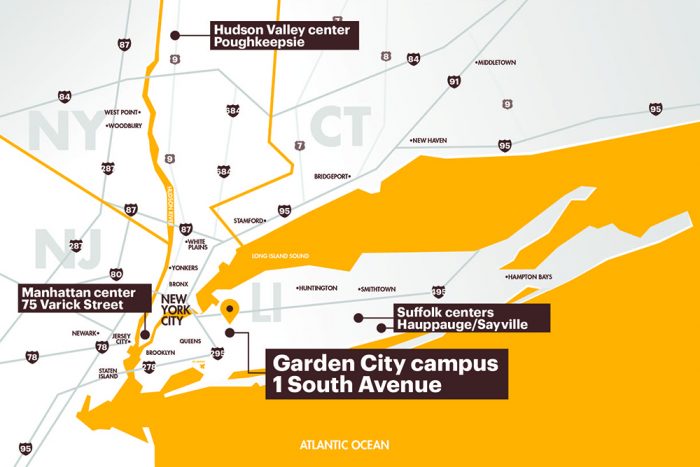 In the Hudson Valley, this meant stepping in where there were no programs available and providing students the opportunity to advance their careers. "These were communities that were underserved in terms of their access to social work education and there was a need to strengthen and professionalize the human services workforce," he added.
The Hauppauge hub gives professionals and parents living on Long Island access to higher education degrees in social work or nursing administration, and also houses a conference center that brings in speakers and holds workshops, giving students even more access to programs to help them succeed. For example, every March the center holds a "Careers in Social Work" panel where alumni share their experiences, and this year, in December, the center is holding its first on-site job fair.
The Manhattan hub in New York City can help busy professionals who entered the workforce immediately after graduating from high school, or after earning a bachelor's degree, to study for an advanced degree on their own time.
"Many are working students or have other obligations like families," said Andrew Peters, director of Manhattan Center programs. "They're trying to get this degree while juggling a lot of different things, and we're tailored to make that as realistic as possible for students."
The hub's class schedules support those with jobs and other daytime obligations by focusing on evening and weekend classes, and the staff works closely with students to make them feel confident that this degree can fit into their lives. (Daytime programs, like the Global M.B.A. in New York City, also keep the Manhattan Center buzzing.)
Ohiro Oni-Eseleh, director of the Hudson Valley Center in Poughkeepsie, New York, mentions similar measures the Center organizes to help students achieve their educational goals. Take internships, for example, which are a core part of the social work curriculum and a requirement for accreditation.
"Some students—especially those with family responsibilities or children—can't do their internships during the day," Oni-Eseleh said. "We make sure to find organizations that can tailor internships around those needs. We are constantly working to customize this."
Adelphi Sayville, in partnership with Suffolk County Community College, provides a similarly unique opportunity for working nurses to return to school and get their B.S. in Nursing, with flexible schedules that make doing so more feasible.
Along with all this support, hub students receive the same quality education they would expect at the main campus.
"We want to provide all four sites—including Garden City—with equal opportunity and resources," said Andrew Safyer, Ph.D., dean of the School of Social Work.
Dr. Chernack agrees. "Students choose to come to Adelphi because they want the private school experience, and that's no different at a learning hub."
---
For further information, please contact:
Todd Wilson
Strategic Communications Director 
p – 516.237.8634
e – twilson@adelphi.edu