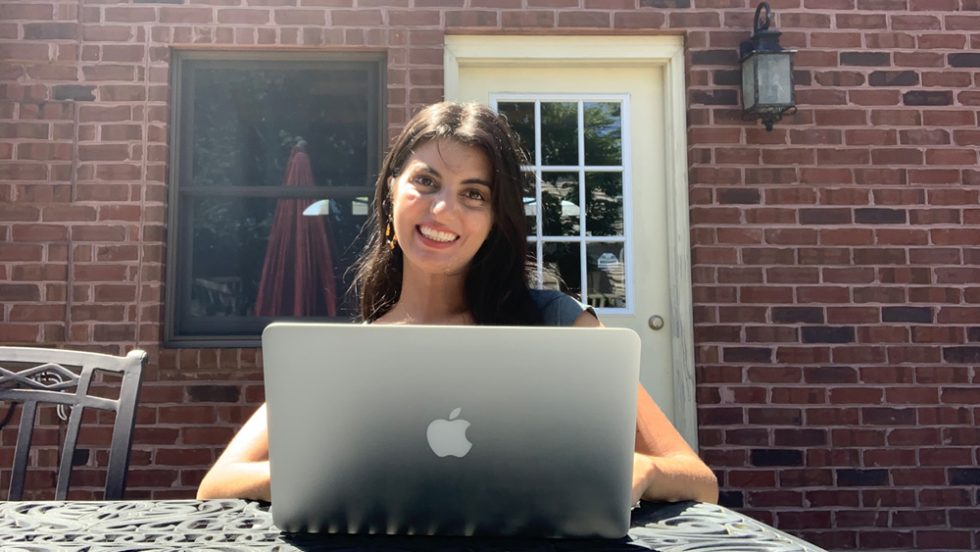 Being at home wasn't going to stop Corrada Spatola '20 from making the most of her last semester at Adelphi. Thanks to the virtual student chats offered by various departments at Adelphi, she got to interact with her fellow students and learned how to navigate our new normal.
Like most students, this spring was one of staying home, staying safe and contributing to flattening the curve. I know I'm lucky—my family, friends and I are all healthy. But as a graduating senior, I couldn't help feeling cheated. After four years of hard work, I was looking forward to senior events, parties and, most of all, walking across the stage in my cap and gown.
I knew classes would be online, but I was surprised when I began seeing various departments at Adelphi moving discussion groups to Zoom. I decided to attend one, and then tried some additional groups. Through them, my fellow Panthers and I found a place to connect and support one another, which we highly appreciated during this difficult time.
Chat and Chew
These daily, lunchtime hangouts were one of the first virtual student events offered at Adelphi. They were created by Erin Furey, outreach, training and mental health promotions coordinator with the Student Counseling Center. During spring break, the Center began offering these daily virtual chats every weekday afternoon to support the Adelphi community. The chats focused on various, relevant topics.
The virtual chat I attended was hosted by Caitlin Miles, student conduct officer from the Office of Student Conduct and Community Standards, alongside staff and faculty members at the Student Counseling Center. We discussed the challenges many students were facing and how to resolve those issues in healthy, positive ways.
Many students talked about the difficulties of being with and getting along with family members. Due to family members' conflicting schedules, wants and needs, we found ourselves compromising more than ever.
Krauchick shared some skills for conflict resolution:
Sometimes things might be running hot. It's easy to react, but take a step back first.
Look at the situation through the other person's perspective. Everyone around you is going through something.
Use "I" statements: Instead of "You're not giving me any privacy," say, "I feel like I don't have any privacy."
Be specific about your needs and what's bothering you, and don't generalize. We're all frustrated right now. We can't live like we normally would because we're not in our regular living situations.
Open House With the Office of Diversity, Equity and Inclusion
The Office of Diversity, Equity and Inclusion has continued their commitment to maintaining an inclusive institution by providing a space for our community to connect, adjust to the new post-COVID-19 reality and address issues of equity. The talk I attended was hosted by Chotsani West, MA '07, executive director, along with Estefania Zea, project manager, both from the Office of Diversity, Equity and Inclusion.
We discussed how we don't all have access to the same resources. "That's the kind of equity piece that is front and center," West said. "An equitable society says everyone should have access to healthcare so when outbreaks occur, people aren't afraid to go to the hospital. An equitable society says when you move to remote learning, everyone has access to technology."
Valencia Saint-Louis '20 pointed out inequities in access to quality, nutritious food. "I have access to a grocery store that has a lot of fresh produce; some communities do not," she said. She added that in some communities, fast food is often the most plentiful food available, and this food, "is just not the healthiest for your body," she said. "I feel like it creates an inequity in that [only some people have] access to good food and healthcare."
Chat Around the Globe
International Services provided a fun and expressive space where students, staff and faculty from all cultures openly discussed challenges and observations they've experienced through Chat Around Globe online hangouts every Tuesday morning.
Though the chat was directed at international students, unlike myself, I was curious to see the global pandemic through their perspectives. Students were eager to share details of their newfound lifestyles in their current living situations.
A main theme shared was the improvement of their health. They've utilized this time to focus on exercising and maintaining a better, more structured routine. Those who are used to eating out a lot are cooking more. I was surprised to recognize and relate to their circumstances as much as I did.
When asked how students are currently feeling, one student mentioned she had to get used to this way of living in the beginning. This included taking online courses and seeing some of her professors reduce homework and cancel projects due to the communication difficulties every student has experienced.
Healthy Adelphians
Scott Zotto '03, MSW '09, coordinator of substance use counseling and prevention programming, and Michael Hoffner, coordinator of the Interfaith Center and Spirituality Services, provided a weekly program helping Panthers develop lifestyles that promote physical, mental and emotional health while in quarantine.
Participants talked about the lack of balance they're experiencing. One student said this surplus of free time has made them feel guilty about doing nothing and that they have become unnecessarily over productive.
Another student felt the opposite effect. This excess of free time has made them feel lazy, unmotivated and unproductive. Adelphi's physical campus provides a productive environment that many students' homes cannot. The student views Adelphi as an environment that motivates productivity, while their home environment promotes relaxation.
"I think one thing I hear from everyone is the judgment you are placing on yourselves: 'I'm too productive,'" said Zotto. "This is a time where there's no rule book. We're doing the best we can and at times we do need to sit on the couch and watch Netflix. That can be a form of self-care. Sometimes we need to be lazy to clear our heads."
For Zotto, this pandemic has really shined a bright light on the imbalance in his life. "How do I create more balance?" he said he asks himself. "Now that I can no longer avoid or ignore this imbalance in my life, how do I address this in a healthy way?" Being at home can allow us to develop healthier habits.
"Maybe this is part of the solution already," Zotto said. "If we can just focus on these simple, manageable tasks in front of us, it will take pressure off of solving the big issues."
The current situation has been difficult to say the least. As much as I get tired of hanging out with just my immediate family, I fear for their safety and health. As much as I fear for them, I fear for myself. And while I understand social distancing is our best mode of defense, that doesn't make it any easier. It has been so relieving to know that I'm not alone. But to be given the opportunity to connect with others and learn how to cope with these feelings has eased my anxiety immensely.
---
For further information, please contact:
Todd Wilson
Strategic Communications Director 
p – 516.237.8634
e – twilson@adelphi.edu