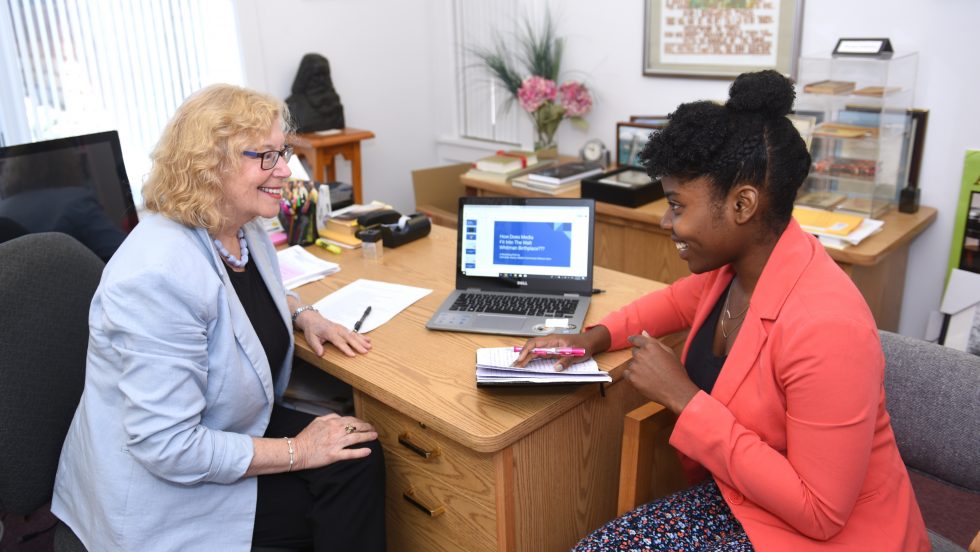 A survey of recent grads show 95% are employed or continuing their educations.
Adelphi students don't just earn a degree; they are graduating to bright futures and promising careers.
In October, Adelphi reported the results of its Adelphi University Career Outcomes Survey: Class of 2018. Among other findings, the report found that within six months of graduation, 95 percent of undergraduates and 94 percent of graduate students are either employed or continuing their education.
In November, Colleges of Distinction named Adelphi a 2019–2020 Career Development College of Distinction for the second year in a row. After a selective process, Adelphi was lauded for providing a personalized education catered to students' interests.
Also in November, College Factual awarded Adelphi 82 badges for being in the top 15 percent of colleges and universities in categories such as biology, accounting, business management and finance, nursing, history, chemistry, psychology, theater, music, and art—for traditional students, nontraditional students and veterans. Twenty of Adelphi's programs are top ranked or are in the top 10 percent for the highest-paid graduates nationwide.
How We Get Students Career Ready
Behind the numbers are the efforts of committed faculty and staff, especially those in Adelphi's Center for Career and Professional Development.
"Through the connections I built at Adelphi's [Robert B. Willumstad School of Business], I was able to intern throughout all four of my undergraduate years and landed a full-time position as a market executive assistant at Merrill Lynch upon graduation," said Elizabeth Prado '18, who is pursuing an MBA in finance to advance her career.
To further prepare students for their desired careers, the Center for Career and Professional Development offers résumé workshops and internship preparation seminars. This contributes to the 91 percent of working undergraduate students and the 93 percent of working graduate students who have job offers before graduation.
Adelphi offers a bundle of programs that contribute to the success of students. The Jaggar Community Fellows Program connects hundreds of students to a wide array of nonprofits and opens doors for students to jump-start their careers during the summer. Jaggar's sister program, Panthers with a Purpose, provides students with paid internships during the school year. Students can take their internships international through Adelphi's partnership with GoinGlobal, which features more than 600,000 internship and job listings internationally.
It All Adds Up to Career Success
"It's clear that our students are in demand by employers and graduate schools nationwide," said Kristen Capezza, MBA '12, vice president for enrollment management and University communications. "Our students are gaining the hands-on experience and skill sets needed to be successful in the working world."
Amy Lin '18 said, "My experience at Adelphi has been unforgettable. It has enriched my life in so many ways and helped me sharpen my skills and increase my confidence in the medical field. It's like no other university."
---
For further information, please contact:
Todd Wilson
Strategic Communications Director 
p – 516.237.8634
e – twilson@adelphi.edu