Adelphi is becoming a model of diversity and inclusion. Our second consecutive HEED Award shows our progress—and compassion.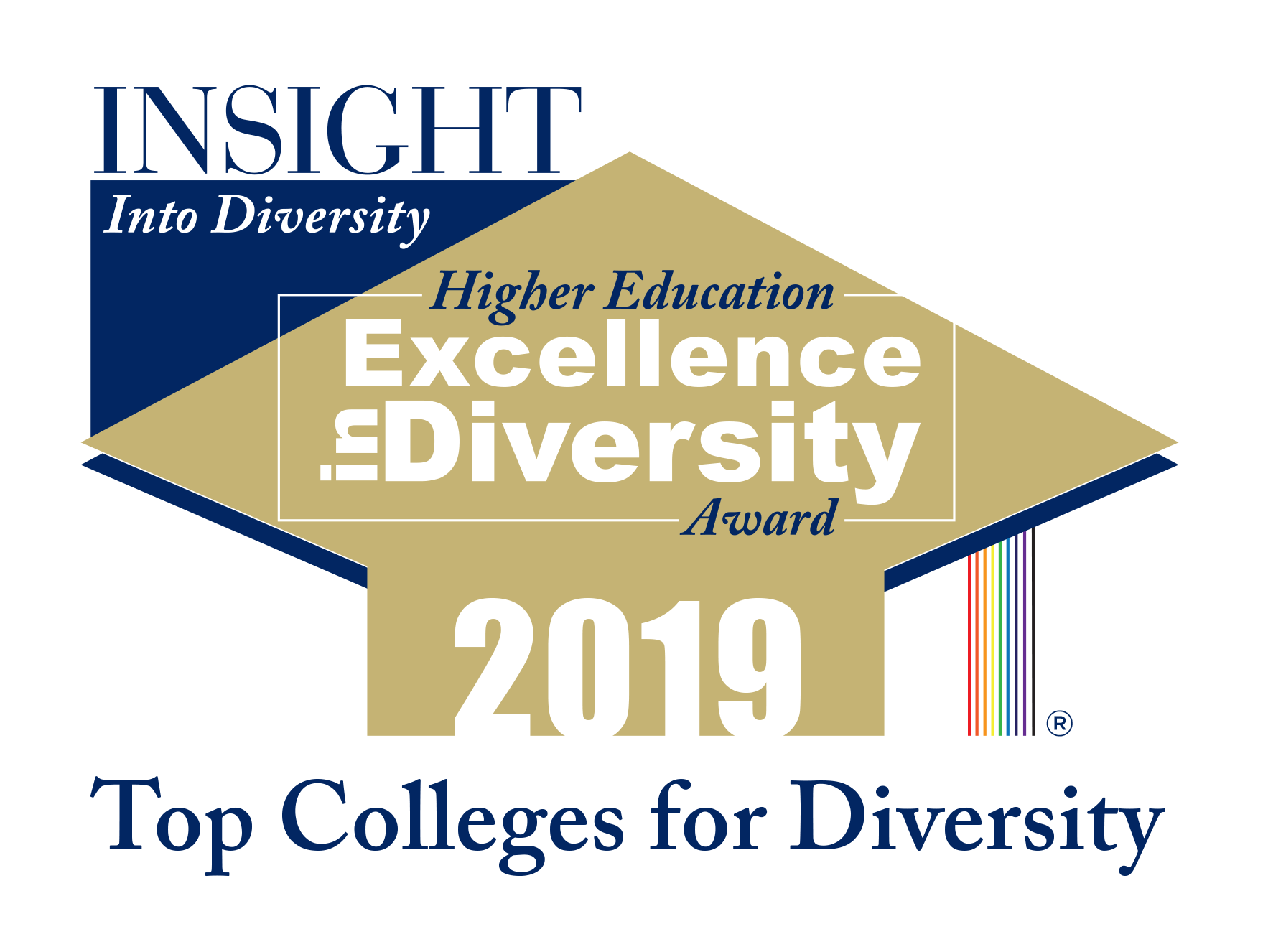 For the second year in a row, Adelphi University received the 2019 Higher Education Excellence in Diversity (HEED) Award from INSIGHT Into Diversity magazine, one of a select few private universities in New York state to receive this honor. The award goes to leading institutions that support underrepresented students and employees with opportunities for success. This award reflects Adelphi's commitment to becoming a model of diversity and inclusion.
"We owe it to our students and the broader community," said Perry Greene, PhD, former vice president for diversity and inclusion, who is set to retire in 2020 but is continuing his efforts in the area of diversity and inclusion. "As an influential institution of higher learning, it's imperative that we reflect that diversity the best that we can."
Adelphi has a history of creating programs and resources for underrepresented groups, including the LGBTQ+ community, students with disabilities and veterans. In fact, the Office of Diversity and Inclusion recently took the lead in the development of the Northeast Tristate Chapter of the National Association of Diversity Officers in Higher Education. The association leads universities and colleges in building diversity initiatives, recruiting and training diversity officers, and affecting national and local policies. CarolAnn L. Daniel '87, MSW '91, PhD '05, professor of social work and faculty director of diversity and inclusion in the Office of Diversity and Inclusion, now serves as chair of the Northeast Tristate Chapter.
In 2017, Dr. Greene developed the Universal Access Task Force to improve accessibility for people with disabilities. Often working closely with the Facilities Management Department, new initiatives included the creation of larger bathrooms, updates of the wheelchair logo on accessible entrances across campus, work to make sidewalks more accessible, and a proposal to add new exam rooms for students with testing accommodations. Adelphi is one of the Top 50 Disability Friendly Universities and one of the country's most accommodating schools for students with physical disabilities, autism spectrum disorder and learning disabilities.
This summer, Adelphi launched the LGBTQ+ and Allies Alumni Affinity Group at the WorldPride parade in New York. The group will promote connection and support among LGBTQ+ alumni, students and the on-campus LGBTQ+ Task Force. For efforts in LGBTQ+ inclusion, Adelphi has been recognized as a Premier Campus by the Campus Pride Index, which determines how welcoming institutions are to the LGBTQ+ community.
This past summer, Adelphi also hosted its inaugural Hispanic Community Partnership Program, a free college-readiness program for Hispanic high school seniors in the tristate area. For four days in August, participating students were introduced to the college experience through on-campus workshops and activities.
Going forward, Adelphi has applied to host a new Truth, Racial Healing & Transformation Campus Center in partnership with the Association of American Colleges and Universities (AAC&U). The goal of these centers is to break down racial barriers and provide racial healing and relationship-building on campus. The AAC&U started building these centers in 2018, with plans to develop 150 with universities throughout the nation. Adelphi's effort is being led by Marsha J. Darling, PhD, professor of history and director of African, Black and Caribbean Studies.
"Although the focus is on race, it's much broader than race. It's about social justice, restoration and healing," Dr. Greene said. "A center can be defined as a place, but it can also be a series of partnerships or initiatives on the campus that are designed to reach those goals."
Adelphi continues to find areas of improvement through its annual Campus Diversity Tour, which started in 2015. Groups of students, faculty and staff tour the campus and provide the Office of Diversity and Inclusion with evaluations and suggestions for new initiatives.
"This helps us see where we are in being a diverse and inclusive campus," Dr. Greene said. "We can gather feedback from the community and more precisely identify what work still needs to be done."
---
For further information, please contact:
Todd Wilson
Strategic Communications Director 
p – 516.237.8634
e – twilson@adelphi.edu