Adelphi's career-prep program is regarded as one of the nation's best. What makes it so successful?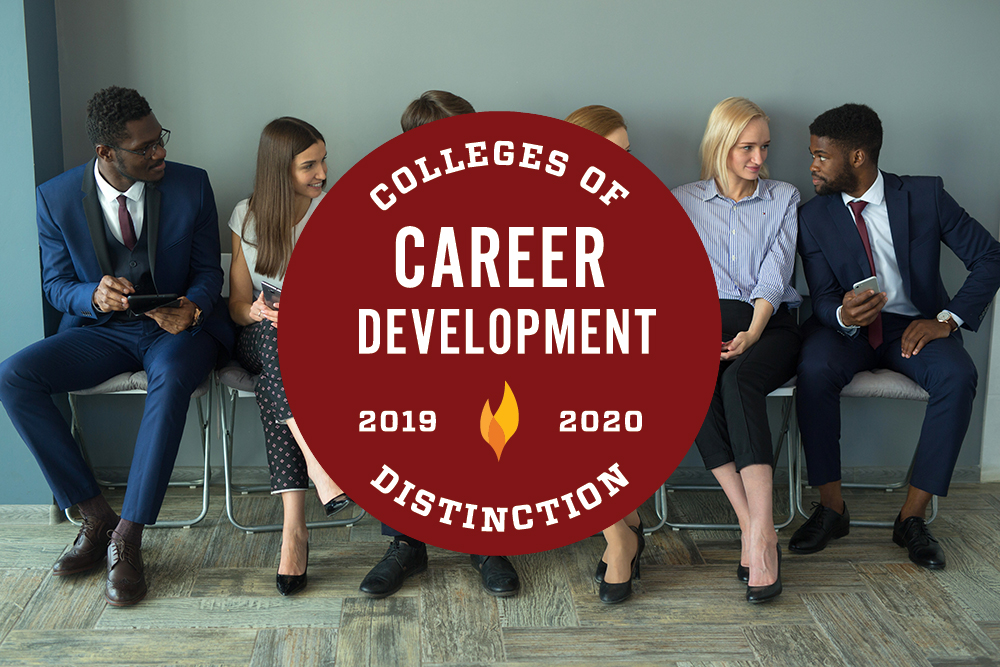 Spring semester has only just begun, but graduate student Rachel Foley already has her job lined up for fall—at the prestigious Big Four accounting firm of PricewaterhouseCoopers. What does the standout student, who earned her bachelor's degree at Adelphi in 2019 as part of the five-year BBA in Accounting/MBA program, credit as playing a big role in the successful launch of her career? Adelphi's Center for Career and Professional Development.
"The career center has been helping me ever since I arrived at Adelphi," Foley said. "I've taken advantage of almost all of its programs. It helped me land internships, develop business and communications skills, build my professional brand and grow my network. I still go to the center regularly to review my résumé and my LinkedIn profile."
Foley's experience is not unique, as the career center offers a coordinated series of programs designed to help both undergraduate and graduate students in every major gain the skills and experience they need to launch their careers. It has also led to the recognition of Adelphi as a Career Development College of Distinction, one of a select group of schools across the country that make career preparation a part of their curriculum.
The numbers back up the University's success in preparing students for their careers. According to Adelphi's Graduate Outcomes Survey, 95 percent of 2018 undergraduates held jobs or were enrolled in graduate school within six months of graduation—a figure almost 10 percent higher than the national average. Student engagement with career center programs and staff also increased by more than 31 percent from 2018 to 2019, thanks to a growing number of programs and outreach efforts.
"We're very proud of our efforts in preparing students for their next stages, whether it's going on to professional or graduate schools or landing that first job or internship," said Thomas J. Ward Jr. '93, executive director of the Center for Career and Professional Development. "We encourage students to use our resources early and often, so we can develop relationships and work with their strengths and weaknesses. And that's consistent with the culture of Adelphi—really getting to help students carve and develop their own career path."
Prep for Success: A Unique Career-Readiness Program
The career center's signature program, Prep for Success (Preparation, Reflection, Experiential Learning, Planning), spans more than 400 career-related workshops, events, courses and programs. These initiatives are specifically designed to help students build the skills outlined by the National Association of Colleges and Employers, including critical thinking, communication, collaboration and leadership.
The program has three major components: an Internship Preparation Seminar, a Leadership Certificate Program and an Online Career Coach program that is particularly valuable for distance learners.
"I took the Internship Preparation Seminar when I was a sophomore," Foley said. "We did mock interviews and worked on our résumés and cover letters. But the best thing was that the seminar didn't just prepare us to get in the door—it taught us what to do once we started our internships."
Foley certainly learned well, as she got internships at Merrill Lynch as a sophomore, the accounting firm Janover LLC as a junior, and at PricewaterhouseCoopers as a senior. She'd even spent the summer of her first year at the Nassau County Department of Human Services—in an internship she got at a career center career fair.
Foley also took ample advantage of the Leadership Certificate Program, developing her networking skills and picking up business strategies while earning a certificate in each of three successive years.
"The program offers about 40 workshops a year," she said. "The workshops are never the same, so there's always something new."
Developing New Strategies, New Technologies for Career Success
The career center is continuing to develop new strategies to help students become career-ready by the time they graduate. The center plans to expand its services for graduate students at Adelphi's Manhattan Center campus in New York City and strengthen partnerships with employers like Google, IBM, GEICO and JetBlue. It is also collaborating with several University partners to explore electronic credential badges.
"It's emerging as an innovative way for students to showcase their different skill sets," Ward said. "It's an exciting time to be in career services."
It's also a great time for students preparing for life after college. "I tell my friends to reach out to the center," Foley said. "The people there are always willing to help."
---
For further information, please contact:
Todd Wilson
Strategic Communications Director 
p – 516.237.8634
e – twilson@adelphi.edu