Honors College students are required to attend three cultural events each semester. That's easy with New York City in close reach.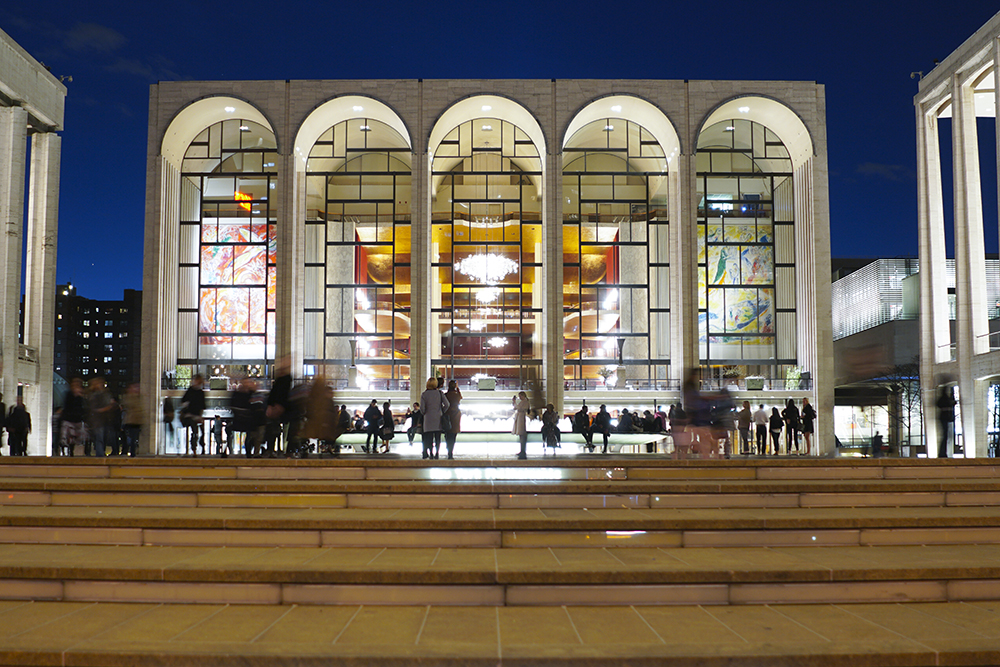 Ivaylo Ninov '08, an international student from Bulgaria, had been at Adelphi only three days when he visited New York City for the first time—to see his first opera, Don Giovanni, at Lincoln Center.
This experience was made possible by the Adelphi University Honors College, which offers students a chance to see operas, ballets, concerts and plays in premium seats for just $10.
"It's very affordable for the students, and we provide them with some guidance about what we think is going to be exciting, what might make them fans," said Richard Garner, Ph.D., who retired as founding dean of the Honors College at the end of this school year. "Many students have never been to the opera or to a Broadway production of Shakespeare or a New York Philharmonic concert. It's been a lot of fun picking those events over the past 25 years."
Dr. Garner is succeeded by Susan E. Dinan, Ph.D., who comes to Adelphi from New York City, where she was director of the Honors College at Pace University.
In addition to a customized liberal arts education, Honors College students are required to attend three cultural events each semester. This can include on-campus shows at the Adelphi University Performing Arts Center, but most popular are the New York City events.
Dr. Dinan plans to follow Dr. Garner's lead and continue offering the program.
"[These experiences can] build up students' confidence in navigating the city and allow them a better sense of what really excites people about the cultural offerings of New York," she said.
Fifteen to 25 tickets are secured for each event, and there are often waiting lists.
"I went to as many cultural events as I could get tickets to," said Samantha Wilson, who graduated from the Honors College in 2016. "I must have gone to at least four plays and eight operas. My first opera was Turandot, and I was addicted afterward."
Most popular among students are performances of The Metropolitan Opera because students get tickets to classic works that would normally cost upward of $200. For example, when The Met Opera first mounted its current production of Richard Wagner's Ring cycle, it presented one of the four operas each year.
"I had students who saw the first opera in their freshman year and saw one each year through to their senior year," Dr. Garner said.
Also popular are Broadway plays starring celebrities, such as A Delicate Balance with Glenn Close, Equus with Daniel Radcliffe and Angels in America with Andrew Garfield.
"Some students read Angels in America in their first-year seminars here, so I got tickets for that production last year," Dr. Garner said. Adelphi also mounted its own production of Angels in America a few years ago, so Dr. Garner invited three alumni who'd been in that production to attend the New York City performance.
By attending these events with faculty members, students can also receive on-the-spot lessons and educational context with what they're seeing.
"Dean Garner was always able to provide background to any story put on stage," Wilson said. "When we went to see Twelfth Night, he told us about how plays were put on in the time of Shakespeare and even some methods the male actors used when portraying female characters."
Another favorite of Dr. Garner's was the Works & Process series at the Guggenheim Museum. In this series, creators provide previews of their upcoming New York performances and then hold panel discussions. For example, Pulitzer Prize-winning composer Jennifer Higdon previewed her opera, Cold Mountain, and the American Ballet Theatre previewed its 75th Anniversary retrospective.
"It's in a beautiful little theater that most New Yorkers don't know about, two levels below the Guggenheim Museum," Dr. Garner said. "Often students who've gone to those events will, on their own initiative, get tickets to see the creative piece when it premieres in New York."
By exposing students to the arts in college, those students can discover their favorite types of performances and continue to pursue them after they graduate. Take Ninov, who now runs a private equity firm in New York City and holds season tickets to The Metropolitan Opera. He still attends the opera once or twice a year with Dr. Garner.
"These experiences really sparked a lifelong interest in opera, classical music and ballet," Ninov said. "They're some of my most cherished memories of the Honors College, and I hope students today find them as amazing as I did."
As Dr. Dinan said, "In order to provide an education that's really rich, you have to transcend the classroom through trips and social experiences, and really give students a view on the broader world. It's essential to their growth."
---
For further information, please contact:
Todd Wilson
Strategic Communications Director 
p – 516.237.8634
e – twilson@adelphi.edu