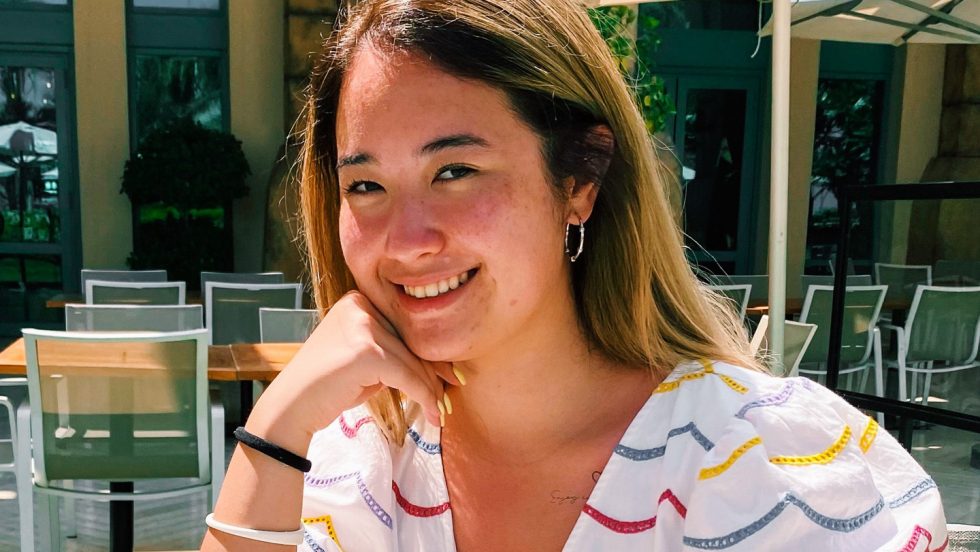 Rising junior Danelya Zholdasbekova's path to Adelphi was unexpected. While searching the internet for top New York business schools, the Kazakhstan native said she was attracted by descriptions of Adelphi's "close-knit, diverse community, its Honors College, scholarship opportunities, and beautiful campus and location."
As an Honors College student with a major in finance and minor in computer science, she has continued to chart a unique course by joining the competitive NASA L'SPACE Academy. "Last year, it was hard to get an internship due to the pandemic, but applying to this online program was the best decision of my life," she recalled. "I'm truly grateful to have this opportunity."
A Winning NASA-Funded Project
In Fall 2020, Zholdasbekova served as a budget specialist and computer programmer for the program's Mission Concept Academy (MCA) Lucynauts team. After completing the MCA program, she was accepted into the NASA Proposal Writing and Evaluation Experience (NPWEE) program, where she is a finance and budget specialist for the winning Space Oddity team.
"I've been working with students from NYU, University of Central Florida, University of Connecticut, The University of North Carolina at Chapel Hill, West Virginia University and Rensselaer Polytechnic Institute. We've received $10,000 in funding from NASA and are working this summer to further our idea for our project, 'Removable Coating for Cold Welding Applications,'" Zholdasbekova explained.
"Danelya's participation in the NASA L'SPACE Academy is an example of how many Adelphi business students engage in the world around them while pursuing their degrees," said MaryAnne Hyland, PhD, interim dean of Adelphi's Robert B. Willumstad School of Business. "We are proud to see Danelya share her business and finance talent and to represent Adelphi in this prestigious national program."
Zholdasbekova credits history professor and Honors College dean Susan Dinan, PhD, with encouraging her to apply to the NASA program. "The Honors College is my second home, and she is my greatest mentor. I owe her a lot for her continued support and advice that I value so highly," she said.
A Campus Leader
Dr. Dinan described Zholdasbekova as an exemplary Honors College student. "She is a remarkable student and a wonderful person who is endlessly curious and interested in a wealth of topics. Students in the Honors College have broad-ranging interests and often pursue majors and minors, undertake research, and become very involved on campus. Danelya's ability to remain so connected to Adelphi and all it has to offer while living in Kazakhstan during the 2020–2021 academic year due to the pandemic is most impressive."
According to Zholdasbekova, her service as president for the AU Supply Chain Management Club, vice president of professional activities for the Delta Sigma Pi business fraternity, as an Honors College Council mentor, and as an Adelphi admissions ambassador has enhanced her college experience.
She is also a Junior Moxxie mentee—a selective national mentoring program for high-performing college students. She wrote about her experience studying online in Almaty, Kazakhstan, during the pandemic for Moxxie Network.
Preparing for Takeoff
She has much to look forward to this fall when she returns to campus. All NASA L'SPACE Academy scholars have been invited to Cape Canaveral, Florida, for the Lucy Mission Launch in October, and she plans be there for that historic event. Zholdasbekova also starts an internship in investment banking with Cerity Partners in Manhattan this fall.
When asked what she hopes to do after graduating from Adelphi, she jokingly replied, "Rule the world—or live on Mars." For her, all things seem possible.