On Ada Lovelace Day we honor our female faculty, students and alumni who are following in the footsteps of the woman recognized as the first computer programmer.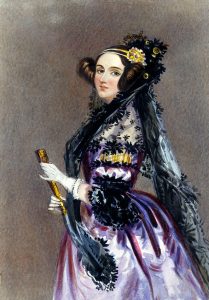 In 1896, Adelphi's founders took the then-unusual approach of providing the same educational opportunities to both male and female students. Today, our female faculty members, students and alumni say the supportive, unbiased environment we provide has enabled them to excel in the Science, Technology, Engineering and Math (STEM) fields, including two of the most male-dominated fields, physics and engineering.

It's only fitting that we celebrate all our women in STEM on October 11, designated as Ada Lovelace Day. Daughter of the poet George Gordon, Lord Byron, Ada Byron Lovelace wrote an algorithm in 1843 that would provide the instructions to run inventor Charles Babbage's Analytical Engine. She also was a visionary who foresaw that such machines had the potential to go beyond mere number crunching to manipulating words and images and composing music.
It would take a century for technology catch up with Babbage and Lovelace's ideas and even longer for Lovelace and the women who followed her to be acknowledged for their achievements in STEM.
Launched in 2009, Ada Lovelace Day is now celebrated around the world to honor and build awareness of women in STEM, support those in the field and close the gender gap by encouraging more girls and young women to pursue STEM careers. Since there are too many of our female faculty members, students and alumni for us to mention, we're highlighting those we featured on our website over the past year. From electrochemistry to entomology, they are truly making their mark and inspiring and mentoring the next generation of women—and men—in STEM. Malika Grayson '11, Ph.D., for example, is currently a system engineer in the Future Technical Leaders Program at Northrop Grumman Corporation. On her Instagram account, she provides advice and support for women of color in master's programs in the sciences.

And our list wouldn't be complete without mentioning that Adelphi's first female president, Christine M. Riordan, Ph.D., has a bachelor's degree in textile engineering (now called materials science and engineering) from the Georgia Institute of Technology.