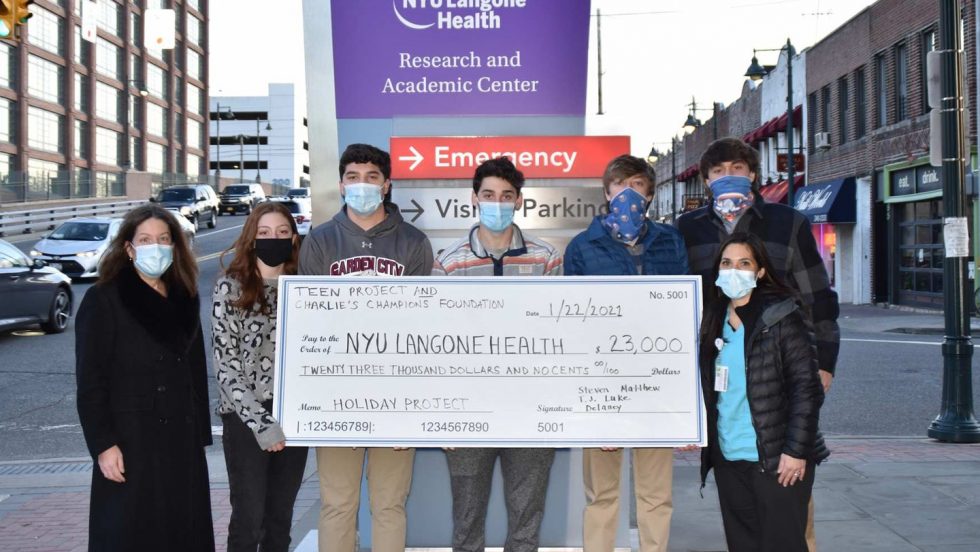 After a year at an out-of-state school, Matthew Spirakis is back on Long Island, majoring in business at Adelphi. But the sophomore already has some impressive business experience under his belt.
In 2014, Matthew and his older brother Steven founded Teen Project. Conceived as a community service initiative, Teen Project provides gift cards to teenage patients during their stay at NYU Langone Hospital – Long Island through the Child Life Program and Cancer Center for Kids – Mineola. The goal was to make the hospital experience a little more enjoyable—a lesson that Spirakis had learned firsthand.
When he was five years old, he had to stay in the hospital for two days after the removal of his tonsils. The experience wasn't so bad, though. Thanks to the specialists in the Child Life Program, he and other patients his age were provided games and iPads for entertainment, which help minimize anxiety during the hospital stay.
At the age of 13, Spirakis spent a week at the hospital following an emergency appendectomy. This time, however, his experience was completely different. Under the Child Life Program at NYU Langone Hospital – Long Island, professionals trained in therapies and child development assist young patients with the healing process. The program receives numerous toy donations for younger pediatric patients, but seldom age-appropriate gifts for teen pediatric patients. "Teens are often overshadowed by the younger patients and just weren't recognized in these programs, [which] were mostly just for younger kids," he said. "I knew this was something we could change."
Determined to help teenagers who were stuck (and bored) at the hospital, Matthew and Steven founded Teen Project. With the help of word-of-mouth, door-to-door chats with neighbors, and the brothers' friends, family and teammates from Garden City High School Athletics and the Miracle Club, they were able to raise $2,500 in the first year. Since then, Teen Project has partnered with the Schmitt family of Charlie's Champions Foundation to expand its reach. In the seven years since its founding, they have raised over $80,000 in donations.
Spirakis said his education at Adelphi is giving him a better understanding of the business of running a charity. After graduation, he hopes to have a successful career in business but plans to continue running his charity as a side project.
Teen Project and Charlie's Champions Foundation are currently accepting donations for the 2021 HOLIDAY PROJECT. And when the project concludes, Spirakis will stop by NYU Langone Hospital – Long Island, as he does every year, to drop off the gift cards and interact with teenage patients, who will be undoubtedly grateful for the holiday cheer.