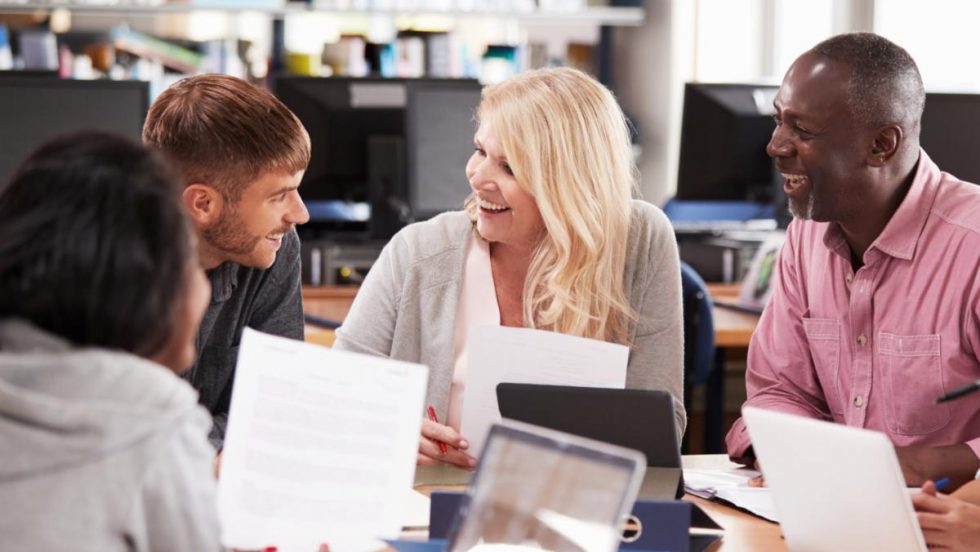 Supporting the professional growth of Adelphi employees is one of the roles of A. Brian Leander, PhD, director of training and organization development. Dr. Leander oversees the University's training and professional development and organizational development programs, including the Professional Development Fellows Program.
This program, currently in its third cohort, "is designed to prepare union and entry-level non-union employees with the tools, knowledge and experience to accelerate their career growth in higher education," said Dr. Leander, "and provide staff members considering a role as an administrator or supervisor with learning opportunities, experience, knowledge and skills related to success in administrative positions in higher education. The program provides support and encouragement for employees who wish to advance and accelerate their careers.
He added that "the program aligns closely with Goal 3 of Momentum, the University's strategic plan, to recruit and retain diverse faculty, staff and administration, and Goal 6, to attain global recognition and renown.
We asked some employees currently taking advantage of this program to tell us why they decided to pursue the fellowship, what they learned about themselves and about diversity, equity and inclusion, and how they intend to apply the skills they obtained through the program.
Sarah Avery, shop steward for Local 153
After five years as an administrative assistant in the Department of Sociology, Avery moved to her current role as shop steward for Local 153, the administrative union on campus, three years ago. Prior to working at Adelphi University, she taught business professionals in Madrid, Spain. She has a BA and an MS in higher education policy, research and administration from Goucher College.
Why did you decide to pursue the professional development fellowship?
I hoped this program would introduce me to new people and experiences here at Adelphi.
I learned that my Myers-Briggs personality type is known as the efficient organizer. I also learned about Adelphi's diversity, equity and inclusion efforts and how the office performs complex and difficult work with positivity, kindness, collaboration, patience and hope. This office is tasked with unending work that is critical at this time.
This program has given me a deeper understanding of myself with regard to work and leadership. I hope that all the positive attributes I have discovered and witnessed will have a chance to shine and be incorporated into my day to day. As for the shortcomings, I am grateful to know what they are and continue to work on them.
Mary Beth Kinney, administrative assistant, Health Services Center
Kinney has held her position for more than 16 years.
Deciding to pursue the Professional Development Fellows Program was important to me because I always strive to be the best version of myself. We are fortunate that Adelphi offers programs such as this one for everyone—not just supervisors, directors and administrators—to improve themselves professionally.
I have learned to be a better listener and to acknowledge others when they have good ideas. Scheduling meetings via Zoom was a bit of a challenge and we all learned to be flexible, which does not sound like an important quality, but it is!
The diversity, equity and inclusion efforts at Adelphi University are impressive. For example, I just learned that one of my executive leaders, R. Sentwali Bakari, PhD, vice president for student affairs, is part of a new program to assist underserved students experiencing trauma by referring them to the counseling options we offer here at the University. As Health Services is part of the Division of Student Affairs and works closely with the Student Counseling Center and Carol Lucas, PhD '13, director of counseling and support services, I am interested in having a conversation in the future with Dr. Bakari to learn more about this.
My intentions are to apply what I have gained from this program to my current position by being a good example to my coworkers and students. We all need to slow down, be more patient, show compassion to one another and embrace our differences.
Samantha DiSibio '14, academic adviser for the College of Professional and Continuing Studies
DiSibio earned a BS in Music, then worked in the performing arts before returning to Adelphi to pursue a career in higher education, first working as an administrative assistant in the College of Professional and Continuing Studies. She earned a Master of Arts in Higher Education Administration from Stony Brook University.
I decided to pursue the professional development fellowship because I felt that it would give me the tools I needed to move on to a higher position. After being an administrative assistant for four years, I was ready to take on a new career challenge. I felt that between the Professional Development Fellows Program and me finishing up my graduate degree, I was going to be well prepared for a new position at the University. And as you can see, it worked. In November 2021, I officially became an academic adviser.
I learned that collaboration is the key to success and it is okay to not feel the need to take all of the responsibilities on at once when you work with such a strong team.
I learned that [the DEI] team does in-depth research and tries to involve various areas of the University in diversity, equity and inclusion to show that it is a campuswide initiative rather than just a departmental initiative.
I intend to apply these skills daily in various aspects of my position. If I find myself in a place where I am not certain of my decision, then I can collaborate and talk it out with my colleagues to see what the best solution would be for a specific student. I have already found that since the completion of this project, I have already begun to do so.
Vanessa Leander '19, reservations clerk, Auxiliary and Event Services
Leander coordinates nonacademic event spaces for faculty, students and administration. Meeting types include special events, departmental meetings, student club meetings, banquets, receptions, conferences, workshops and training.
I decided to pursue this program to develop insights, obtain feedback and grow professionally.
The main takeaway so far for me was the Myers-Brigg personality assessment that matched personality types with best professional career paths. I definitely gained some insights as to directions that are a good fit for me professionally. Knowing both my personality type as well as being able to identify my coworkers' personality types allows me to focus on the strengths that different personalities bring to the table and how that helps the big picture.
I also learned that the Office of Human Resources has made an intentional effort to diversify the University's workforce.
Non-management employees seeking career development can apply for the next cohort in Fall 2022. Employees are also encouraged to take advantage of self-directed professional development resources such as LinkedIn Learning and learning certificate programs such as the: Diversity Certificate program, Leadership and Management Certificate program and Technology Competency Certificate Program.
New programs are being developed to meet the changing needs of our Adelphi University community members.