Port Washington resident Lois Goetz is the recipient of a 2016 Achievements in Health Care Award from Long Island Business News
NEWS FROM THE ADELPHI NY STATEWIDE BREAST CANCER PROGRAM
November 3, 2016
Contact: Lyn Dobrin, 516.997.8545
Health Care Award for Port Washington's Lois Goetz
Port Washington resident Lois Goetz is the recipient of a 2016 Achievements in Health Care Award from Long Island Business News. Lois is a Bilingual NYS Licensed Social Worker for the Adelphi NY Statewide Breast Cancer Hotline & Support Program, located in Garden City. She advocates for women undergoing treatment for breast cancer.  Her clients are low-income, Spanish speaking and uninsured. Breast cancer brings on many stresses for any woman who is diagnosed but is further exacerbated if the woman is poor and non-English speaking.  With compassion and skill, she helps the women and their families navigate through the complicated process of obtaining medical care from the time of diagnosis, throughout treatment and during survivorship.
As a consultant in Nassau University Medical Center's Breast and Oncology clinics, Lois is the liaison between her English and non-English-speaking patients and their doctors, facilitating communication and advocating on their behalf. She helps patients experiencing anxiety and/or depression by providing individual counseling, support groups and by referring them for mental health evaluations when necessary. Her work also includes helping patients apply for financial assistance for transportation, living and medical expenses as well as for post-mastectomy bras and prostheses, and BRCA testing.
Lois provides in-service presentations for medical staff regarding the psycho-social needs of breast cancer patients.
Says Hillary Rutter, director of the Adelphi Breast Cancer Program, "During the past ten years, Lois has provided these vital services for hundreds of underserved patients, ensuring that they receive culturally-competent care and are able to overcome whatever challenges might interfere with their life-saving treatment."
Lois and her husband Ernest, an attorney, have lived in Port Washington for 30 years and their two sons, Gerard and Daniel, attended Port Washington Schools.
Photo
Social Worker Lois Goetz is congratulated by Dr. Victor Politi, president and CEO, NuHealth, at the Long Island Business News Award Ceremony.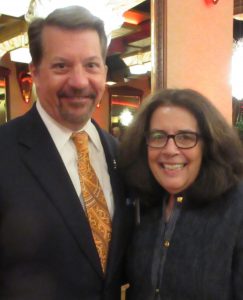 ---
For information, questions, contact
Adelphi Breast Cancer Program
p – 516.877.4320
e – breastcancerhotline@adelphi.edu
or call the Breast Cancer Hotline at 800. 877.8077
You are not alone.
---
For further information, please contact:
Todd Wilson
Strategic Communications Director 
p – 516.237.8634
e – twilson@adelphi.edu