An internship at Winthrop University Hospital gave nursing major Dominick Bacchi a taste of an exciting new career path.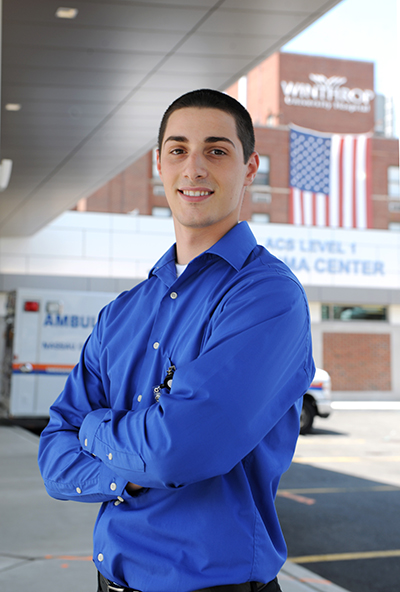 "I wanted to gain experience in the medical field at a hospital," said nursing major Dominick Bacchi '18 about why he became involved with Adelphi's Jaggar Community Fellows Program. "I wanted to expand my learning."
And expand it he did.
He interned at Winthrop-University Hospital last summer, compiling the hospital's breast cancer patient pathology data to assist with the institution's accreditation process.
"I gained a new perspective on the business side of healthcare," he said. "I wanted to get into nursing to help people, and I didn't think I could do that in the business world." But seeing how much business-related nursing tasks do help patients has him considering that as his career focus.
He hadn't previously taken much notice of nursing professionals who do not participate in hands-on patient care. "I thought their jobs were boring until I saw what they did," Bacchi said.
At Winthrop, he also had the occasional opportunity to observe trauma care. "One patient came in with a stroke, and I watched the doctors and nurses intervene," he said.
Bacchi transferred to Adelphi to take advantage of the cutting-edge facilities for nursing education in the new Nexus Building, including the clinical opportunities and simulation labs. "I came here for the simulations and the hands-on, real-life scenarios," he said.
"All the professors are great. They're caring. They take time out to help students understand the material," he added.
The Jaggar Community Fellows Program offers competitive paid summer internships for students to gain valuable experience in the nonprofit sector and is open to all majors. So far, 377 students have interned at 91 nonprofit organizations since 2010. It's the only program like it in the region. Participation by both students and nonprofits has more than tripled since inception.
The program is named for Adelphi University Trustee Angela Jaggar '62, M.A. '65, Ph.D., and her husband, Scott Jaggar, who have provided generous support.
"Students participating in the program have often said it was a life-changing experience," said Bernadine Waller, M.A. '10, associate director of experiential learning in Adelphi's Center for Career and Professional Development. With a team of colleagues, Waller manages the Jaggar Community Fellows Program. "Students gain a greater focus. Some have even changed their majors. Many have gone on to top graduate programs."
Participating nonprofits likewise value the program's students. Regarding Bacchi's work at Winthrop-University Hospital, "He completely wowed them," she said.
"Dominick blazed a trail. The program did not previously have a relationship with Winthrop-University Hospital. He advocated for that partnership because of his passion. Winthrop has said they want more students like Dominick. He set the example and paved the path for others," Waller said.
"We look for students who are not just leaders, but game changers, those with the passion necessary to enact real change," she added. "That's what he did at Winthrop and continues to do at the University. We are exceptionally proud of him."
» Learn more about Adelphi's groundbreaking Jaggar Community Fellows Program and how to get involved.