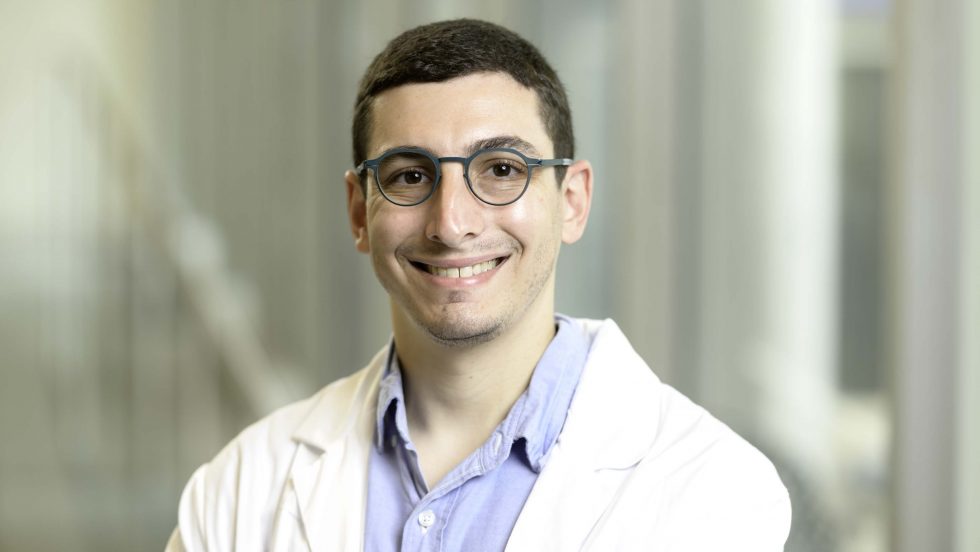 My experiences at Adelphi made me into a more confident person prepared to tackle the challenges ahead of me.
Member of Adelphi University's 10 Under 10
Biology, College of Arts and Sciences
Maxillofacial Prosthetics Fellow, Memorial Sloan Kettering Cancer Center
Harrison Spatz, DMD, followed the footsteps of his father, aunt and uncle to Adelphi, each believing the University to be a great launching pad for successful careers in medicine and dentistry. Dr. Spatz had long planned to become a dentist, and the strength of Adelphi's reputation in the health sciences helped prepare him to gain admission to his top choice dental school.
Dr. Spatz recalls the Scientific Illustration course he took at Adelphi as among his favorites. "This class gave me a great appreciation of the complexities in trying to reproduce something as beautiful and intricate as nature's many forms with fine detailed handiwork," he says. "This combination of my passions for art and science is frequently found throughout dentistry as well."
After graduating from Adelphi, Dr. Spatz attended the University of Connecticut School of Dental Medicine and received his Doctor of Dental Medicine in 2018. Following dental school, his path took him to the University of Maryland School of Dentistry, where he trained for three years in the dental specialty of prosthodontics. There he received both a Master of Science and a postgraduate degree in prosthodontics in 2021. In 2022, he completed a fellowship in the subspecialty of maxillofacial prosthetics at Memorial Sloan Kettering Cancer Center in New York. Dr. Spatz will soon embark on work as a maxillofacial prosthodontist in a dental private practice in Yardley, Pennsylvania.
The maxillofacial prosthetics subspecialty involves rehabilitation of patients with defects or disabilities that were present at birth or developed due to disease or trauma. Rehabilitation often involves creating prosthetics ranging from extraoral silicone prosthetics to replace missing eyes, ears, noses—and even toes—to intraoral prosthetics such as obturators that allow patients with maxillary surgical resections to speak, eat and drink normally. These life-changing prosthetics give patients confidence and the ability through function to live a normal life without fear or embarrassment.
Dr. Spatz says his greatest accomplishment is graduating from his prosthodontic residency. "My residency was extremely demanding, time-consuming and stressful," he says. "It took all my drive and determination to make it through, but it is worth it when I look back at the treatments I provided for patients and hear many years later from my patients how I had such a significant impact on their lives."
While a student at Adelphi, Dr. Spatz was heavily involved in community service through the many organizations of which he was a member, inspiring him to continue volunteer efforts throughout his professional career. In dental school, he was a part of many events and organizations such as the Connecticut Mission of Mercy, the Inner City Dental Mission, the South Park Inn, Special Olympics Connecticut and the American School for the Deaf to help provide dental care and education to areas within Connecticut. Dr. Spatz also participated in an international mission trip to Honduras and coordinated and participated in a mission trip to Tanzania, where he and a team provided dental care to underprivileged areas of those countries. 
Dr. Spatz credits Adelphi's nurturing environment with helping him grow as a person and become comfortable with taking on big challenges. 
"When I entered college, I was a very shy person," he says. "I joined many clubs and organizations, and before long I was even chosen to be a part of honor societies and organizations through nomination by my peers. My experiences at Adelphi made me into a more confident person prepared to tackle the challenges ahead of me."