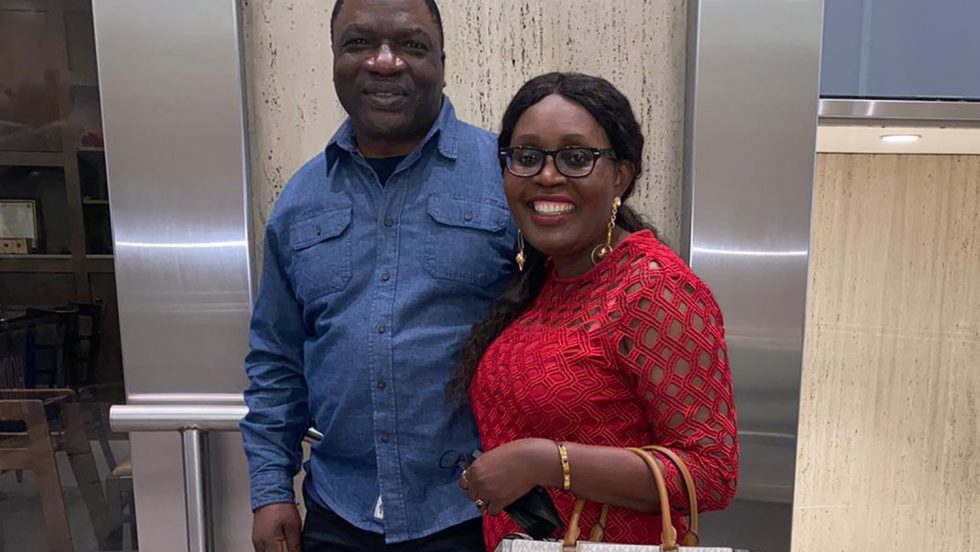 Adelphi's Psychiatric Mental Health–Nurse Practitioner program has two remarkable new graduates—a married couple with four children, originally from Cameroon. Their journey, as a family and as nurse practitioners, is an inspiring story of determination and commitment.
In 2006, Fabius Mekontchou '12, MS '20, and Jacqueline Dongmo-Mekontchou '12, MS '20, and their three children decided to leave their home country of Cameroon, their friends, families and their jobs as accounting teachers, to seek the opportunities a life in America would offer them. They came to the United States, learned English, obtained two nursing degrees each and had another child. Now, 15 years later, they've each landed a job they love as psychiatric nurse practitioners.
The two decided to go into nursing and completed their bachelor's degrees in nursing at Adelphi in 2012. As registered nurses, they'd both worked in medical/surgical units before Fabius went onto the intensive care unit and psychiatric departments. Jacqueline also did stints with cardiology and mental health patients. By 2018, they were ready for a new challenge. They now wanted to become providers who could see patients, make diagnoses and prescribe medication.
Providing psychiatric care had always been of interest to the couple, partly, Jacqueline explained, because in Cameroon, mental health care is "so taboo." In fact, she said there is only one mental health hospital in the entire country. But with good psychiatric training in the United States, she thought, they could bring their skills back and help others in Cameroon.
Coincidentally, Adelphi had launched the Psychiatric Mental Health–Nurse Practitioner (PMH-NP) master's degree program.
The couple flourished in the program, even while taking care of their children and working full time—Jacqueline at New York–Presbyterian Hospital in lower Manhattan and Fabius at Montefiore Medical Center in the Bronx, both over an hour from their home in Orange County, New York. Fortunately, classes were just two days a week. Still, to manage, they said they didn't sleep much, often going to bed at 2:00 a.m. and waking up at 5:30 a.m.
"That's why we say everything is a commitment," Fabius said. "So, when we say, 'Okay, it's a commitment,' we're going to do it."
"I am the kind of person when I start, I don't stop," Jacqueline said. "Starting is hard for me, but when I do, I go to the end."
That discipline and work ethic, as well as being able to go through the graduate program as a couple, was crucial to their success, said Edmund J.Y. Pajarillo, PhD, associate professor and chair in the College of Nursing and Public Health. It's also part of what will make them such good practitioners, he explained. That, and just who they are.
"They were just very quiet," Dr. Pajarillo said. So, he would call on them, often asking them to share examples from their time working as psych nurses. "That's the only time they would speak up. And when they spoke up, they made so much sense because they have a lot of experience and they're very humble, they're very unassuming. They were really brilliant."
For their part, Fabius and Jacqueline said that the wisdom and support of their professors also proved crucial.
When the COVID-19 pandemic hit New York and most in-person activities shut down, the couple finished their clinicals virtually. Both said Adelphi staff was accommodating in this regard. For Jacqueline, they connected her with a psychologist at the University with whom she worked, seeing students over Zoom.
They graduated this past August, passed their board certification exams in November and have since both landed jobs.
These days Jacqueline said she treats children, many of whom have experienced serious trauma and others who are on the autism spectrum. Fabius said he works with patients of all ages who have such mental health issues as depression, schizophrenia, bipolar disorder, depression or anxiety. They are both finishing their 3,600 hours of required supervision before becoming independent practitioners.
Looking back, the couple says the best part of their education aside from finishing it and passing their certification exams, of course, was doing it together. As Jacqueline said, "Sharing the struggling, sharing the fatigue, lifting each other up and cheering each other up when the other one is down."
While the couple plans to continue working in the United States for now—"there is a lot of need here," Fabius said—they do hope to bring their new skills to Cameroon at some point, maybe by leading seminars on mental health care when they return for vacations.