Adelphi's sense of community extends to the entire planet. That's why we formed a Sustainable Campus Council—powered by staff, faculty and students—to develop solutions that will make Adelphi greener.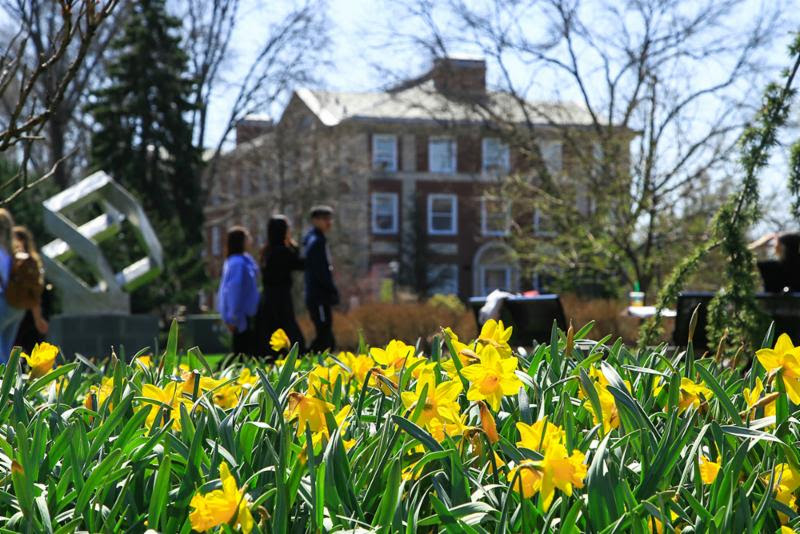 A commitment to our community has always been one of Adelphi's driving principles. These days, the University's definition of community has expanded beyond Long Island and the region to include the entire planet. That calls for a far-reaching commitment to sustainability.
This winter, the University took a big step toward meeting this demand by forming a Sustainable Campus Council. Composed of almost 30 members of the faculty, administration, operations staff and student body, the council is responsible for driving a culture of sustainability and developing solutions that will make Adelphi a truly green university.
"There have been many sustainability projects on campus in the past, but the council will expand them and make them even more of a focus," said James K. Dooley, Ph.D., a professor of biology and co-leader of the council along with Robert Shipley '05, who heads the Facilities Management Department. "There had been informal talk among the faculty about taking a more organized approach to sustainability. President Riordan stepped in and brought things together and set up the council."
Dr. Dooley pointed to a number of important strides that have been made in the past. More than a decade ago, Adelphi became the first university in the region to install a geothermal heating and cooling system. In 2016, it completed two major construction projects: a cogeneration plant that reduces campus emissions of greenhouse gases by 4,645 metric tons a year and the 100,000-square-foot Nexus Building, which has earned LEED Silver status. The University has also placed solar panels on the roof of Swirbul Library, installed a water filtration system to encourage the use of reusable bottles, eliminated the use of chemical fertilizers and pesticides, and adopted many other sustainable policies.
The Sustainable Campus Council has already begun adding to these accomplishments, most notably in the planning for the renovation of the Ruth S. Harley University Center. The building will have twice the dining space, but the original plans did not include dishwashing facilities. When concerns were expressed about the reliance on disposable utensils, the council worked with the University's administration and board of trustees to change course and add dishwashers. And Adelphi's own reusable bamboo utensils are now offered on campus.
The council also has an important educational mission.
"One of our major responsibilities is to teach students about sustainability, starting with incoming first-year students," Dr. Dooley explained. "We'd like to begin as early as Orientation and eventually have a formal class on the subject."
There are many things Adelphi can do to build a culture of sustainability and help students learn through hands-on experience, he said. The University can work with environmental organizations to create internships for students. It can create a community garden where students help raise fresh vegetables on campus, and it can bring local food to the dining halls. It might even build a greenhouse on campus where food can be grown year-round. A video for Earth Day gave them simple tips for living greener.
Dr. Dooley, who is the conservation chair of the Long Island Sierra Club, has also brought food experts from the environmental organization to discuss ideas for a community garden and the possibility of bringing a farmers market to campus.
"I want our students to become aware of the Sierra Club and all the environmental projects it's involved in," he said. "I'd like Adelphi to help our students join the club and get its magazine. That would help them become really educated citizens."
Along with formation of the Sustainable Campus Council, the University will also begin participating in STARS, the Sustainability Tracking, Assessment & Rating System, a method for colleges and universities to measure sustainability performance. The goal is to earn points toward a STARS rating. Adelphi also hopes to achieve and maintain a ranking as one of the Sierra Club's top 100 Cool Schools.
The Sustainable Campus Council has a formidable task ahead as it works to help reduce greenhouse gas emissions at Adelphi, improve energy and water use, and integrate sustainability into the curriculum, research programs, experiential learning opportunities and campus operations. Dr. Dooley is confident though.
"We've accomplished a lot since we first got together three-and-one-half months ago," he said, "and we're meeting early in May to plan next year's priorities. Many new environmental laws will be going into effect, and we want to be ahead of the curve. We want to be out front."
---
For further information, please contact:
Todd Wilson
Strategic Communications Director 
p – 516.237.8634
e – twilson@adelphi.edu