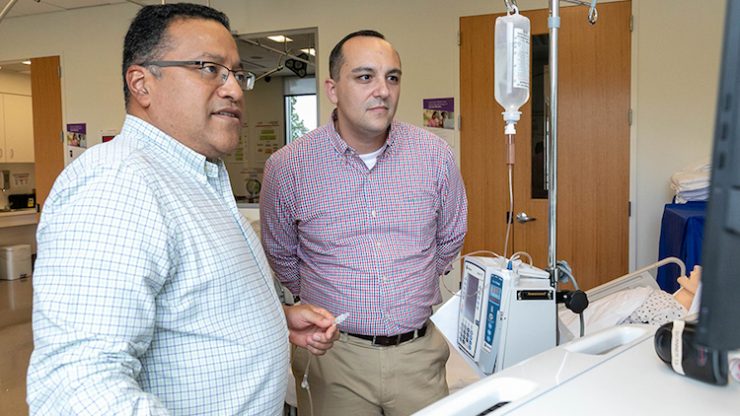 Is it necessary to change patients' IVs every few days? Research conducted by four grad students in Adelphi's nursing program found an answer that puts standard medical practice in question.
Until recently, Joseph Brennan, a registered nurse in his second year in the MS in Adult Gerontology Primary Care Nurse Practitioner program in the College of Nursing and Public Health, didn't think he enjoyed research. In fact, he said, he used to run from it. But that was before he helped spearhead research he now believes can lead to better patient outcomes. The research project won Outstanding Presentation in the Nursing and Public Health graduate division category on Research Day in April.
Brennan and fellow students Neeta Jadonath, Natalya Luchinskaya '12 and Kim Smith presented research on the use of peripheral venous catheters—commonly called IV lines—staples of modern medicine that deliver fluids and medications directly into patients' veins. Using a needle, the lines are inserted into patients' extremities. For adult patients in healthcare facilities, the placement of catheters is routinely changed every few days to prevent infection and inflammation.
The students' research explored whether it is necessary to routinely change IV sites, as changing them exposes patients to anxiety, pain and infection. The students wondered instead if sites should be changed only when clinically indicated.
Through a review of literature from online databases, they learned that clinically indicated replacement of peripheral IV catheters was not found to increase complications. "It does require frequent monitoring for signs of complications, including erythema, swelling, tenderness, pain and drainage, though," Brennan said.
However, the students discovered the literature shows that it is not necessary to replace IVs every few days.
"I was actually very surprised when we learned that a majority of the research conducted shows changing IV catheters every three to four days is unnecessary," said Jadonath, who is in her final semester of the graduate nursing education program and will be graduating with her master's degree in nursing. "We concluded that this practice of changing IV catheters routinely contributed to financial and material waste, as well as patient discomfort."
The project was the result of an expanded nursing research course that specifically focuses on bringing together research, statistics and evidence-based practice, according to their faculty sponsor, Charles Cal '95, MS '01, MBA '03, clinical assistant professor of nursing.
"This is a 4-credit course designed around the fact that, in the clinical setting, many of these graduate students may have had clinical experiences or patient interactions that have relevance to their practice and that sparks their research interest," Cal said. "Students then bring these topics into the classroom."
In fact, the project was triggered when Brennan noticed the hospital where he works as an RN had changed its policy. He brought this observation back to class—a fact Cal said proves his point about the importance of student interest.
"This issue about IVs really is one that we are grappling with across Long Island and the U.S.," he said. "It relates to the most up-to-date evidence to support clinical practice and patient preference, while managing resource utilization and curtailing cost through a reduction of healthcare waste."
The students said the research process had a personal impact.
"Although it's still standard practice at work [to change peripheral IVs routinely], the big takeaway that I've tried to continuously drive home is the impact nursing education can have on patient care," said Jadonath, who plans to become a clinical professor. "If nurses are educated properly about how to identify and frequently assess indications for changing IV catheters, then the practice could eventually be shifted from routine to replacement as needed."
Brennan said he believes his newfound interest in research will make him a better practitioner. "I look at research articles now and I analyze them to determine how valid they are. I consider, is this an article that I could trust or change my practice on?"
Cal said the students also benefited from the opportunity to present their project on Research Day. "During their presentation, they had to answer numerous questions, so they're becoming the experts at their research and, at the same time, at public speaking and presenting their work," he explained.
Jadonath, who has since also presented their research at the Annual Nursing Leadership Conference in Garden City, New York, agrees. "I highly recommend for any student who conducts research to present at Adelphi's Research Day," she said. "The process of preparing our abstract for submission was very straightforward and didn't require much more effort than the work we had already put into the project. The day is made to be fun and an opportunity to share your research, as well as learn from others."
---
For further information, please contact:
Todd Wilson
Strategic Communications Director 
p – 516.237.8634
e – twilson@adelphi.edu