Rebecca is a student employee with the IT Asset Management team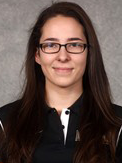 The staff of the Office of Information Technology would like to congratulate
Rebecca Gotterbarn
Student Worker of the Month for August 2016
Rebecca is a student employee with the IT Asset Management team. She is studying Computer Science and History and expects to graduate in May 2018. Rebecca has also been an active member of Adelphi's bowling team.
Here are some of the comments we received from IT staff members who nominated her:
"

Rebecca has become a integral part of Asset Management operations. Whether she is verifying toner counts, tagging new equipment or completing database updates, Rebecca is always very detailed in her work and willing to lend a hand. She welcomes challenging projects and consistently looks for ways to improve Asset Management operations. We are very lucky to have her on our team and look forward to her future successes in IT!

"

"In the short time that Rebecca has been with the IT Asset Management Team she has proven to be a true team player. She works well with her colleagues and can be counted on to assist when and where needed. Rebecca also goes above and beyond to make certain that all her tasks are done as diligently as possible. We are very proud to have her as part of our team.
"
---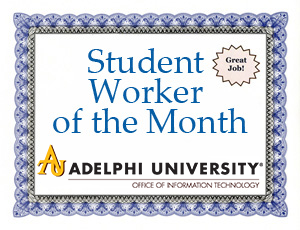 About IT's Employee of the Month Nominations
It is important to demonstrate our appreciation for the contributions of our student workers to their teams, to the Office of Information Technology, and to Adelphi University as a whole. At the end of each month, we will honor one student worker who has demonstrated commitment, leadership, and initiative in their position. The recipient will be presented with a certificate and gift, as well as a featured spot on our IT website.
All IT employees (including student workers) are encouraged to submit nominations for their choice for Student Worker of the Month. Your nominee should display qualities deserving of recognition.
Please submit all nominations through the Student Worker of the Month Nomination Form.