Our community's commitment to Excellence and to Diversity, Equity, Inclusion and Belonging are highlighted in this year's extraordinary honorees.
Each year at this time, Adelphi acknowledges employees who have gone above and beyond to provide extraordinary service to our University, help advance our core values and show long-standing commitment to our mission and achieving our strategic goals.
Five Adelphi staff members are honorees for this year with the 2023 President's Awards—four for Excellence and one for Diversity, Equity, Inclusion and Belonging.
We are pleased to highlight these accomplished community members as well as all the dedicated Adelphi faculty and staff members who, this year, achieved service milestones of 10 to 50 years at our University.
As a proud and connected community, we join President Christine Riordan in congratulating this year's honorees. Congratulations and thank you to all!
---
Alyssa Estrada
Administrative Assistant 2, Center for Student and Community Engagement
2023 President's Award for Excellence Honoree
Alyssa Estrada was nominated by Anna Zinko, assistant vice president for student affairs, for her outstanding contributions to our students and community over the past seven years.
Colleagues, students and Zinko agree that Estrada's pride and eagerness as a member of the Adelphi community are evident. In addition to always wearing brown and gold on Wednesdays, Zinko said, "She volunteers to participate in and assist at so many of our events because she truly enjoys being a member of the community and makes the most out of the opportunities available to her as a Panther. Her enthusiasm is admirable."
As the Center for Student and Community Engagement has expanded to include Graduate Student Life, the Panther Pantry, the Mindfulness Center, the Multicultural Center, and parent and family programs in recent years, Estrada has embraced her expanding responsibilities. She's also known as a go-to person on campus, with deep knowledge of University policies and procedures, making her an asset to the Student Government Association and campus clubs. "She never turns down new challenges but rather approaches them as an opportunity to further contribute to the community she cares so much about," Zinko said.
Tiffany Martino, assistant director of the Center for Student and Community Engagement, said "Alyssa demonstrates a love and commitment to helping students succeed in college and to helping our community grow and thrive. She is often referred to as the glue that holds our department together."
From the student perspective, Estrada is a caring, supportive go-to person on campus. Tyler Masure, a senior and president of the Student Government Association, said, "Alyssa's face is the first one students see when we come to the Center for Student and Community Engagement. She always makes us feel welcome and valued with patience and approachability."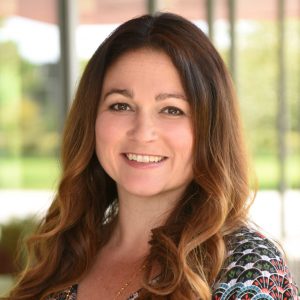 Noelle Fiallo-Evans
Senior Creative Director for Design Services, Office of University Communications and Marketing
2023 President's Award for Excellence Honoree
Noelle Fiallo-Evans, MA '15, has been a member of the Adelphi community for more than 12 years and was nominated for the President's Award for Excellence by Diane Moser, chief marketing and branding officer, for her exceptional contributions to advancing the goals of Momentum and Momentum 2.
"Noelle's work helps advance many of Adelphi's strategic goals, and her leadership and creativity have been integral in increasing the University's image, internally and externally. She lifts the Adelphi brand and its reputation with everything she creates," said Moser.
A gifted designer and thoughtful leader, Fiallo-Evans works with colleagues and teams across the University on projects large and small. From the templates we all use for PowerPoints and reports, to the design of our University magazines and newsletters, to the brown and gold paint colors, rugs, furniture and signage in our facilities, Fiallo-Evans' influence is experienced nearly everywhere at Adelphi. Some of her most impactful projects are in the renovated Ruth S. Harley University Center (UC)—like the fun designs of our branded food court, the vibrant themed displays in our bookstore, and the golden wall at the UC entrance that says "Welcome" in a variety of the many languages spoken by members of Adelphi's global community.
Joseph Battaglia '05, MS '14, assistant vice president and project management officer, said he appreciates how Fiallo-Evans listens, asks the right questions, and remains thoughtful throughout a project's process. "Through Noelle's hard work and persistence, a brand identity that visually represents the University's core values has been carefully applied to numerous areas throughout our University. She is a committed professional, team player, leader, and an excellent problem solver who understands that her decisions have far-reaching impacts that will affect all people differently. Her passion for Adelphi University is without question."
One of the newest projects that exemplify Fiallo-Evans' outstanding contributions to fostering Adelphi's reputation, core values and strategic goals is the new One-Stop Student Services Center in the lower level of Levermore Hall. Catherine Graham, assistant vice president of the center, said, "Noelle's creativity and Adelphi brand expertise transformed the One-Stop Student Services Center into a modern, bright and welcoming space. It has improved the experience for all by creating an environment that allows us to focus on student success, inclusion and belonging."
Moser added, "Without many of us even knowing it, Noelle is largely responsible for helping our community be proud Adelphi Panthers, and she will have a lasting impact on Adelphi for years to come."
Crystal Krudis
Director of the One-Stop Student Services Center
2023 President's Award for Excellence Honoree
Crystal Krudis '05, MA '06, an Adelphi employee of 17 years, was nominated for the President's Award for Excellence by Catherine Graham, assistant vice president of the Student Services Center, for being a dedicated Panther, exceptional leader and "change agent extraordinaire."
As the Adelphi community knows, the One-Stop Student Services Center launched in August 2022—less than a year ago—to streamline and improve the student experience across financial aid, registration, payment and account management. Krudis played a critical role in the redesign of these operations. Graham said, "Crystal said yes to everything with leadership and Adelphi pride. She invested in herself and our management team to learn what she needed to do. With Crystal in the lead, we have experienced much success and met many of our Momentum 2 goals."
"I have personally witnessed Crystal's transformation into a true strategic leader over the last several years," said Vice President of Enrollment Management and University Communications Kristen Capezza, MBA '12. "Her overhaul of relevant units into streamlined, efficient and student-centric operations is nothing short of award-worthy."
In her role, Krudis develops policies, procedures and training materials, and partners with financial aid, student accounts and the University registrar to ensure that all advisers have the necessary tools to meet the needs and expectations of our students and their families and our faculty and staff. She has also launched initiatives to foster inclusiveness and transparency, including student-centric efforts like a student experience survey and texting campaigns, and leading change with data-driven decision-making to improve the student experience continuously.
Krudis is additionally responsible for the student accounts department in an interim capacity. During this time, she has been instrumental in improving the student billing and account experience by implementing a simpler payment plan program, clearer billing dates and deadlines, and better communications.
Colleagues have agreed that, over her many years at Adelphi, Krudis' ability to lead, adapt to change and create modern operations is remarkable. Carol Ann Boyle, MBA '17, chief information officer, said of Krudis, "Her work ethic is unmatched, her positive attitude is truly infectious, and she has a unique ability to connect with people."

Rosemarie Napolitano
Administrative Assistant, Ruth S. Ammon College of Education and Health Sciences
2023 President's Award for Excellence Honoree
Rosemarie Napolitano '10 was nominated for the President's Award for Excellence by Emily Kang, PhD, professor and associate dean for academic affairs, for her indispensable role and contributions to the College's smooth operation. "She's a truly valued member of the team and role model for all University community members," said Dr. Kang. "What is truly amazing about Rosemarie is that she is always willing to take on more—wherever and whenever the help is most needed."
Napolitano has been with Adelphi University for 19 years, serving the first seven on our Adelphi NY State Breast Cancer Hotline and Support Program staff and then eight years as an administrative assistant in the College of Nursing and Public Health. In 2019, Napolitano became administrative assistant to then associate dean for the College of Education and Health Sciences, Daryl Gordon, PhD, currently associate professor. At the time, the College was preparing for its three-day accreditation visit. Dr. Gordon said, "Even though Roe was new to the job, it was due to her diligence, attention to detail, upbeat attitude and many late evenings that our accreditation visit went so smoothly."
Colleagues across the University, including associate professor of nursing Janet Raman '00, MS '04, EdD, who is director of the BS in Nursing and Accelerated BS in Nursing programs, agree that Napolitano is an exceptionally dedicated and invaluable team member. Dr. Raman said, "Rosemarie had many ideas that ultimately assisted us in increasing enrollment in the Accelerated BS in Nursing Program which are still being implemented today. She always found ways to add the necessary touches for us to shine as a world-class organization.
With responsibilities that run the full gamut of administration, Napolitano's leaders say that she goes above and beyond with a commitment to the success of the College, her colleagues, our students and her own professional growth. Napolitano has completed a Leadership Certificate, a Diversity Certificate and is currently working on her Service Excellence Certificate.
Dr. Gordon added, "When I review the four overarching themes of Momentum 2, I see Roe in each one—she fosters diversity and belonging by making certain each student knows that someone cares for them and their next academic steps; she serves our Adelphi community and improves the world around us; she maintains a collaborative approach with faculty and staff from multiple offices to get her job done; and she ensures accountability and effectiveness through careful attention to detail and planning."
Caitlin Sullivan
Associate Director, Student Access Office
2023 President's Award for Diversity, Equity, Inclusion and Belonging Honoree
Caitlin Sullivan is a dedicated advocate for the disability community. She was nominated for the President's Award for Diversity, Equity, Inclusion and Belonging by Rosemary Garabedian '07, MA '13, director of the Student Access Office (SAO), for her unwavering commitment and dedication to diversity, equity, inclusion and belonging in pursuit of student success.
"In her time here at Adelphi, Cait has proven to be an asset to the Adelphi community and the students she provides academic support to each semester," said Garabedian.
Prior to recently becoming associate director, Sullivan was the accommodations and services coordinator for the office. In her five years at Adelphi, she has led several transformational projects supporting improved student accessibility and heightened awareness. She recently lent her knowledge and expertise to the Title IX Office for a new Student Pregnancy and Parental Leave Policy. She has also supported our events office and campus organizations in hosting fully accessible and mindful campus events.
One of Sullivan's most notable achievements is her advocacy for the implementation of Adelphi's state-of-the-art testing center for students with disabilities. She conducted extensive research and worked collaboratively with various departments to develop a comprehensive vision for administering ADA-accommodated faculty exams. It has resulted in the successful administration of more than 3,000 faculty exams with accommodations.
Her cross-campus collaboration with Bridges to Adelphi, the Learning Resource Program and General Studies Learning Community helps foster student retention through equal access with notable success.
"Caitlin truly helps us to celebrate differences and meet each student's individual needs. Many students in the Bridges program have informed me that coming to Adelphi was the first time they felt like they belonged, and Caitlin is a huge part of that," said Stephanie Grindell, MA '14, senior associate director of Bridges to Adelphi.
In agreement, Kelly Nicholson, coordinator of quality assessment, regulatory affairs and alumni outreach in the College of Nursing and Public Health said, "Caitlin's collaboration with our College is well-known. Cait looks at the big and small picture to ensure our nursing students have a sense of belonging while still preserving the nursing standards."
Garabedian said, "Cait has not only become the face of SAO for the Adelphi community, she is a highly respected disability services professional for our peers and area high schools. Her level of knowledge has made her the go-to professional, and her passion for diversity, equity, inclusion and belonging, combined with her commitment to our students' success, make her a true asset to our University."