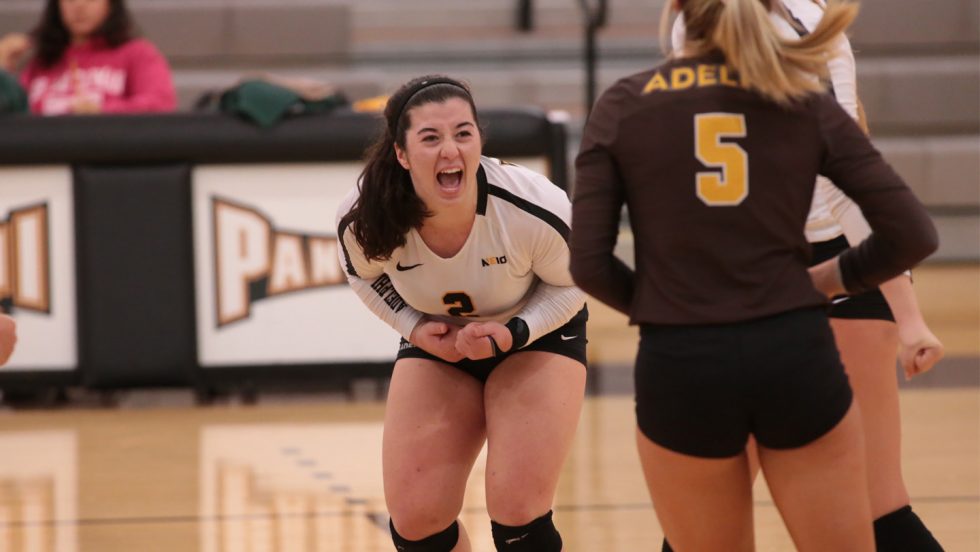 New insights into the impact of college sports on athletes' voices.
That college-level sports carry significant risk of physical injury is not news—even the most casual athletes and fans will be familiar with the toll intense exercise can take on the body. But in addition to common sports injuries such as sprains, tears, breaks and concussions, the risk of another serious impairment lurks unnoticed: negative changes to athletes' voices.
The extent and impact of vocal injury are the subjects of research conducted by Steven R. Cox, PhD, assistant professor of communication sciences and disorders, and Honors College student Stephanie Milillo '20. "The idea for the project stemmed from my own experience as a member of Adelphi University's volleyball team," Milillo explained. "I noticed how my voice was negatively affected during a season."
Disappointed to find a dearth of research on her voice concerns, Milillo completed her Honors College thesis on the subject under the direction of Dr. Cox. The two collaborated with Zahra Sedighi Maman, PhD, assistant professor of decision sciences and marketing, to expand upon Milillo's thesis. They focused on the women on Adelphi's volleyball team before, during and after a season.
Because volleyball players are forced to communicate over high levels of background noise while engaging in various levels of physical activity, they make ideal subjects. Dr. Cox—also director of Adelphi's Voice and Quality of Life Laboratory—worked with Milillo and Dr. Sedighi Maman to evaluate the changes in the athletes' voices using a variety of metrics, including the rate of vocal fold vibration (how fast the vocal folds move) and the regularity of the vocal fold vibration (how variable vocal fold movement is). They also studied how vocal changes negatively impacted the players' daily lives.
Their findings, published as "Voice Characteristics of Female College Athletes: A Pilot Study" in the February 2020 issue of the American Speech-Language-Hearing Association's peer-reviewed journal, Perspectives, were sobering, including evidence of negative voice changes in acoustic and subjective measures. Changes were most noticeable in the team captain's voice, likely because it was subject to the most intense demand. "This study provides preliminary data suggesting that varsity athletes might be a population who can benefit from voice education and therapy," the authors concluded. Fortunately, athletes can rest assured "that the majority of athletes' voices returned to typical values by the end of the season."
Nevertheless, because this study is the first of its kind, more research is necessary to fully understand the risk sports pose to athletes' voices. Dr. Cox was recently awarded an Adelphi Faculty Development Award and a College of Education and Health Sciences Dean's Innovation Fund grant to conduct a larger follow-up study, which he will undertake with Dr. Sedighi Maman and their colleague Bob Perez, PhD, associate professor of health and sports sciences. Together, they plan to develop a holistic approach to vocal health that helps athletes maintain healthy voices.
---
Cox, Steven R., Stephanie Milillo, and Zahra Sedighi Maman. "Voice Characteristics of Female College Athletes: A Pilot Study." Perspectives of the ASHA Special Interest Groups, vol. 5, iss. 1, Feb. 2020, pp. 113-18.