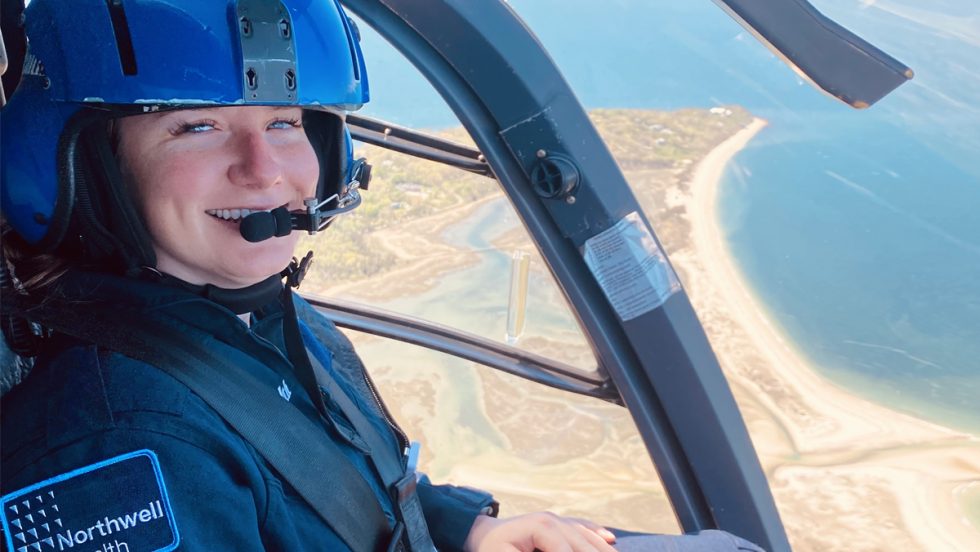 Kelly Gorman '12, '15, lived her dream nursing job as a critical care flight nurse with Northwell Health's SkyHealth helicopter venture for two years and now she's expanded her dream-job focus to encompass being a mobile stroke unit ambulance nurse.
Gorman and her copter team—a pilot and a critical care paramedic—treated patients at 2,000 feet in the air using the same sophisticated critical care technology available in major emergency rooms and intensive care units.
"Anything an intensive care unit can do, we are able to do in the sky," she said.
Their patients' outcomes depended on the capabilities of the airborne ER—albeit in tighter confines than the usual ER—and the often split-second thinking of the extensively trained team members.
As a flight nurse, she needed "years of experience either in critical care or emergency nursing. I am fortunate to have the opportunity to work in many ICUs/ERs throughout different healthcare systems."
What Sparked Her Interest?
During her senior year as an exercise science major, she said, "I suffered a devastating knee injury that ended my college career in field hockey and track." She had played on both teams at Adelphi. During her treatment, she discovered that "I wanted to belong to an organization that helped others, and that's when I realized being in emergency medical services was the right career path for me."
She continued at Adelphi to earn another major in nursing while working as assistant coach of the men's lacrosse team and at Northwell as an EMT and volunteering as a certified emergency medical technician with the Floral Park Fire Department on Long Island.
One day, while awaiting the arrival of a helicopter "to pick up a patient from the 34th Street helipad in Manhattan so I could transfer them to Lenox Hill Hospital," she said, she interacted with a flight nurse. "I spent the next six years tailoring my nursing career to qualify for the flight team."
During the COVID-19 pandemic, Northwell Health chose Gorman and six others for a huge "healthcare heroes" mosaic—featured since May 2022 above the health provider's headquarters building entrance in New Hyde Park, New York.
Changing Her Dream-Job Focus
At the pandemic's peak, to help with the overwhelming number of patients, Gorman worked with the New York-Presbyterian Weill Cornell emergency department, including its mobile strokes unit ambulances, before becoming a SkyHealth flight nurse.
Late last year, she left SkyHealth's air ambulances for the ground-based variety, at Pennsylvania-based Lehigh Valley Health Network's mobile stroke unit—comprising two paramedics, a CAT scan tech and a registered nurse, she said. "The ambulance is cutting-edge technology that's new not only to the region but the whole United States—there are only about 20 in the country right now. These ambulances are equipped with CAT scans for a patient having an acute stroke. We can cat scan them, coordinate through telemedicine with a teleneurologist and give Alteplase, a clot-busting drug which is usually only given in the hospital. The current data shows that stroke patients are receiving care 30 minutes quicker than they would in an emergency department. With strokes, the saying is, 'Time is brain.'"
She is now working per diem on the Lehigh Valley Health Network medevac mobile strike unit, Gorman added.
Looking back on her being a role model as one of seven "healthcare heroes" featured on the entrance wall of Northwell Health's headquarters building, Gorman said she hopes to inspire other young women to pursue flight nursing, a male-dominated field, unlike nursing, as well as in becoming mobile stroke treatment ambulance nurses—two of "the many avenues that nursing can lead you down."