Winter break is traditionally a time for catching up on TV shows and sleeping in, but 21 Adelphi University students visited Louisiana this January for an opportunity to give back.
Winter break is traditionally a time for catching up on TV shows and sleeping in. For the 21 Adelphi University students who visited Louisiana this January, it was an opportunity to give back.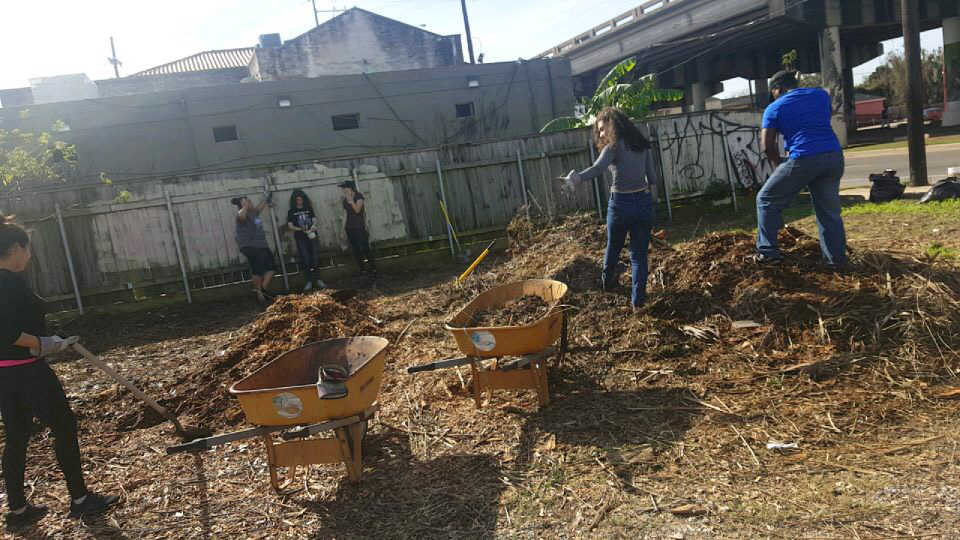 The alternative winter break program took students to Baton Rouge and New Orleans, the sites of catastrophic flooding last August. Baton Rouge saw more than 85,000 residents register for federal disaster assistance and an estimated 40,000 homes damaged. Adelphi students worked to revitalize these affected areas and create spaces for community engagement.
Jason Spradley, assistant director of Adelphi's Center for Student Involvement (CSI), reached out to Camp Restore, a network of independently operated volunteer camps, to provide accommodations and handle logistics. He, along with Samantha Thompson, assistant director of CSI, and the students, worked primarily at a community garden—run by a New Orleans native named Gloria whom they all came to call Mom—in New Orleans' Tremé neighborhood, where they weeded, painted and planted.
The group traveled to Baton Rouge on their final day to help out at a food bank that had lost large quantities of food and sustained significant worker injuries.
"It wasn't just about doing community service," Spradley noted. "We did readings about going into a different cultural environment and really tried to create a service-learning opportunity."
Spradley said that the trip was a highly motivational experience for students, who now have their own group chat to organize for other service projects. "They're totally invigorated and want to do more, from their own campus to the general Long Island community," he said.
Sophomore Brianne Giuliano reported that she began brainstorming with a friend about their next volunteer project on the plane ride home from Louisiana. "The trip really made me question what I can do in my own community," she said. "It's easy to stereotype 'other' communities that need help, but many areas close to Adelphi need the same support that New Orleans did."
Adelphi offers community service opportunities to students across all fields of study. By connecting volunteer work with pressing issues like poverty and education, students help create equitable communities based on principles of social justice.
---
For further information, please contact:
Todd Wilson
Strategic Communications Director 
p – 516.237.8634
e – twilson@adelphi.edu