Across campus, Adelphi students and staff are busy preparing for this signature event.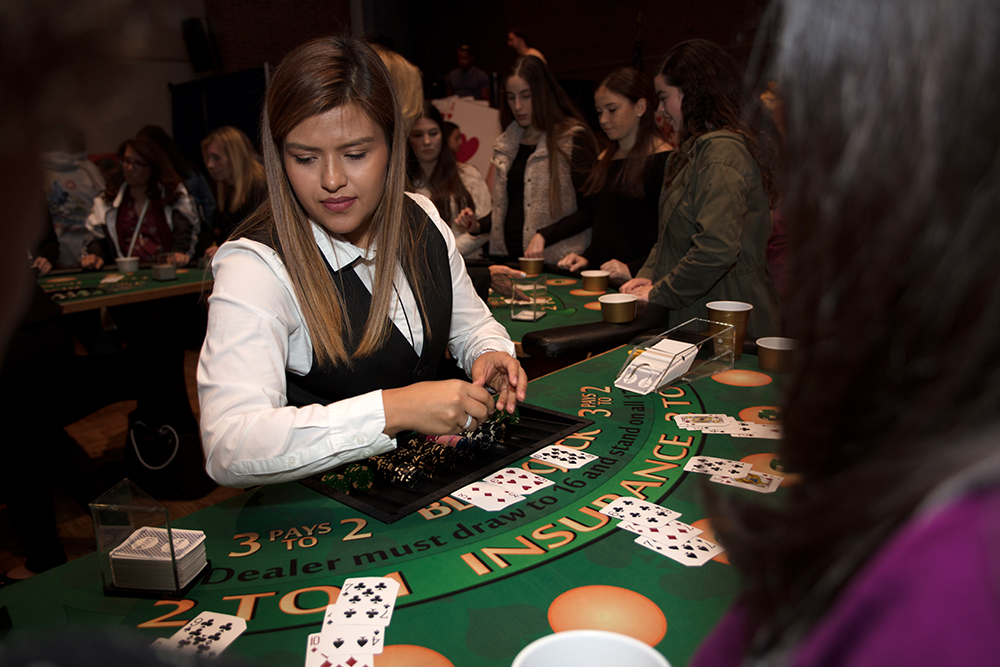 Spirit Weekend doesn't magically happen. Across campus, Adelphi students and staff are busy preparing for this signature event.
Getting Students Into the Spirit
Students and staff from the Center for Student Involvement are coordinating a number of activities, said Arianna Livreri, senior assistant director. A Spirit Weekend favorite is Casino Night. Attendees will receive $500 worth of play money to try their luck at the craps tables, roulette, Texas Hold 'Em, blackjack, poker, slot machines, bingo and more to try to win prizes like Adelphi swag, gift cards, electronics and bicycles.
"The Panther Carnival has something for everyone and can't be missed," said Livreri, citing, "large-scale carnival rides, live performances featuring Adelphi students, a DJ and Dancefloor [a live band], barbecue tents and food trucks featuring savory and sweet treats, and activities including caricatures, face painting, a photo booth, fortune-tellers and more."
"Spirit Weekend is a weekend where I am able to see the Adelphi community come together as a whole and show their Panther pride," said Cole Uganiza, a senior majoring in nursing. "Being that this is my last Spirit Weekend as an undergraduate, I am looking forward to enjoying the carnival and activities offered, especially the [Student Activities Board] Panther Variety Show happening that night in the [Center for Recreation and Sports] gym!" 
Taking the Stage
In the Adelphi University Performing Arts Center (Adelphi PAC), audiences will get to see Pale Blue Dot(s), a new play written by Erin Mallon '02 and performed by talented theater students. The play is set in a near future in which the International Space Station is staffed by an all-female crew reluctantly hosting a pair of women who won an Elon Musk–sponsored vacation in space. The production also includes, at its more existential moments, cameos by God and David Bowie.
The Adelphi PAC will also host a Theatre Alumni Reception and the Department of Music Alumni Concert.
Boosting Panther Pride
Inside the athletics department, Emily Dorko '13, MBA '15, associate athletic director for external relations, said, " We look at Spirit Weekend as another opportunity to welcome back all our athletic alumni and supporters to campus and to reconnect with their teammates. The department encourages our programs to host games so that our alumni come back to a buzzing campus with a lot of different events to also partake in."
In addition to campus open recreation and open swim on Friday, Saturday and Sunday, the department is hosting events where alumni of teams can compete against current student-athletes or watch their games.
Schedule of athletics events:
Friday
Women's lacrosse vs. alumni, 6:00 p.m.
Men's lacrosse vs. alumni, 7:00 p.m.
Saturday
Swimming alumni meet, 11:00 a.m.
Softball vs. alumni, 12:00 noon
Baseball Fall Ball game, 12:00 noon
Men's soccer NE10 regular season game, 1:00 p.m.
Women's soccer NE10 regular season game, 5:00 p.m.
Athletes of all abilities are welcome to participate in the Annual 5K and Kids' Fun Run, said Amy Harrison, MA '93, executive director of special events and engagement in the Office of External Relations. "We are delighted to be partnering with the Long Island Alzheimer's Foundation in this year's 5K, who will receive all of the proceeds raised from this event. LIAF is committed to making a positive difference in the lives of those suffering from Alzheimer's disease and related forms of dementia and their caregivers by providing world-class services and programs."
The Stars Come Out
Harrison is excited about the WBAU Reunion, a first this year. Luminaries who worked at Adelphi's powerhouse radio station, WBAU, including Doctor Dré fromYo! MTV Raps and sports broadcaster Al Trautwig '78, '17 (Hon.), will be sharing and recording their stories for your enjoyment and for posterity.
The red-carpet event of Spirit Weekend is the Legends Dinner. Those honored in the past with the Legends Award include Richard Garner, PhD, founding dean of the Honors College; Carmen de Lavallade '03 (Hon.), former director of the Department of Dance; bestselling author Alice Hoffman '73, '02 (Hon.); and Olympic gold medalist Mel Pender '76, '97 (Hon.).
In addition to honoring this year's Adelphi Legend, beloved sociology professor Sal Primeggia '64, MA '66, PhD, the third annual Legends Dinner will feature the Distinguished Alumni Achievement Awards, the 10 Under 10 Recognition ceremony and the bestowing of the Ruth S. Harley Service Awards. Harrison stated, "What a wonderful tribute to our alumni who have served this institution so admirably and selflessly, some for more than 50 years."
Read about this year's Legends Dinner honorees.
---
For further information, please contact:
Todd Wilson
Strategic Communications Director 
p – 516.237.8634
e – twilson@adelphi.edu