A discussion with Rajib N. Sanyal, Ph.D., Dean of Adelphi's Robert B. Willumstad School of Business.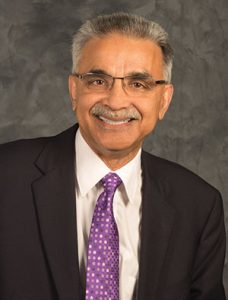 In Summer 2015, Rajib N. Sanyal, Ph.D., began his appointment as dean of Adelphi's Robert B. Willumstad School of Business. An expert in industrial and labor relations who was previously dean of the Miller College of Business at Ball State University in Indiana, he discussed his plans for the School. (Miller had 3,000 students and 92 faculty, versus the Willumstad School's 1,000 students and 42 full-time faculty.)
Would you say Adelphi's smaller size drew you here?
Adelphi is located in a very dynamic, high-energy place—the New York metropolitan region. It's probably one of the most dynamic places in the world. Adelphi is located in the heart of that region, which means there are a lot of people, a lot of businesses, a lot of new ideas, a lot of resources.
Plus, the faculty and administration of a smaller school can provide the sort of attention that students need and can benefit from, on a personalized basis, [more so] than in a larger university. It's simply the difference in volume.
When I visited Adelphi, I was impressed by what came across as genuine enthusiasm. All presented a very welcoming attitude.
What value do you see in a business degree—at the undergraduate and graduate levels?
The world today is a very economics-driven society. Studying business gives you the understanding and the skills to plug into this very real world we live in.
Many business concepts are built on, or strongly integrated with, liberal arts and ideas. Buying and selling is as much about a product as understanding the psychology of the buyers and sellers. If we're trying to design and sell a product to the Japanese, or vice versa, it's about understanding anthropology, their culture and sociology to be successful.
It's a discipline that reflects the realities of today's world in economic relationships, and a lot of suppliers are looking for men and women with training in what one might call business disciplines.
With talk of suppliers, big data and today's trend in vocational learning, does the Willumstad School's recently added M.S. in Supply Chain Management indicate a new direction for the School?
That degree really reflects that the Willumstad School is very much in tune with the needs of employers in our society. It's a growing area, and there's a large demand for skilled workers.
Long Island has a large healthcare industry. I believe there will be opportunities for us to build on our existing partnerships in that area. Hospitals are also businesses; they must be run in an efficient manner. Even a not-for-profit must conduct strategic planning, human resource management, accounting, financial management and supply chain operations. All those industries will grow. Logistics, big data, the healthcare industry—those jump out at me.
—Q-and-A by Jordan Chapman, M.F.A. '15, and Bonnie Eissner, condensed from Adelphi's Fall 2015 AU VU magazine
---
For further information, please contact:
Todd Wilson
Strategic Communications Director 
p – 516.237.8634
e – twilson@adelphi.edu