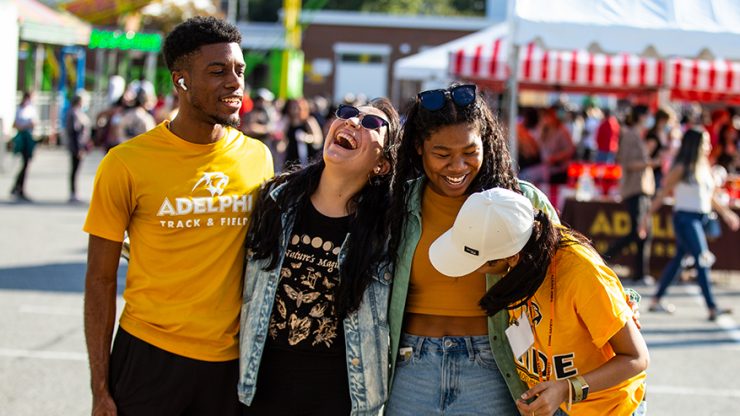 Adelphi's 2022 Spirit Weekend, running from October 12–October 16, will offer five days of fun on campus and beyond—and more events than ever before.
Adelphi's 2022 Spirit Weekend—running from Wednesday, October 12, through Sunday, October 16—will offer five days of Panther community friendship, fun and celebration on Adelphi's campus and beyond, and more events than ever before.
A longtime tradition for Adelphi students, alumni, faculty, staff and community members, Adelphi's Spirit Weekend will be in person again, although Spirit Weekend Game Show: Playlist Bingo will be offered virtually on October 16.
"We are thrilled to welcome our alumni back to campus to enjoy a full slate of in-person activities this year," noted Thomas Kline, EdD, vice president of University advancement and external relations. "Saturday's events will include a 5K run, brunch in the newly renovated Ruth S. Harley University Center, an Oktoberfest and beer garden coinciding with the Spirit Carnival, and the 10 Under 10 Induction Awards Ceremony. We've made sure there are ample opportunities for our graduates to reconnect and experience all of the great things happening here at Adelphi."
"Spirit Weekend is one of Adelphi's most treasured traditions," said Anna Zinko, Adelphi's assistant vice president for student affairs. "It provides an opportunity to bring members of our community together to participate in a variety of events and, most importantly, reconnect with each other and celebrate our pride in Adelphi University. The weekend is filled with amazing activities for faculty, staff, students, alumni and members of the local community to enjoy."
Here are some highlights among the week's festivities:
Spirit Weekend will kick off with the Fall Arts Festival on Wednesday, October 12. The 34th Annual Golf Classic as well as a performance by magician Daniel Martin at the University Center will be held on Thursday, October 13.
Events on Friday, October 14, will include the Spirit Weekend Service Day at Crossroads Farm at Grossmann's in Malverne, New York, as well as Casino Night at the University Center.
Saturday, October 15, will feature the Panthers for a Cause 5K Run/Walk and Kids Fun Run, campus tours (starting at the UC) and, of course, the Spirit Carnival.
Also set for October 15 are Oktoberfest, the 10 Under 10 Induction Awards Ceremony for 2022 honorees at the Black Box Theatre in the Adelphi University Performing Arts Center (PAC) and Adelphi's 50th reunion dinner at the UC.
On and Off Campus
On Sunday, October 16, many activities will be off campus, such as the Making Strides of Long Island—Jones Beach Breast Cancer Walk, the food tour around Chinatown and Little Italy in Manhattan, the "Rise NY" simulation ride (also in Manhattan) and also the Liberty Cruise around the island of Manhattan.
Still other Sunday activities will be held on the Adelphi campus: Greek Sunday at the UC and Anthony Rapp: Without You, a one-man show starring an original member of the RENT cast, at the PAC Concert Hall.
See the schedule of events and registration information on these and many other activities planned for Spirit Weekend.