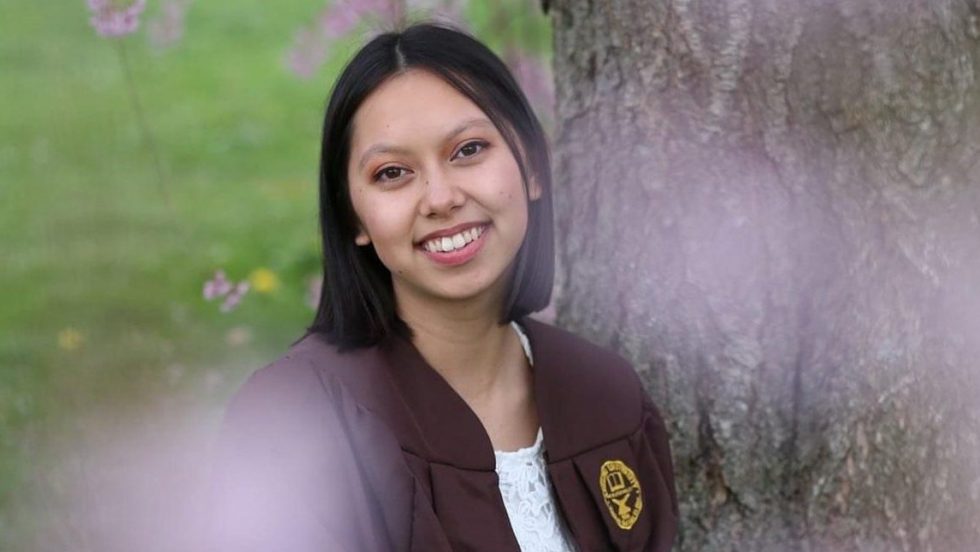 For her senior thesis, physics major Gabriella (Gabi) Vidad '21 used remote sensing and widely available resources such as Google Earth to chart the severity of coral reef changes in the Philippines.
Her enterprising efforts won her Adelphi's coveted Warren Eickelberg Prize for the Best Work in the Natural Sciences.
The prize means a lot to the Hicksville, New York, native. "From the first day of joining the Honors College, students know they'll have to write a senior thesis—an idea that was frightening to me and my peers," Vidad said. "To see that I not only met this expectation but exceeded it feels amazing. The Eickelberg Prize also confirms to me that it was the right choice to work towards solving an environmental problem, which is something I aspire to do in my career."
"Gabi has a powerful voice and I'm not surprised she would win an award like this," said Matthew Wright, PhD, associate professor of physics and department chair, who was her faculty and research adviser. "It would have been easy for her to do straight-up physics projects, but she always found a way to refocus her projects to help the environment."
The Language of Problem Solving
For Vidad, "Physics is the language of problem-solving, and I wanted to come out of college as a deep thinker and someone who knows how to tackle and solve a problem at its core." She first became interested in her project when she learned about dynamite fishing in her Adelphi marine resources class. "The issue hit home, because it occurs in places such as the Philippines, where some of my family is from," she recalled.
As a student in the Oceans Group during her NASA SARP (Student Airborne Research Program) internship, she knew she wanted to learn more about the environmental damage to reefs. "It was daunting, because no one from SARP had previously tackled coral reef mapping—I was the first," she said. "But my adviser Raphe Kudela, PhD, from University of California Santa Cruz, was on board—all the way up to my thesis defense."
Supporting the LGBTQIA+
 

Community by Creating Rainbows With Lasers

When Vidad and previous Physics Club president Katie Gifford noticed the lack of conversation in the club about the LGBTQIA+ community and its lack of representation in the department, they determined to address the problem.

"We mutually decided that the club needed an LGBTQIA+ in STEM meeting. It was natural for us and our volunteers to represent the Pride flag as best we could—with optics experiments that used lasers to create rainbows. Making strides towards inclusivity has become more and more important to me and many of our peers—and I hope we conveyed that," she explained.
Career Ready
In August, Vidad will be moving from Hicksville to New Jersey, where she will be starting a job with a vertical farming facility's R&D sector. "Vertical farming is much more efficient and water saving than traditional agriculture," she insisted. "It's the future of urban agriculture and sustainability, so I am super excited to start this work—and I hope it all goes well."
Vidad readily admitted that she will miss Adelphi. "The people I was surrounded by certainly made my education one of a kind. I found peers and professors who were attentive and cared about my struggles and my future," she said. "My friends and I focused on building each other up rather than competing for the best test scores. That behavior isn't automatic, but was supported by a set of fantastic professors who really encourage community building. We had them both in the physics department and the Honors College—both of which I was privileged to be a part of."